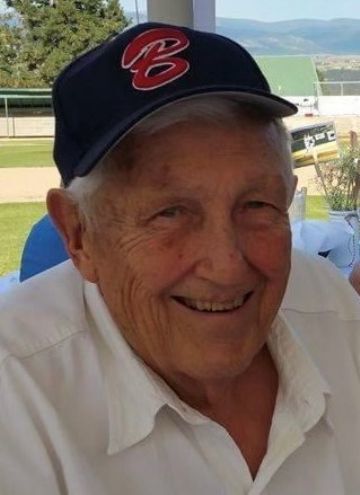 Frank P. (Paul) Scotten, 93, died on the morning of November 28, 2020. Paul had recently suffered a stroke and passed away peacefully, surrounded by his loving family, at his home in Florence.
Paul was born in Great Falls, Montana on January 24,1927 to Pauline and George F. Scotten Sr. He attended Great Falls public schools from kindergarten through high school and graduated from Great Falls High School in 1945. He recalled being in the GFHS auditorium and listening to President Franklin Roosevelt declare war on the Axis Powers in 1941.
Upon graduation and following pre-military aptitude testing, Paul entered into service in the U.S. Navy at the rank of seaman first class. The war ended shortly after he completed "boot" training at the San Diego Naval Station but he remained in the Navy for another year and benefitted from his training at radar technician school as well as his experiences at sea aboard the the U.S.S. President Hayes. He was discharged from the Navy in August of 1946.
The next ten years were spent pursuing diplomas, degrees and certificates at Montana State College, University of Washington and Montana State College (again) as well as working at various jobs at UW, Clark County Public Health Department and the Montana Power Company.
Happily, the entire decade was not spent in classrooms and trying to make a few bucks along the way. In the fall of 1950, working as a pot washer at the UW Commons Building dining room, Paul met the young woman who would be his partner for the rest of their lives together. Roberta "Bea" Hudson worked at the Commons as a dietetic intern. Of course, they fell in love, and when Paul graduated and found a job with the Health Department in Vancouver as a public health sanitarian, the young couple was able to marry. They traveled to Bea's hometown of Lethbridge, Alberta and were wed in July of 1952.
Following the birth of their daughter Joyce in June of 1953, the young family left Vancouver and moved to Bozeman where Paul reinrolled at Montana State College, this time in the civil engineering program. Upon graduating in 1956 Paul, following in the footsteps of his father and grandfather, took a job with the Montana Power Company as a civil engineer. He began a 32 year career that took him to projects from one end of the state to the other and saw him participate and succeed in every facet of the company's industry. He progressed from a position as a junior engineer to the highest levels of management. No short recounting of his career can adequately describe all of his accomplishments, but let it suffice to say Paul "did it all".
Paul was assistant division superintendent Great Falls when he was promoted to manager of the Havre District in 1974. In 1980 he was made assistant manager of the Colstrip 3&4 construction project which at that time was the largest single private construction project in Montana history. At the completion of the project in 1982 Paul and Bea left Butte and moved to Helena where he was division manager until 1986.
In December of that year Paul and Bea moved to Colstrip when Paul was named vice-president of the Montana Power Co. in charge of the Colstrip Project Division.
During their years with the company Paul and Bea were involved in all things civic-related and community oriented.Very active as members of their churches and deeply involved in community affairs they contributed their time and effort in every town and city they lived in. Paul received many awards and accolades for his civic service and was particularly proud and appreciative when the city of Helena declared December 16,1986 Paul and Bea Scotten Day and when home plate at the Bitterroot Bucs' field in Florence was named for him.
Paul retired from MPC in 1988 and he and Bea began a well-deserved retirement at their home in Florence. Retirement didn't mean retreating to the rocking chairs, however. They had the good fortune to watch their four grandchildren grow from infants to young adults with children of their own, and they took full advantage of the opportunity. A favorite pastime was watching the boys play ball with their beloved Bitterroot Bucs, and they continued to spend summers traveling wherever the Bucs were competing long after their own grandsons' playing days were over.
Paul continued his involvement in civic affairs such as the development of the Florence Community Park and as his neighborhood homeowners' association president for many years. He was blessed to have wonderful neighbors and friends of all ages.
Paul lost Bea to cancer in 2013 but was forever thankful for the 35 wonderful years they had together following the original diagnosis of the disease in 1978. Paul was also preceded in death by brother George F. (Bud) Scotten and nephew Matthew Paul Scotten.
Paul is survived by his daughter Joyce (Bob) Schroeder of Florence, grandsons Josh (Nieves) Schroeder, Florence, Will (Elisa) Schroeder, Missoula, Clay Schroeder, Portland, OR, granddaughter Shelby (Anthony) Sandoval, Florence, great-grandchildren Sebastian and Cooper Schroeder, Florence, Hudson and Isla Schroeder, Missoula, and Santiago and Rafael Sandoval, Florence.
A burial service in Great Falls and a celebration of Paul's life to be held in Florence are being planned for this summer.
Memorials in Paul's name may be made online at Shriners Hospitals for Children-Spokane on their donors page.