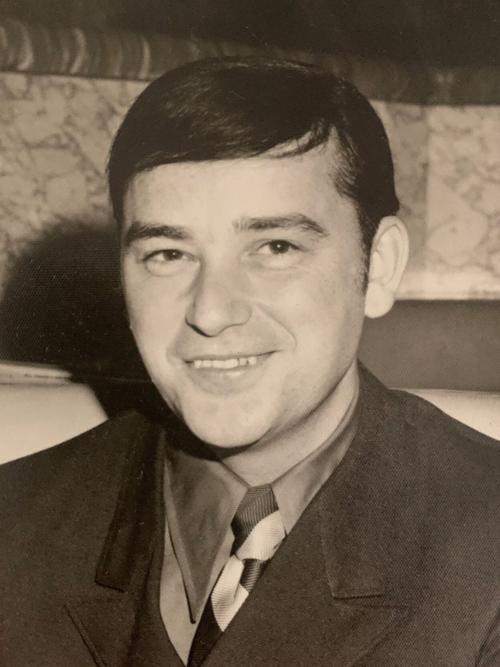 Earl Lawrence Ebert, age 85, passed away April 16, 2020. Earl was born in the small town of Cut Bank, Montana, on October 4, 1934 to Lawrence Pierre Ebert and Agnes Kohel Ebert.
If you ever spent more than five minutes with Earl, you knew he was a "car guy". Cars were his life's passion and, as a teenager, he would tirelessly work on cars at the family-owned Oil Field Garage. But Earl was interested in more than just fixing cars – he aimed to push the limits of their ability.
For Earl, it was not just about making cars go, it was about making them go fast. He had a need for speed and love of highway racing. He framed and hung up his local newspaper notoriety clipping for the first high-speed radar ticket in Cut Bank as a badge of honor. Like many members of the Ebert family, he was "fast and furious" before the movies.
In 1957 Earl moved to Helena to work for his father-in-law's Texaco and eventually launched Earl's Conoco in 1968. He successfully ran his gas and car repair shop for more than 40 years. Earl's Conoco supported him in raising a family and building his own small collection of cars.
In his files, there were dozens of letters from customers thanking him for the workmanship and the fairness of his billing. He only charged for work that was needed earning him and his business, a reputation of integrity.
Earl always valued the letters and thank you notes of appreciation from his customers. He would often offer discounted or free work for individuals going through tough times. Over the years, he used the business and his time to frequently give back to those in need of car repairs and a friend.
Equally important to him were the notes from employees at his retirement telling him that he was a fair and good man to work for during their time at Earl's Conoco.
Earl also had an extended family that he spoke of frequently. The favorite of his extended family was the Pontiac Car Club of Helena. He also belonged to the Oldsmobile and Cadillac car clubs. He was able to attend Barrett Jackson and other car auctions in Scottsdale for 31 years straight. He told us that his favorite times were the hours of discussions with his "car cronies".
Like many "car guys", Earl enjoyed the simple things in life; a good meal, a hearty glass of OJ and a drive around town. Every time he got in a car, Earl knew that the destination was only one part of the journey – it was also about was how you got there, the people you met along the way.
Earl was preceded in death by his parents and his daughter, Earlette. Earl is survived by his sisters Carole LaValley of Great Falls, MT, Helen Henderson of Cut Bank, MT, Vicki and her husband Don Presnell of Cut Bank, MT, and brother Richard Ebert of Cut Bank, MT. Earl is also survived by his son, Rob Ebert, daughter-in-law, Kim Gazlay, granddaughter, Crystal Ebert, step-grandson, Brayden Gazlay, as well as his long-term companion Terri McDonald and an extended family of nieces and nephews that he loved dearly.
A Celebration of Life and Pontiac Car Club Exhibition is scheduled for Wednesday, August 5, 2020, from 2 p.m. to 5:30 p.m., at the Marriott Delta "Colonial" Hotel, 2301 Colonial Dr., Helena, Montana 59601.
A Family Limited Burial is set for 11:00 a.m., Friday, August 7, 2020, at the Crown Hill Cemetery in Cut Bank, Montana. A Celebration of Life will follow the burial, Friday: August 7, 2020 at the Elks Club in Cut Bank, Montana. To ensure social distancing please RSVP planned attendance with Rob Ebert, Phone 602-820-4841 or Email: robertebert406@gmail.com
To plant a tree in memory of Earl Ebert as a living tribute, please visit Tribute Store.
Obituaries Newsletter
Sign up to get the most recent local obituaries delivered to your inbox.