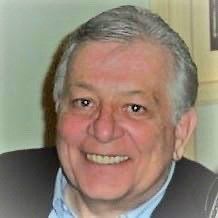 It is with deep sadness that we announce the passing of Clifford John Christian, 74, beloved husband, father, papa, brother, uncle, and friend. He died peacefully after battling several prolonged illnesses on May 26, 2020, at home surrounded by family and his dog Lucy by his side in Helena, MT.
He was born January 16, 1946, in Great Falls to Clifford L. and Jessie C. Christian. He attended grade school in Great Falls and Helena. During those years he was an altar boy and in Father Hartman's Cathedral boys' choir. He also enjoyed his summers spent on Salmon Lake at Legendary Lodge. He graduated from Cathedral High School in 1964. He then went on to study history and political science at the University of Montana.
One of his fondest childhood memories was spending time in Augusta, MT, where his paternal grandparents homesteaded. He treasured his time spent in Augusta with his grandma Rosetta, brothers, aunts, uncles, and cousins.
Cliff met Debbie O'Neil the love of his life in 5th grade at St. Mary's grade school in Helena. They married in June 1967 and spent the next 53 years together. They had five children – Britt Anthony, Kirsten Ann, Andrew Christopher, Craig Donald, and Brett Michael.
Together with his wife Debbie, he found purpose. They have impacted the lives of others by giving them the opportunity to have a second chance. Whether someone needed work, a financial break, or a place to call home, Cliff was the first one to help. He instilled these values in his children and grandchildren who live life with compassion, just as he did.
Cliff did not just make a difference in people's lives, he also worked tirelessly to improve the lives of all Montanans. He began his political career working on many prominent state and national campaigns, including Bob Dole's Presidential Campaign and Ron Marlene's Congressional Campaign. He was Deputy Secretary of State under Jim Waltermire. He would then run for Secretary of State in the following term. He was elected to the Helena School Board. Cliff also served local organizations, he worked with the Montana Council on Alcoholism and as a volunteer coordinator for youth group homes.
For many years, Cliff was the Government Relations Director for the American Heart Association. He spent countless hours working with communities, volunteers, partners, and the legislature. He was most proud of helping lead the passage of Montana's Clean Indoor Air Act in 2005, making Montana's law one of the first in the country. Today, it is illegal to smoke in any public place and tobacco is banned from school property. He worked directly with the Governor's Office writing the legislation and was the first to testify on its behalf. While watching representatives vote on the law late into the evening, he said - "We are making history". Cliff worked with health groups to protect Montanans as they increased the tax on all tobacco products and secured funding for the state's tobacco use prevention and cessation program and veteran's homes. The results are impressive. Cigarette smoking among youth has decreased by more than 70% and cigarette sales have decreased by more than 50%! Now, you can take your family out for a meal anywhere in Montana and enjoy breathing clean air and know that Cliff helped make this possible. He considered this to be one of his greatest achievements. He would go on to receive an award from Montana's DPHHS and an honorary degree from the University of Montana for this work.
His interests included fishing, hunting, reading, racquetball, skiing, golf, real estate, Grizzly Athletics, and singing to his grandchildren.
Cliff is preceded in death by his parents, infant son Britt Anthony, in-laws Don and Mary O'Neil, and many beloved family pets. He is survived by his wife Debbie, children Kirsten Christian Wrzesinski, Andrew (Ki-Ai McBride) Christian, Craig Christian & Brett Christian. Brothers Tom (Debbie) Christian and Clark (Diane) Christian. He is also survived by his grandchildren Cavan Wrzesinski (Shelby Pugh), Lauren Wrzesinski, Madison Christian, Bridger Mason, Zoei White, sons at heart Chris Sims, Skyler Kroll and his dog who never left his side, Lucy. He also leaves behind many treasured cousins, nieces, nephews, and dear friend Vern Hoven.
He will be deeply missed by us all, as well as a large circle of friends and colleagues. His integrity, generosity, and legacy will never be forgotten.
May God hold you in the palm of his hand.
Our heartfelt thanks to the caregivers who loved and cared for Cliff. And to Father Dan Shea for all his help along the way.
Funeral Mass will be celebrated at 11:00 a.m. Tuesday, June 30, 2020 at Our Lady of the Valley, 1502 Shirley Road in Helena. Burial will follow the Mass at Resurrection Cemetery. This will be Cliff & Debbie's 53rd anniversary. Masks are encouraged.
Remembrances in Cliff's name may be made to Lewis and Clark Humane Society P.O. Box 4455, Helena, MT 59604, God's Love 533 N. Last Chance Gulch, Helena, MT, 59601, Helena Food Share P.O. Box 943, Helena, MT 59624-0943, or the charity of the donor's choice. Please visit www.retzfuneralhome.com to offer the family a condolence or share a memory of Cliff.
To plant a tree in memory of Clifford Christian as a living tribute, please visit Tribute Store.
Obituaries Newsletter
Sign up to get the most recent local obituaries delivered to your inbox.