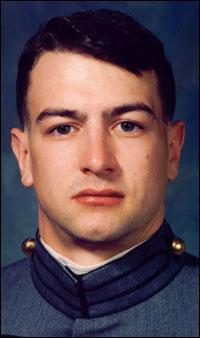 Capt. Michael John MacKinnon, 30, of Hinesville, Ga., formerly of Helena, was killed Oct. 27, 2005, near Baghdad, Iraq, as a result of hostile enemy action.
You have free articles remaining.
He was born in Helena on May 26, 1975, to the late Beverly (Barker) and John MacKinnon. He graduated valedictorian from Capital High School in Helena in 1993, where he played in the band and was a member of the Capital High football and swim teams, and Babe Ruth Baseball League. He graduated from the U.S. Military Academy at West Point, N.Y. in 1997. After graduation, he completed Ranger, Airborne, and Air Assault schools and was assigned as a platoon leader in the 82nd Airborne Division at Fort Bragg, N.C., where he was deployed to Haiti and Egypt. He married Bethany Mayers in Fayetteville, N.C., on Feb. 18, 1999, and they had two beautiful children together, Madison (7) and Noah (6). Michael was eventually stationed with the 3rd Infantry Division at Fort Stewart, Ga., where he served in Operation Iraqi Freedom in 2003 and again in 2005 as a company commander in Iraq.
Although Michael's life was tragically cut short, he lived a very large life. Everything he did was on a grand scale, from his many accomplishments to just spending time with his friends. He was up for any challenge and always made sure to have plenty of fun along the way. A few of his many interests included watching NASCAR races, rock climbing, floating the Dearborn River, listening to country music, playing horseshoes and eating burgers at the York Bar. He loved taking trips to Montana to visit family and friends, but his favorite place to be was home with Beth and the kids. His greatest accomplishment was being a devoted husband and father. Michael gave the ultimate sacrifice and his death is a testament to the way Michael lived his life … with courage, integrity, and an unfailing love for his family and country. He was a true hero and will forever live on in the hearts of all those whose lives he so deeply touched.
Survivors include his wife Bethany, and their children Madison and Noah of Hinesville; father John MacKinnon, sister Diane (Dennis) Hulst, sister Laura (Michael) Sullivan, all of Helena; sister Gail (Carl) Maehl of Missoula; and numerous nieces and nephews: Justin, Nicole and Jaimee Hulst; Devin, Connor, and Brendan Sullivan; MacKenzie and Benjamin Maehl; and Abby Choi. Michael was preceded in death by his mother Beverly in 1975 and his grandparents Dr. Taylor and Roberta Barker and Archibald and Lulu MacKinnon.
Services were held on Nov. 7, 2005, in the Cadet Chapel at West Point, N.Y. Interment was made at the Post Cemetery at West Point with full military honors. A memorial service will be held on Friday, Nov. 25, at 1 p.m. in Our Redeemer's Lutheran Church, 1400 Stuart St., in Helena. Memorial contributions may be made to the Spina Bifida Association, 4590 MacArthur Blvd. NW, Suite 250, Washington, DC 20007; or to Laura Sullivan, Conservator, of the MacKinnon Children's Education Fund, 259 Anderson Blvd., Helena, MT 59601.
To plant a tree in memory of Michael MacKinnon as a living tribute, please visit Tribute Store.