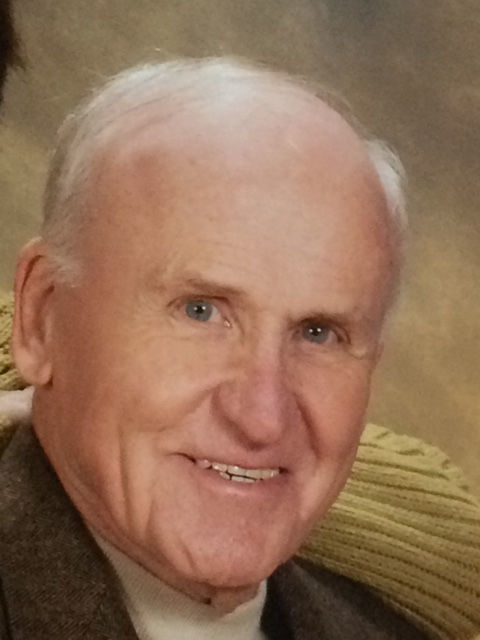 Murdo, the youngest of the four Campbell brothers and, as he so aptly put it, the last man standing, passed away in Helena, Montana, on March 17, 2020, after bravely battling Alzheimer's disease for several years.  
Born on May 23, 1933 in Great Falls, Montana, Murdo was the son of Murdo "Duff" Campbell and Elizabeth McFarlane Campbell.  Growing up in Great Falls, Murdo worked hard to meet the high standards set for him by his older brothers and received several accolades for his athletic achievements at Great Falls High.  Murdo then followed in the footsteps of his brothers by earning a football scholarship to the University of Montana.  He played both quarterback and running back, starting for the mighty Grizzly football team all four years and defeating the Montana State University Bobcats each year – an accomplishment which Murdo, on occasion, would remind his Bobcat buddies.  In 1955, Murdo received the prestigious Grizzly Cup, which was awarded to the outstanding UM student who best exemplified excellence in athletics and academics.    
After graduating with a degree in Journalism, Murdo took a position as Sports Information Director for the University of Montana.   Just after college, he married Eve Eliel, and they were blessed with three sons.   After living in Spokane for three years, the family settled in Great Falls. The family enjoyed many activities together such as snow skiing, sporting events at Great Falls High School, and socializing with family and friends.  While living in Great Falls, Murdo worked for McGraw Hill selling textbooks to schools throughout the state followed by employment with Cascade County.
Murdo married Marlene Didriksen in 1983 and moved to Helena.  Marlene's two children couldn't have asked for a more supportive and loving stepfather.  For 36 wonderful years, Marlene and Murdo enjoyed many adventures and endeavors.  They were a great team, always working on projects together, traveling together, and spending as much time with family as possible.  Their love only grew stronger as the years passed.      
After moving to Helena, Murdo worked as an Administrative Officer of the Coal Board for the State of Montana until retiring in 1995.  He began working part-time for FEMA in 1991 as a Public Information Officer and was deployed to many places that had been devastated by hurricanes, floods, and earthquakes, including Hurricane Andrew in Florida and the Northridge Earthquake in California. He also worked part-time for the Research Triangular Institute, a government agency that conducted surveys to gather information on the use and non-use of tobacco, alcohol and drugs in Montana.  
You have free articles remaining.
Murdo was very proud of his Scottish heritage.  His parents were the only members of their families to leave Scotland and settle in the USA.  Through Murdo's efforts, the USA and Scotland Campbells were reconnected, resulting in many enjoyable trips by the USA Campbells to Scotland.  Murdo persuaded his Scottish cousins to venture to America for periodic visits, and they would always arrive in time for the annual Campbell Jamboree (Cam Jam) held at the family cabin in Lincoln, Montana.  Murdo looked forward to all family gatherings and he always made a lasting impression at any occasion with his witty comments, fun-loving ways, and genuine interest in others.
Murdo's interest in sports and his love of a challenge continued throughout his lifetime.  Every golf season he could be seen on the golf course with his family or friends trying to perfect his score.  He welcomed new challenges and competed in Masters Track and also the Track and Field Events in the Senior Olympics.  These events opened up the opportunity for travel to regional and state competitions.  However, the sport of horseracing was probably Murdo's favorite hobby.  He was part-owner of several race horses and followed the meets around the state and elsewhere.  He continued throughout the years to be an ardent fan of the Grizzlies and every fall enjoyed the excitement of the games from the north end zone where he fit in very well with the North End Zone Crazies.
Murdo, along with a committee of high school classmates, put forth a great deal of time and effort in establishing a Class of 1951 Scholarship with the Montana Community Foundation.  Thanks to many generous classmates throughout the years, the scholarship will be awarded to a graduating Great Falls High student every year in perpetuity.    
Murdo was preceded in death by his parents, Murdo and Elizabeth, and his brothers Don, Kenneth, and Tom.  He is survived by his loving blended family: wife, Marlene, sons Neil Campbell (Kate) of Poulsbo, Washington; Bruce Campbell (Chris) of Helena, Montana; Glen Campbell (Sharilyn) of Minneapolis, Minnesota; Derek  (Lisa) Didriksen of Manhattan, Montana; daughter Darcey Pipinich (Nick) of Marysville, Montana; grandchildren Megan, Lauren, Maya, Ambria, Connor, Kasidee, Dani, Jake, Daela, Tiegan and Adele; his sisters-in-law Pat (Kennewick, WA), Sylvia (Fort Collins, CO) and Bev (Helena, MT); numerous nieces and nephews; and several cousins living in Scotland, UK.  Also surviving him is his faithful canine companion, Angus. 
Murdo's family thanks Hospice of St. Peter's Health for their assistance and care.  Also, a very special thank you goes to the dedicated and compassionate staff of Touchmark's Memory Care who enabled Murdo's great character to shine during his time there.  The staff provided Murdo loving care, companionship, and a multitude of special moments, always with respect and dignity.  
Murdo's Celebration of Life will be held at St. Peter's Episcopal Cathedral in Helena, Montana, taking place at a date when it is safe again for family and friends to gather together.  In lieu of flowers, donations would be very appreciated in Murdo's memory to the following: (1) Montana Community Foundation, P O Box 1145, Helena MT 59624-1145 (re: Class of 1951 Scholarship Fund) (www.mtcf.org); or (2) McLaughlin Research Institute, 1520 23rd Street South, Great Falls MT 59405 (www.McLaughlinResearch.org). Please visit www.aswfuneralhome.com to offer a condolence to the family or to share a memory of Murdo.
To plant a tree in memory of Murdo Campbell as a living tribute, please visit Tribute Store.
Obituaries Newsletter
Sign up to get the most recent local obituaries delievered to your inbox.