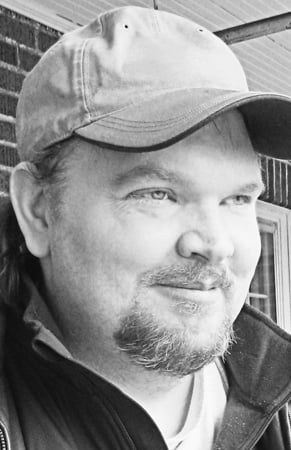 March 31, 1966 — June 18, 2010
Marc McKerrow — beloved son, brother and father — passed away unexpectedly in his sleep on Friday, June 18, 2010. His death was caused by complications from a nocturnal seizure, a condition he battled for years.
Marc always wanted to help others. He was challenged by a head injury that prevented him from realizing his dream, but his life and his life's story help all of us. His complicated story was told in the film "Prodigal Sons," which followed his journey to discover his birth mother, Rebecca Welles, daughter of Orson Welles and Rita Hayworth.
Marc often used the phrase "body, heart and soul" to describe his entire being. The many people who loved Marc take comfort in the fact that Marc's body, heart and soul have now found peace.
Marc is survived by his son, Colton; daughter, Kelsie; and son, Connor; his mother, Carol; sister, Kim; and brother, Todd. He was surrounded by a loving McKerrow family, including Uncle Glenn, Aunt Lea, Uncle Gordon, Aunt Kathy, Aunt Kathleen (deceased) and cousins Scott, Andy, Mike, Susan Fuentez, Jim Ferguson, Jeff Ferguson and Joel Ferguson. Preceding Marc in death was his beloved father, Loren E. McKerrow.
Services remembering Marc will take place near his childhood home on Saturday, June 26, at 1 p.m., at Plymouth Congregational Church, 400 S. Oakes, Helena. The Rev. Cathy Barker will officiate.
For those wishing to help raise awareness of brain injury and mental illness, the family suggests memorial gifts to a foundation in his name at www.marcmckerrowfoundation.org; or the Center for Mental Health Foundation, Helena Care House, P.O. Box 1653, Great Falls, MT 59403.