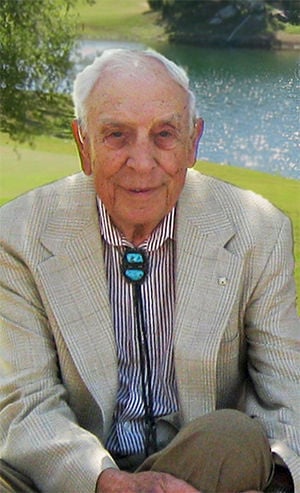 Perry Chester Brackett passed away peacefully with family at his side on Saturday, January 2, 2021, at the age of 97. Perry, born on June 19, 1923, was the second child of James Harvey Brackett and Eliza Perry Brackett of Helena, Montana.
Perry completed his elementary and high school education in Helena, MT graduating from Helena High School in 1941. Following high school and during WWII, Perry worked in the defense industry for Glen L. Martin Aircraft Co., Baltimore, MD and Associated Shipyards, Seattle, WA.
After the war, Perry returned to Helena where he worked as a draftsman for Morrison Maierle Engineering. In 1952, he received his Bachelor of Science Degree in Civil Engineering from Montana State University, Bozeman, MT. In 1956, Perry worked briefly in Denver, CO, where he met Lillian (Kaczmarski) Clinton of Lockport, NY. Perry and Lillian were married on June 7, 1958, in Lockport, NY, and made their home in Billings, MT. In 1962-63, Perry worked for Boeing Aircraft, Seattle, WA and later joined the U.S. Forest Service in Sandpoint, ID.
In 1963, Perry received a commission in the Commission Corp of the U.S. Public Health Service with the Navy rank of Commander. In January 1964, he was assigned to the Billings, MT Area Office as Assistant Area Engineer, Indian Health Service division, U. S. Public Health Service.
During his U.S. Public Health Service career, Perry served in many capacities including: Chief of Sanitation Facilities Construction Branch (SFCB) in Anchorage, AK, Phoenix, AZ, and Albuquerque, NM; Director and Chief Engineer of Environmental Health in Albuquerque, NM and Aberdeen, SD. One of his proudest and most challenging accomplishments as Chief of SFCB was managing a project which brought a running water supply to the Native Eskimo Village of Kotzebue, Alaska, forty miles north of the Arctic Circle. In New Mexico, Perry worked closely with Native American Pueblo tribal leaders to supply running water to each of the eight New Mexico Pueblos.
In 1969, Perry received a Master of Public Health in Environmental Health from the School of Medicine, University of Minnesota. In 1973, he was promoted to Engineer Director of the U.S. Public Health Service, rising to the Navy rank of Captain. In June 1977, he received the U.S. Public Health Service Commendation Medal, and in April 1982, the Meritorious Service Medal. In 1982, he was nominated for Federal Engineer of the Year. Perry retired from the U.S. Public Health Service in 1984. He was a registered Professional Engineer and Land Surveyor in the State of Montana.
Perry and Lillian had two children, James Vincent (1959) and Janine Ann (1961), both born in Billings, MT. A wonderful husband, father, and grandfather, Perry was a 56-year member of the Freemasons, rising to Master Mason in 1959, and a member of the Scottish Rite, Shrine, and Elks Lodge. In his retirement, Perry enjoyed being active; he loved stream fishing, wood working, golf, genealogy research, and travel. Perry was a great storyteller through the many poems he wrote and had a wonderful sense of humor. He loved children and giving back to the many communities where he lived.
Perry is preceded in death by his beloved wife Lillian (2009), his son James (2002), his sister Edith Elizabeth (Brackett) Miller (1995), and his parents.
Perry is survived by his daughter Janine Ann Sauer, son-in-law Thomas Russell Sauer, granddaughter Kaitlin Perri Sauer all of San Antonio, TX, daughter-in-law Elizabeth (Hein) Brackett of Vienna, VA, Nieces and their husbands, Bonnie and Brad Morris of Sun City, AZ and Jean and Wayne Neil of Bozeman, MT, and several grand and great-grand nieces and nephews.
A private memorial service to be held in Helena, MT is pending.
Memorial donations in honor of Perry may be made in lieu of flowers to one of the following: The James Vincent Brackett Memorial Scholarship Fund c/o of Montana State University Foundation P.O. Box 172750; Bozeman, MT 59717-2750 or www.msuaf.org/brackettmemorial.
The Lucile Packard Children's Hospital-Stanford; 400 Hamilton Avenue, Suite 340, Palo Alto, CA 94301 or my.supportlpch.org/perrybrackett which has given great care to his granddaughter.
Please visit meadowlawn.net to offer a condolence to the family or to share a memory of Perry.