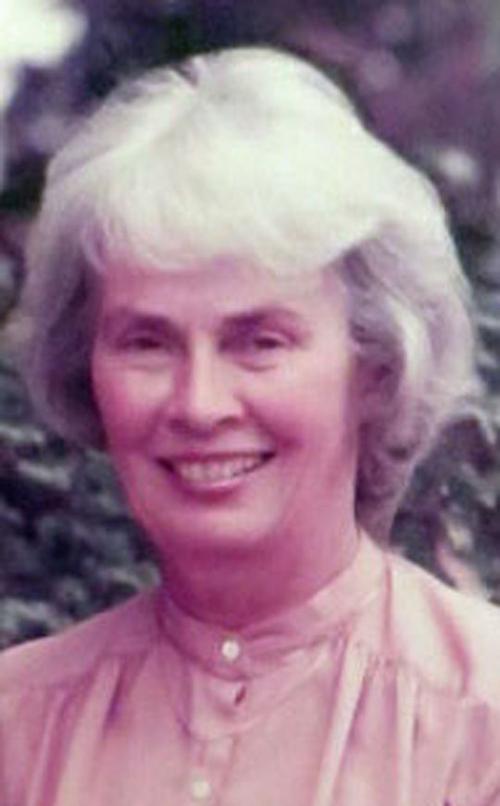 Arlene Lorraine Christopherson Ernest, passed away June 20, 2020. Arlene was born May 1, 1924, near Witoka, Minnesota. Arlene was the fourth of four children born to Gustave and Eva Christopherson.
Arlene grew up on a farm doing chores and farm work with her father and brother. She preferred working outdoors with the boys and working with the animals and the tractor. She was adept at milking the cows and drove the tractor and truck by the age of 12.
Arlene attended rural schools until high school when she became a 'city girl' moving in with her Grandma Fisher to attend high school in Winona, Minnesota. Arlene loved music and was an excellent dancer and she had many partners at local dances. Although Arlene was a straight A student, she skipped college to join the wartime workforce.
At age 14, Arlene met her future husband, Norton Ernest, when he fell through the ceiling of her family's home while working a summer job with his electrician father. The two married in 1942. Norton served in the Army and Arlene worked for the Army, first in Minnesota and then in California at Fort Ord.
After World War II, Norton entered the University of Minnesota and, after graduation, was employed by Minneapolis Moline for a short time. Norton and Arlene then moved to California, near Carmel. They were happy to trade in the bitter cold and snowy Minnesota winter for the temperate climate of California. Norton used his degree in business administration to run a Dr. Pepper bottling company in San Jose, California where the couple's only child, Nancy, was born in 1954. Wanting to raise their child in a more rural area Norton moved the family north to the small town of Willows, California where he became a hospital administrator. Arlene maintained the family home, cared for her daughter and collie dogs, numerous cats and horses. At one time the household included two dogs, 5 cats and 6 horses.
Arlene supported her husband's career by joining the hospital auxiliary and contributing to the community. She was always active in his political endeavors. The two enjoyed gardening and had a fabulous vegetable garden, fruit orchard, vineyard and tulip, garden. Arlene enjoyed spectator sports, following the Minnesota Vikings and the Minnesota Twins, but her greatest passion was the Sacramento Kings. Norton and Arlene attended many games in person and delighted in taking the entire family to games when they were in town. After they could no longer travel the 100-mile trip to the big city safely, they watched on television and listened to radio broadcasts. Breakfast always included an in-depth discussion of the previous night's game.
After 68 years in Northern California, Arlene and Norton moved to Montana to be closer to their daughter and 4 grandchildren. It was a difficult move, leaving friends and familiar places behind. Arlene loved being able to attend her son in law's music gigs with the Longhorn Band. She stood and moved to the music with great joy and always asked to go to every event.
Norton passed away in July of 2017 leaving Arlene alone after 75 years of marriage. Soon after, Arlene suffered a traumatic fall breaking many ribs the pain of which caused nearly complete loss of memory. Arlene spent her last years at Touchmark in Helena, Montana, where she received excellent, loving care. She enjoyed having the companionship of others and all the kind caregivers, her 'helpers'. The family thanks Touchmark for their empathetic care for Arlene.
Arlene was preceded in death by her parents, Gustave and Eva; mother-in-law and father-in-law, Elsie and George Ernest; sisters, Lois and Maxine and brother, Gerald.
Arlene is survived by her daughter Nancy Dupre' (Dennis) of Helena, MT; grandchildren Jesse Dupre' (Becky) of Missoula, MT; Rebekah Dupre' of Helena, MT; Clare Johnson (Jovan) of Great Falls, MT; Thea Dupre of Helena, MT; and her beloved cat, Gandalf of Helena, MT., and numerous nieces and nephews.
Arlene did not want services and was interred quietly at Glen Oaks Memorial Park in Chico, California during the Pandemic of 2020. Contributions in her name may be made to the Lewis and Clark Humane Society (2112 E. Custer Avenue, PO Box 4455, Helena, MT 59604) or the North Valley Animal Disaster Group (North Valley Animal Disaster Group, PO Box 441, Chico, CA 95927). Please visit www.aswfuneralhome.com to offer a condolence to the family or to share a memory of Arlene.