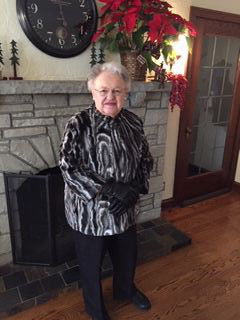 July 21, 1932 – July 11, 2019
Dorothy Nyleen was born on July 21, 1932 in Havre, Montana. She was the daughter of Adolph and Hilda Beck of Hogeland where Dorothy was raised with 3 brothers and 3 sisters. Her traditional farm life helped her secure a strong work ethic, Christian values and the ability to cook, sew and be a star student in school. She left the Big Flat to attend the U of M where she met George. On June 21, 1952 she and George were married and her new life began in Lincoln, Montana.
The mountains of Montana provided a successful life for this hard-working couple. Beginning their lives together in Missoula, they soon found the opportunity that Lincoln, Montana could offer. They logged and developed the land but still found time for raising a family of five and being part of a community where Dorothy became know for her ability to feed anyone from the logging crew to any guest who knocked at their door. She cooked like no other, but many remember her pies and the ease with which she could make them.
Dorothy and George helped build the Lincoln Community United Methodist Church where she played at times for the services, taught Sunday School in the early days as well as provided countless cinnamon rolls, pies and more for potlucks and benefits. As they logging operation slowed and George's health declined, they moved to Helena where she resided until her death, July 11, 2019.
Dorothy was preceded in death by her parents; husband; brother, Irvin; two sons, Neal and Noel; and a grandson, Derek. Dorothy is survived by sisters, Beatrice (Martin) Kane, Marilyn (Jerry) Herman and Karen (Mike) Caplis; brothers, Ronnie(Lilly) Beck and Wallace (Loretta) Beck; one brother-in-law Wally (Marilyn) Anderson; three children, Nyleen (Doug) Freeman, George Brent (Carla) Anderson and Shona (Tom) Anderson; eight grandchildren and three, great grandsons.
A celebration of Dorothy's life will be held on Saturday, August 17, 2019 at the Lincoln Community Methodist church at 11 a.m. with a picnic lunch to follow.
Obituaries Newsletter
Sign up to get the most recent local obituaries delivered to your inbox.