Beannachtaí na feíle Pádraig! With St. Patrick's Day coming up, it seems appropriate to feature Thomas Francis Meagher, the famous Irishman whose likeness, astride his horse, graces the front lawn of Helena's Capitol, in this month's column. Meagher (pronounced "Marr"), was an ambitious, controversial political figure, initially famous throughout the Irish-speaking world, but now viewed as a central symbolic historical figure, not only in Ireland but across the United States. Meagher fought for the freedoms and liberties of several causes, while leaving a controversial legend for those who sift through the embers of his legacy.
Meagher was born in Waterford, Ireland, on Aug. 3, 1823, to a well-to-do family. His father, Thomas Meagher Sr., was a member of the British Parliament, and the first Catholic mayor of Waterford in more than 200 years. Although Meagher would follow in his father's political footsteps, he would hold a very different political view of Ireland's governance than his father. Meagher's father believed Ireland should remain part of the United Kingdom under British rule. Meagher Jr. advocated for Ireland's independence, and at the age of 24 asked the citizens of Waterford to send him to the English House of Commons to demand this independence.
Meagher Jr. would slowly rise to become the voice of a younger, more radical Ireland as part of the Young Ireland movement. Meagher set himself upon a collision course with Daniel O'Connell, a famed and highly regarded politician, whose political achievements began before the young Meagher was born. O'Connell previously had led the charge for Catholic emancipation, repeal of the Acts of Union that created the United Kingdom of Great Britain and Ireland, and was the first Irish Catholic to be seated in British Parliament in the modern period. Meagher thought Ireland should be governed and defended solely by its own citizens.
A talented orator, Meagher became a vociferous leader of the Young Irish Rebellion in 1848, which resulted in his conviction for sedition. He was sentenced to death for rallying against the rule of the British Crown in Ireland, but in response to public outcry and international pressure, his sentence was commuted to a life of exile in Tasmania. In 1852, however, Meagher escaped to the United States, settling in New York City. Here he would reinvent himself and become involved in controversy in a different nation, which at the time also was struggling with its own problems of obtaining civil liberty and freedoms for all. Meagher would make his mark across the United States -- and in a new "Wild West" territory filled with Native Americans, pioneers, cowboys, and vigilantes that would later become the state of Montana.
In New York, Meagher studied law and journalism, and continued his quest for Irish independence. When the U.S. Civil War broke out in 1861, Meagher chose to fight for the Union, stating, "It is not only our duty to America, but also to Ireland. We could not hope to succeed in our effort to make Ireland a Republic without the moral and material support of the liberty-loving citizens of these United States." The charismatic Meagher, who achieved the rank of Brigadier General, recruited Irish immigrants for the cause and formed the Irish Brigade, a unit known for their reputation as fierce fighters.
After the war, Meagher was appointed secretary of the new Territory of Montana, which had been created in May 1864. On Aug. 16, 1865, Meagher set out from Salt Lake City to Virginia City and arrived in Montana Territory on Sept. 19, 1865. Shortly after his arrival, he was designated acting governor, as Territorial Governor Sidney Edgerton, now known as "The Father of Montana," departed for Washington, D.C., in September to persuade Congress to allocate funds for the new territory. Edgerton handed Meagher all of the territorial documents, and would not return to Montana for 25 years. In Virginia City, the capital of the new territory, Meagher began to understand the complexities of the conflicting needs and interests of Native Americans, traders, cowboys, immigrants and settlers. Meagher knew very little about the layout of the land between the white settlers and the Native Americans.
During the winter of 1866-1867, unrest arose around the Bozeman Trail, which had been blazed by former gold seeker John Bozeman in 1863 without the permission of the tribes over whose territory it crossed. Several Army forts were located near the trail, which Bozeman had located on lands used by the Sioux, Cheyenne, Arapaho and Crow tribes. The area provided good hunting grounds, and white settlers traveling on the trail had negative impacts on the tribes' use, including scaring away game. On March 25, 1867, Bozeman, a resident of Gallatin Valley, wrote Governor Meagher requesting protection from the Sioux.
Meagher responded with a request to General Ulysses Grant for financial aid. Bozeman was a prominent figure in Montana to whom the name of Montana's fourth-largest city is attributable. Meagher knew that winning Bozeman's support could be beneficial to his career as a governor and that it would gain much support among the white settlers of the territory. While Meagher was soliciting supplies and weaponry for what would be called the "Montana Militia," news of Bozeman's murder on April 20, 1867, while he was traveling just east of the Bridger Mountains made its way to Meagher. Bozeman's traveling companion, Tom Cover, identified the killers as Indians, but there is controversy whether Cover or others were in fact responsible for Bozeman's death. Meagher, apparently believing Cover's story, responded by organizing the Montana Militia to retaliate, an action for which he was later criticized by General William T. Sherman and others.
A few months after Bozeman's death, Meagher traveled by steamboat to Fort Benton to receive a shipment of guns and ammunition sent by Sherman for use by the Montana Militia. On the way to Fort Benton, Meagher became ill and presumably fell overboard into the Missouri River. No one witnessed his fall. One of the largest mysteries about Thomas Francis Meagher was his death. There are three theories that, to this day, are still highly debated among devotees of "Meagher of the Sword": 1) he was sick, stumbled and fell into the Missouri; 2) he was murdered by the hands of the Native Americans or the local vigilantes; and 3) he jumped to his own death in suicide. What is evident about Meagher's death is that it was mysterious, controversial, and came very early, when the governor was only 44. His body to this day has never been recovered from the mighty Missouri River, nor anyplace else. Only a memorial of Meagher remains along the banks of the river in Fort Benton where the incident occurred.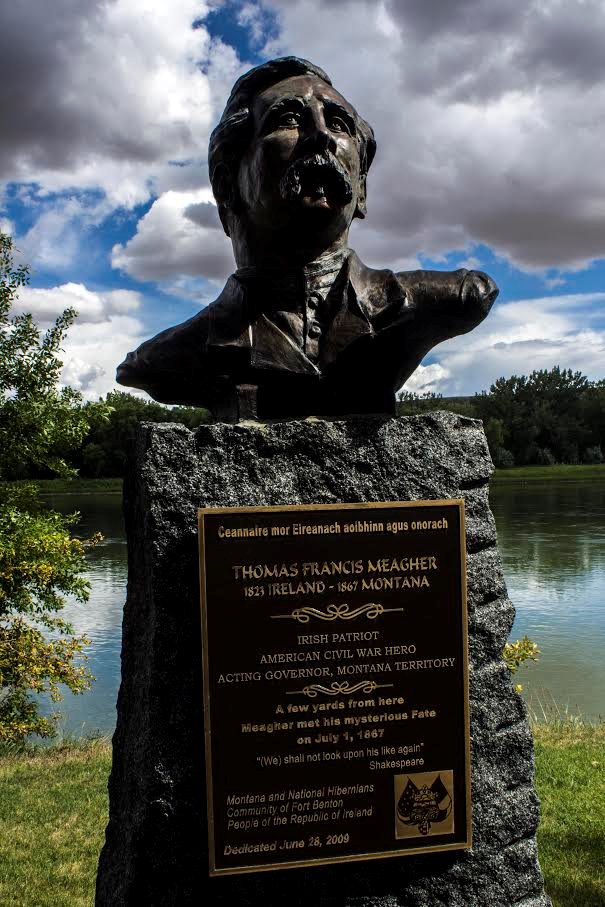 Thomas Francis Meagher made a name for himself across the world, in a time when technology, media and worldwide accessibility were at a bare minimum. Symbols of Meagher's legacy live on with prominent statues in both Helena and Waterford. The tricolored flag Meagher so proudly raised before his exile from Ireland (which was presented to him by French women sympathetic to the Irish cause, but didn't become Ireland's national flag until the Easter Rising of 1916) is now the distinguished representation of a nation that is loved and cherished by so many people across the globe.
Meagher's willingness to endanger his own life for Ireland's independence and the American Civil War gives proof of his patriotism. His dark ambition to gain arms and retaliate against the Native American Indians is evidence of a cowboy who sought the popular support of white settlers in the Wild West Territory of Montana. The mysteries that surround Meagher contribute to his commemoration and highlight a now-historical figure's life. Meagher's commemoration is not only a symbol of Meagher himself, but rather a symbol of all Irish-Americans, bringing into focus the important contributions the Irish had in the formation of the United States of America. His intentions remain a mystery, but his ambitions are abundantly apparent, and to this day, Meagher remains a symbol of Irish-American pride in the great state of Montana.
Patrick Rieley is an educator and historian who did his graduate work at The National University of Ireland, where he received his MA in Irish-Studies. He wrote this for the Lewis and Clark Heritage and Tourism Council, which provides the monthly "Nuggets from Helena" column in the Independent Record.