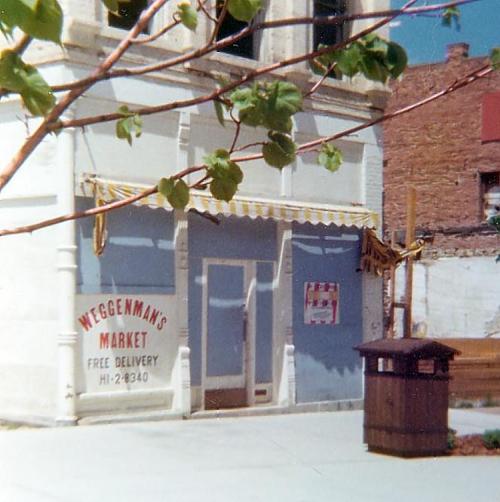 The Colwell Block, 62 S. Last Chance Gulch, initially was known as Uncle Sam's Block. The three-story brick building with a French Renaissance-style mansard roof was built in 1888 for "Uncle Sam" Karatofsky. His Uncle Sam's Loan Office (a pawnshop, primarily) occupied the front of the first floor.
Uncle Sam's Block was at the corner of what used to be Main and Wall streets, where three iterations of Sam Hauser's First National Bank had stood. Immediately following the bank's move to its new "palatial quarters" at the corner of Grand and Main in September 1887, Karatofsky set up shop in the back of its old location, tore the brick front off the one-story building, and installed an iron front with plate glass.
The following summer, he had the rest of the old bank building turned into "a modern three floor business edifice." It was still the same 20 feet wide but with two more floors and nearly double in length, extending west 130 feet to what was left of Last Chance Creek. A saloon in the back and two floors of furnished rooms to let joined Uncle Sam's Loan Office as occupants.
By a century later the name "Uncle Sam's Block" was presumed to be in recognition of Sam Hauser and his bank previously locating there. Or perhaps it was because two banks chartered by the U.S. government — People's National Bank was the other — located on Main and Wall streets once Wall was built through to Clore following the 1874 fire downtown. Either way, the name was seen as a reflection of Helena's honorable and historic past. Regrettably, documents from that past point not to Sam Hauser but to the more dubious though possibly more colorful Jacob Karatofsky.
Karatofsky was "familiarly known" as Uncle Sam Karatofsky. He had been in Montana at least since 1885, when he was based in Butte; he relocated to Helena in 1887. Karatofsky was a Russian Jew from Garodna who left the old country behind about 1865. He also left behind a wife, two kids, and the name Katok.
These details came out much later, in 1890, in suitably confusing stories about the divorce-with-a-possibility-of-bigamy trial. His son had joined Karatofsky for a while in St. Louis around 1873; the previous wife and daughter came over a decade later. Karatofsky, who had changed his name sometime prior to marrying Celia Davis about 1875, maintained he had divorced Rebecca Katok before leaving Russia. Still, he stayed in some sort of contact with his first family, partnering with his son in St. Louis and later — after stints in Wichita, Kansas, and Hot Springs, Arkansas — with his daughter in Butte. Both these partnerships found less than total success.
Mrs. Katok, upon arriving in America, had not immediately disputed Karatofsky's change of spouse. However, in 1890, she showed up in Helena and proceeded to file suit. The application to the court mentioned that Karatofsky was now worth $150,000 and that he had transferred all his property to the only Mrs. Karatofsky that Helena had known.
As was often the case, the trial drug on and on, for at least a year, then disappeared from the newspapers with no final resolution reported. All must have worked out well enough, because Karatofsky's "elegant" brick house at the corner of Fifth and Beattie, started just prior to the trial, was completed. He was sufficiently respectable that his current set of daughters appeared in society columns. Outside of an ongoing feud with his competitors with the pawnshop across the street, which at least once cost him a bloody nose, Karatofsky seemed a typical enough proprietor in his line of work.
However, by 1896 something was falling apart. The elegant house was put up for rent, all or in part, furnished or unfurnished. In 1899, Karatofsky moved his business to Butte, opening as Uncle Sam's Collateral Bank. His former partners, who had remained in business in Butte, took exception and then legal action for his infringing on what was now their trade name. They were particularly upset because he had located on the block of S. Main where they had long been established.
A change of name kept the now-called Montana Collateral Bank open but the slide continued. At the end of 1900, Karatofsky announced he was selling out, pleading ill health required him to "leave Butte for a lower altitude." Then the following month he disavowed responsibility for any debts incurred by his wife and children and two years later sued Celia for divorce on the grounds of abandonment.
With that, Jacob Karatofsky slipped out of Montana and the public eye. He and Celia had signed two promissory notes in 1898 but neglected to pay anything on them. So the property at 62 S. Main in Helena was sold at a sheriff's auction in 1904. Uncle Sam Karatofsky himself hung on until 1912, when he died following a run-in with a streetcar in San Diego.
Uncle Sam's Block went on to various uses, eventually becoming Weggenman's Market in 1946, and then — after Urban Renewal — once again a building with offices on the first floor and residences on the second and third floor.