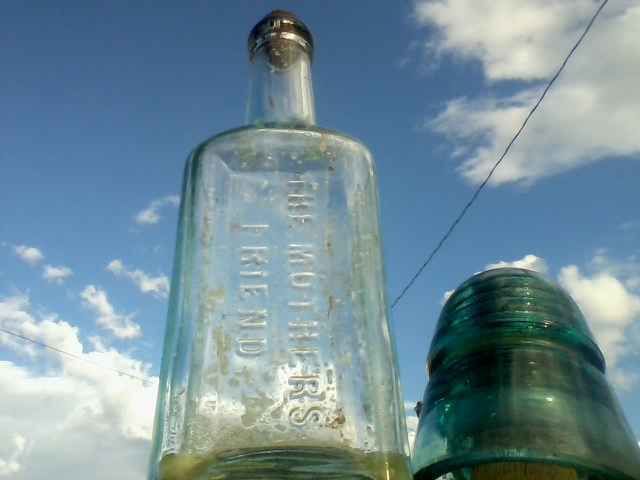 Not if it's about the medical issues that seem to define our current events. That's because I've unearthed an ancient miracle concoction so efficacious that I bet it'll tackle this modern concern instantly, and provide a lifetime of protection as well as countless other unimaginable side-benefits. Sorry I can't share. It lies out of the paradigms of docs and drug companies today and hasn't been manufactured for over a century. Its simple existence is only due to archaeological accident, a rare uncracked bottle popping out of the predominantly rusty nail soil of Marysville. Cork intact. Maybe two doses left?
Researching old ads reveals this was "scientifically prepared," "every ingredient of recognized value and in constant use by the medical profession," and "combined in a manner heretofore unknown," thus forgotten by now while everybody today dallies around fancy labs, squinting into electron microscopes, scrambling for a high-falut'n vaccine and whatnot. Selfish? Perhaps. But after chugging these remnants and setting out on speaker tours celebrating my new immunity, attractiveness, vitality, reduced body odor, etc., I'll be sure to encourage production. They'll analyze the dregs and figure it out soon enough for the rest of you unfortunate rabble. Take heart in the impeccable logic: COVID, schmovid... who could doubt a miracle tonic like The Mother's Friend?
Yeah, marketed to moms but super for stomach upsets, headaches, etc. for all genders. Brand name stemming from its stunning reputation to eliminate menstrual pains, other pesky lady curses, ease pregnancies, and turn delivery confinements (duration of labor) into painless pleasures so quick and easy you could probably get that over within a prime time commercial break today. Guards against any dangers to mom or babe. Another bonus? Not only is that newborn going to be exceedingly pretty, but infused with a grand happiness as well. Imagine what that golden spoonful will do for me. I'll be free and safe, perhaps get these tangled eyebrows under control.
"Snake oil?" Ha! That's exactly what we need!
But only the original stuff.
Genuine snake oil was the very definition of Effective Real Deal. Years before its near-expletive status today, snake oil genuinely deserved recognition in the Old West as the epitome of medicinal efficacy. Short story: among the many traditional Asian medicines brought along by the flood of Chinese immigrants with the 1840s gold rush, some contained literal snake oil. One popular ointment contained oil of the Chinese water (mud or paddy) snake. High levels of anti-inflammatory omega-3 acids were effective in soothing sore muscles after labor.
Then came the flood of huckster "medicines" of horrific narcotic combos, heavy freights of alcohol, sugared water or pure poison.
A neighbor's vintage bottle is a singular example: Lydia Pinkham's Vegetable Compound was a popular home remedy brewed on the family stove by the namesake woman and two sons. Legend says the secret recipe to cure "female complaints" was given as partial payment for a debt. Lydia began making it, giving away, then selling batches. First sold commercially in 1875, the East Coast sensation fast became a national success. And no, not by loading it with opiates or other insane narcotics. The Vegetable Compound had real... um, plant material (so it sounds; instinct suggests I'd be better off not looking this stuff up): unicorn, life and pleurisy roots, black cohosh and fenugreek seed. The real secret, go figure, turned out to be the 40-proof main active ingredient kick.
This concept of consumer betrayal wasn't anything new but many believe snake oil getting firmly established as total ineffective fraud can be blamed on a huckster named Clark Stanley in the late 1890s. Calling himself The Rattlesnake King, Stanley claimed rattlesnakes could be used instead of the admittedly scarce Chinese water snakes. In a shocking demonstration at the 1893 World Exposition in Chicago, he sliced open a live rattler before throwing it into a boiling pot. Crowds gawked at the bubbling surface oils collected for his American version: Stanley's Snake Oil. Had quite the popular run until the 1914 Pure Food & Drug Act put 'em in the crosshairs. Game over in 1917 when Stan's turn rolled around and fed investigators not only found zip oil ala rattler (which even if present held three times less omega acids than the Chinese), they also got a mix of mineral oil and beef fat rounded out with a dash of red pepper and hearty help'n of turpentine.
Major scandal, outrage and a new definition.
Snake oil is not alone. German engineering and craftsmanship generally holds a high reputation. Deserved for generations ... except for early in the last century when the German port of Hamburg became the shipping origin for a flood of cheap European products, thus generating the unfair "on the Fritz" term for annoying malfunctions. Fortunately for them, other gluts overwhelmed and we now have "Made in China" as a less than a boastful general moniker for cheap products.
But all this has no connection to The Mother's Friend which, in my opinion, was unfairly sucked into the group hysteria. I have faith looking at their heartfelt vintage advertising and science-based results. Heck, the name alone can spark a tear ... what's not to trust? Foo on FDA spoilsports claiming TMF was nothing but a crude oil mixed with soap, barely appropriate as an external lotion. The glop left may remind me (green specks aside) of moist, mostly-congealed bacon grease but likely just 120 years or so of fermenting like fine wine.
Only problem is prying that miracle manna out from its thin-necked vintage bottle. Okay, fine! Maybe this is a time to swallow pride, accept any assistance or help (like The World's Skinniest Spatula) as well as step up and share whatever bounty that may be. Equal portions to any that help me work to a solution. End result may truly be naught but a scoop of soapy snake oil for me but I'll sure appreciate the support despite thinking me nutz. Hell, maybe it will be a miracle cure. Who knows? It's doing something. Embracing courage, not fear. The critical lesson teaches me that simply working together in itself is enough to turn apparent disaster instead into, as Ed Harris declared confidently in Apollo 13, "our finest hour."
Welcome to The New Normal.
After escaping the Midwest 40 years ago, Vince Moravek wanders the wonders of Montana as an awed itinerant historian. He is the author of "Haunted Marysville, Montana" and "It Happened in Glacier National Park" and creator of "Zink," the weekly cartoon series for the Queen City News. He wrote this for the Lewis and Clark Heritage and Tourism Council, which provides the monthly "Nuggets from Helena" column in the Independent Record.