NorthWestern Energy, alongside representatives of Montana Wild and Montana Audubon, gathered Wednesday to remove harmful baling twine from Helena's iconic osprey nest off Euclid Avenue. 
Removal of baling twine from this raptor nest is part of NorthWestern's aviation protection plan. The Euclid nest has been monitored by NorthWestern for years.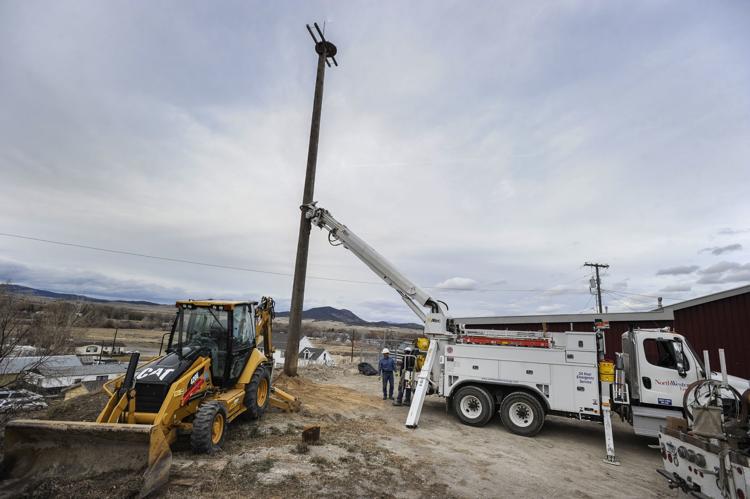 Company representatives have come back to the nest each year since then to remove baling twine. According to Sam Milodragovich, a biologist for NorthWestern Energy, there is only speculation on why the birds are so attracted to baling twine. For years, many speculated the color of the twine was a factor, but Milodragovich said there is no good science to back this up. 
Baling twine is often picked up by the birds and used as soft nesting material. The problem arises when an osprey gets caught on the twine. Milodragovich cited reports of birds hanging upside down from their nests with their claws caught in the baling twine. 
"That's not right. They didn't do anything wrong," Milodragovich said. "People don't want to injure animals. It's not in our nature."
According to Josh Peck, marketing and events coordinator for NorthWestern Energy, the company has been working on doing more messaging to raise awareness around the baling twine issue and to get people to clean up the potential hazard. These efforts to better educate the public are primarily funded through NorthWestern's own budget. 
Peck and Milodragovich said most private ranchers they have worked with want to help as much as possible. This was echoed by Larry Berrin, Montana Audubon's executive director, who has been working on a project with Montana ranchers on cleanup projects to have their beef certified bird-friendly. 
You have free articles remaining.
Additionally, the twine itself can contribute to causing fires on electrical transformers or otherwise cause outages. Shea Forkan, lineman for NorthWestern Energy, said the company experiences outages about two to three times per year due to baling twine. 
When disposing of baling twine, is is best to gather it and put it in a covered garbage can. This will prevent the osprey from getting to it. Officials say baling twine should never be burned, as it contains unsafe chemicals and is prohibited by law in Montana. Recycling the twine is also a viable option, according to the Yellowstone Audubon Society.
Over the past few years, NorthWestern has become more proactive when it comes to osprey conservation, according to Milodragovich. He explained that this is due to the osprey's tendency to use utility poles or platforms for nesting. Milodragovich said it is now incredibly rare for osprey to nest in a tree.
"They are very adaptable and they know that power poles make good nests," Milodragovich said. One of the oldest nests he has been able to certify on a power pole is from the early 1970s.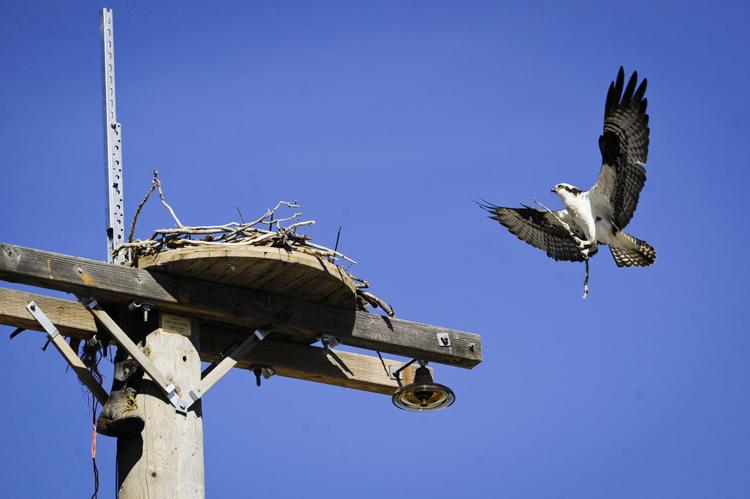 One of the reasons osprey and raptors are a focus is because of their apex predator status, according to Amy Seaman, conservation program manager at Montana Audubon. Because they are apex predators, they act as a barometer for the larger ecosystems they inhabit. The health of the raptors is directly related to the health of the nearby ecosystem.
Milodragovich said osprey represent an ecosystem approximately one mile around their nest. This can be useful for identifying problem areas or an overabundance of chemicals when the birds are studied. Currently, the birds are a good way to measure mercury levels.
In fact, eggshell thinning in birds like osprey, bald eagles and brown pelicans was directly cited as evidence that led to a ban on dichlorodiphenyltrichloroethane, or DDT, in 1972.
Upon last count, Milodragovich said there are 44 osprey nests occupying utility poles or platforms along a single power line between the Gallatin Valley and Idaho.