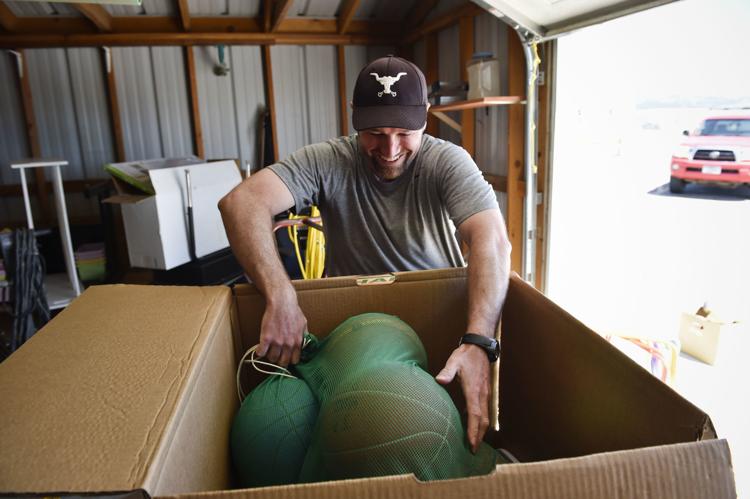 "I'll be sad when we shut the doors tomorrow," Brain Cummings, who has been the principal of Jim Darcy Elementary School for the last 13 years, said Wednesday.
Thursday was the last day of classes before summer break. The old Jim Darcy building will be demolished before students return to a brand new building in the fall. 
Cummings reminisced about starting the job when his children were in kindergarten and said they just graduated from Capital High School a week ago. However, Cumming said he won't miss the 80 degree heat in his office with no air conditioning.
Amid the move to a new building, Cummings said he believes the staff has kept the spirit of the school's namesake alive. Jim Darcy was a pilot who was killed when his aircraft was shot down during the Vietnam War, and Cummings said the new school building will highlight the Helena war hero even more. 
When he first started as principal, the school was already sending overflow students to other schools.
"We finally did it. I'm so excited for this community," he said.
Cummings believes the new school has instilled a sense of pride and connection for the North Helena Valley community. With the new school, he said, Jim Darcy feels more connected to Helena Public Schools than ever before. 
This is a sentiment shared by many of the teachers at Jim Darcy.
"It's not just an investment in our kids, but our community," said Riley Thatcher, a second grade teacher. "Our students and community deserve this." 
Thatcher has been at Jim Darcy for two years. She spent five years at Bryant previously. She has never worked at a new school in her teaching career. 
"I'm looking forward to it," she said. "The kids are excited because it's big and beautiful, but I think what they are missing is the new learning experiences they will have there." 
Through deliberate choices made when designing the building and selecting its furniture, Thatcher said, the new school is designed to be a learning space for all students. 
For fifth grade teacher Kayla Strom, the school represents the possibility of bringing in new families. 
"We are so full right now," Strom said. "I'm looking forward to seeing what new students and families can finally join Jim Darcy." 
Strom, who has spent the past four years in a portable building near the school, said she is excited to be in the new building. She believes having all of the fifth grade teachers in the same wing of the new building will allow for greater collaboration.
"It's weird to me that it's already done," she said. Strom said the past year has flown by. Jim Darcy's teachers started packing back in February. Cummings said they filled three cargo containers full of items from the school. 
Strom said she got emotional when she started thinking about saying goodbye to her students. They won't be joining her at the new school, because they will move on to middle school next year. However, she said school leaders have been showing the new school to the fifth-graders to include them in the excitement. 
Asbestos abatement at the old Jim Darcy began Friday, June 7. Demolition of the building will begin approximately two weeks after.
Get local news delivered to your inbox!
Subscribe to our Daily Headlines newsletter.