A program bringing together Montana manufacturers, farmers and restaurants has reached Helena and is inviting visitors and residents to Taste Our Place.
After starting in Great Falls and Red Lodge last fall, Helena has been brought into the program's network alongside Kalispell, Livingston and Whitefish.  
Born from a partnership between the Montana Department of Commerce's Made in Montana and Grown in Montana programs and the Department of Agriculture, Taste Our Place is how to better work together, according to Jan Stoddard, bureau chief at the Department of Commerce.
"It recognizes places that are invested in using Montana ingredients," Stoddard said.
This recognition comes via creating a network between growers and restaurant operators and promoting the final product to both resident and non-resident visitors.
The program is putting together a list of businesses that will allow people planning a trip to Montana to view all of the Taste Our Place participants. In Helena, The Highlander, Benny's Bistro, Saigon Alley and the Windbag Saloon are listed.
Stoddard said many more restaurants are in talks with the program to be added. 
Rene Requa, owner of The Highlander, said he found out about the program via an email. The program reached out to him after seeing local ingredients listed on his menu.
"It fit our place and it's a State of Montana program," Requa said.
Requa is committed to buying local ingredients. He sources potatoes from Townsend, pasta from Great Falls, beef from various ranches across the state and grows some of the served vegetables in a garden behind the restaurant. Outside of summer, he sources vegetables locally via Butte Produce.
The Highlander also serves exclusively Montana beer on tap and, during the summer months, sources burger buns from Wheat Montana.
However, even all this isn't enough for Requa. He is continually looking for more locally sourced ingredients.
"This program gives us a kick in the butt to source more locally," Requa said.
Specifically, Requa wants to find more locally baked goods and is anxious to go to the Made in Montana show this spring to "find more little things to replace" with local goods.
When asked why he decided to commit to local goods he said that it helps distinguish The Highlander from other restaurants.
"Plus, why not?" he said. "It's a great way of making Montana stronger. "It's Montana businesses supporting other Montana businesses."
"Many Montanans find our own products important to us," Stoddard said. "It's like a badge of honor for our citizens, buying locally made beer and food."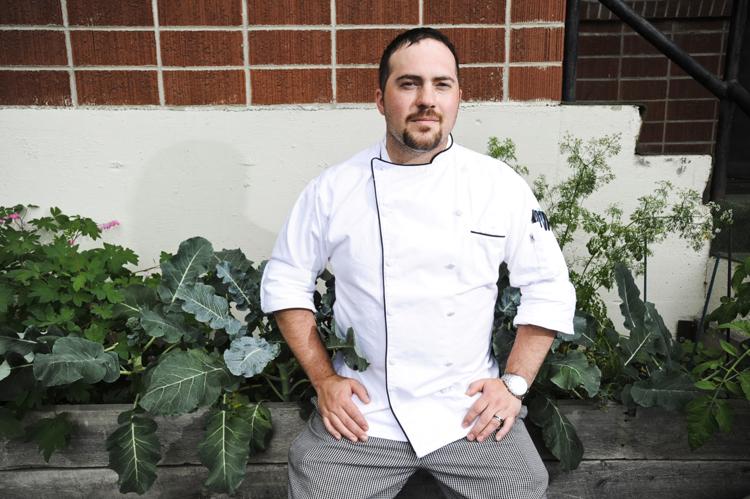 Also committed to a local ingredients kitchen are Eric and Hillary Potuzak at Benny's Bistro. The couple purchased the restaurant two years ago and have been tweaking the kitchen to serve soups, salads, sandwiches, curry, pastas and specials made with local ingredients.
"We are kind of known for serving different dishes than our peers," Eric said. For him, using local ingredients is part of the bistro's identity as a restaurant.
The bistro sources grains and flour locally and makes their pasta in-house. All proteins are locally sourced, except seafood. They get beans and lentils from the Hi-line, fruits from Flathead Lake or local orchards and vegetables in the Helena valley during summertime.
"We've been to the ranch where our beef is produced," Potuzak said. "We've watched it run around in a field."
Potuzak and his wife have visited most of the places where they source ingredients. "Knowing how the produce was produced, what it was fed, how it was grown and being able to truthfully tell customers that is really important to us," he said.
Potuzak said he got into the program because he likes programs that support local agriculture.
"Restaurants and agriculture go hand-in-hand," he said. "It also stimulates our local economy.
"We purchase as many Montana products as we can and try to cook really good food," Potuzak said. "When we create a new dish we try to make sure at least two ingredients are from Montana."
Rachel Conn of Saigon Alley food truck was drawn to Taste Our Place because of her love for fresh and local ingredients. 
"I love the idea of having a central hub of information that accentuates restaurants, breweries and distilleries that use local ingredients," Conn said. "So when that was offered to me, I jumped right on board."
Saigon Alley sources many of its ingredients locally. Conn regularly shops at the farmers market and has items delivered to her by the local Hutterites.
"I predominately use Western Montana Grower's Co-op," Conn said. "They source from farms all over western Montana and deliver straight to my back door."
Conn said she is blown away by what people are growing in western Montana. "I have gotten everything from fresh Thai chilies at the farmers market to ginger," she said. "Yes, ginger from a grower outside of Missoula."
Conn believes shopping locally provides the best possible ingredients, which make the best food.
"The added benefit is that we invest in our neighbors," she said. "If I am traveling through a place, I would want to find the best local places that featured ingredients that represent the area."
Stoddard, it's a win-win having these agencies work together and encouraging Montana businesses to use Montana-made food and beverages.  
"The creativity is how you put them into your menu," she said. "We have so many tourists that are looking for an authentic Montana experience. These are the places that offer that experience."
Stoddard and the Taste Our Place staff put a lot of effort into vetting the restaurants that enter the program. This process includes a talk with the owner and a close look at the menu.
"We make sure that it's not just a single product or menu item qualifying," Stoddard said. "They have to have a commitment to using Montana ingredients in their dishes."
Requa also mentioned that a big drawn is that the program is free. "It should be, you guys do all the work," Stoddard replied.
Stoddard predicts a great growth in the program by summertime. She said there are more than 150 businesses on their list and they already are adding breweries and distilleries to Taste Our Place. To find qualifying eateries, breweries, distilleries and coffee shops, visit http://madeinmontanausa.com/Taste-our-Place.