Nearly 400 people gathered Saturday on the front lawn of the state Capitol to rally for women's reproductive rights, not only on a national level, but closer to home as well.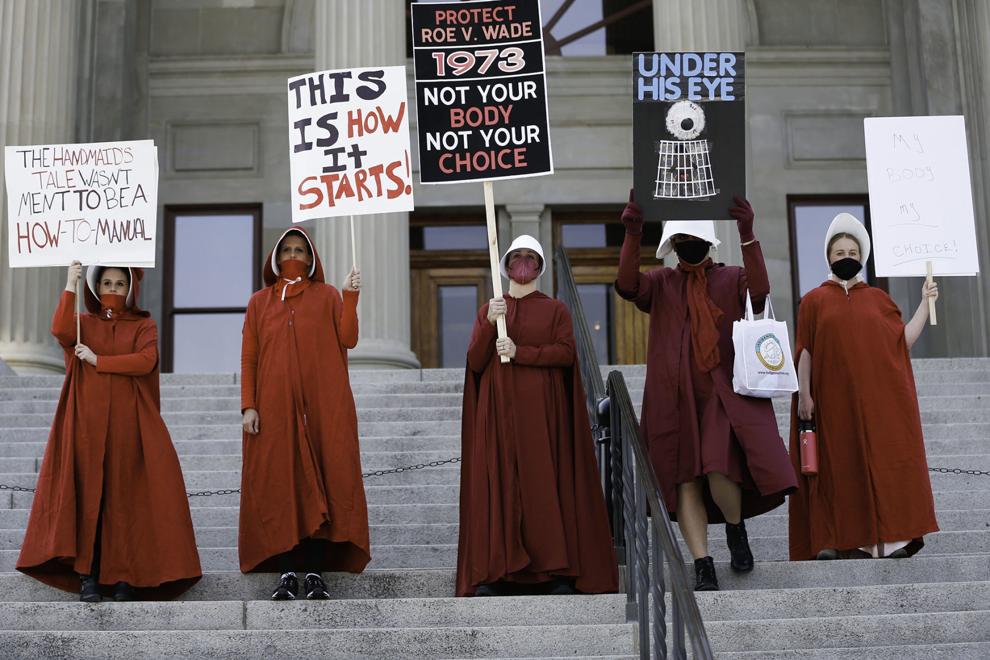 The crowd of mostly women, but some men and children, clutched signs that offered such comments as "This body is not a political battleground" and "Women's choices are more regulated than guns," heard speeches, sang, danced and marched around the Capitol in an event dubbed the Montana March for Reproductive Rights.
Five women dressed as characters from "The Handmaiden's Tale" held signs as they stood on the Capitol steps and held signs protesting any change to Roe v. Wade.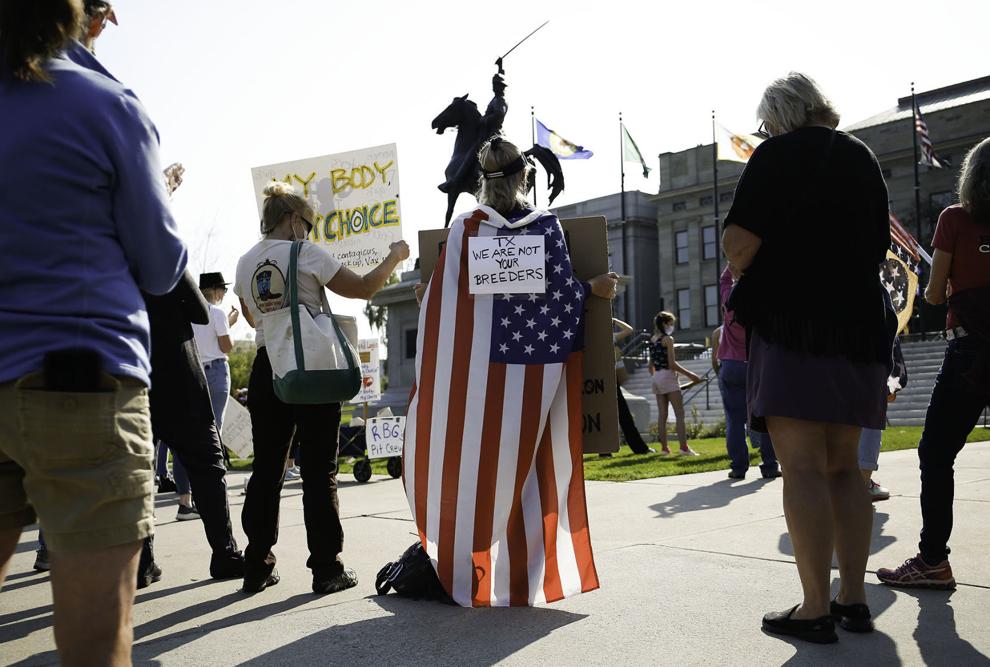 Jenifer Gursky of the Helena YWCA served as the host.
"I am feeling a little down because I don't have a body that is my own," she said.
And then she offered a line that became a repeated call to action throughout the event: "Get your bans off my body."
Saturday's event was one of more than 600 nationwide, with five others taking place in Montana. The main event was organized by Women's March and a "Rally for Abortion Justice" in Washington, D.C.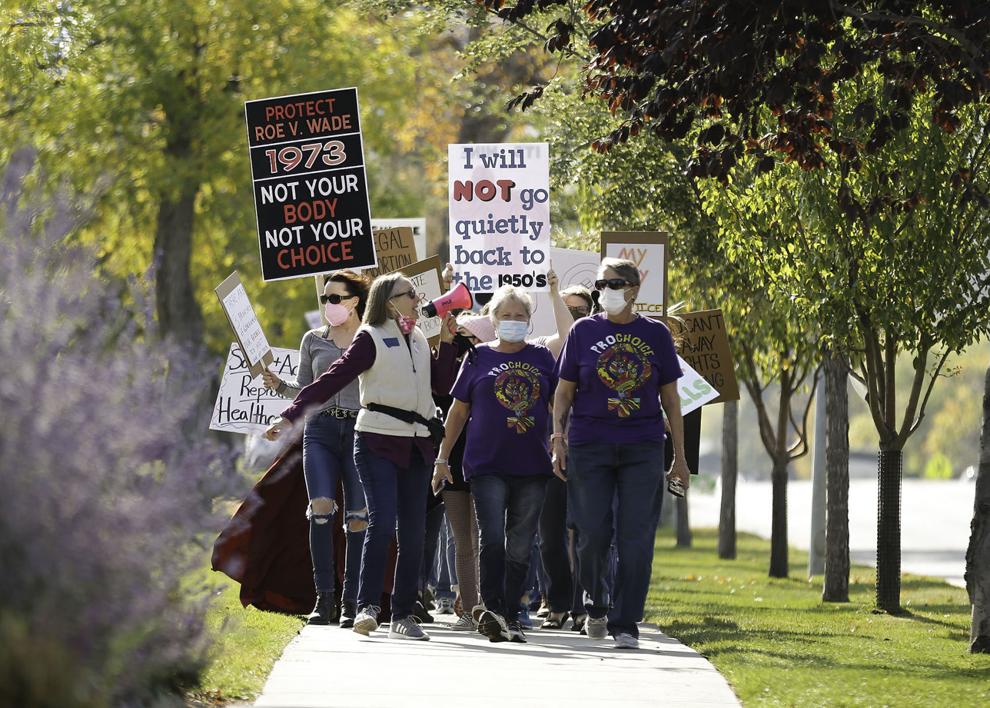 Samantha Collins, 30, of Butte, brought 2-year-old sister, Willow, with her.
"Our family is big on making sure women keep their rights, so I thought I would bring her," Samantha said. She said Willow had the right to not agree when she gets older.
The U.S. Supreme Court voted 5-4 in September to allow a Texas law that bans most abortions to remain in effect, denying most women the right to an abortion in that state. The Montana State News Bureau reported it will not have any immediate effect in Montana.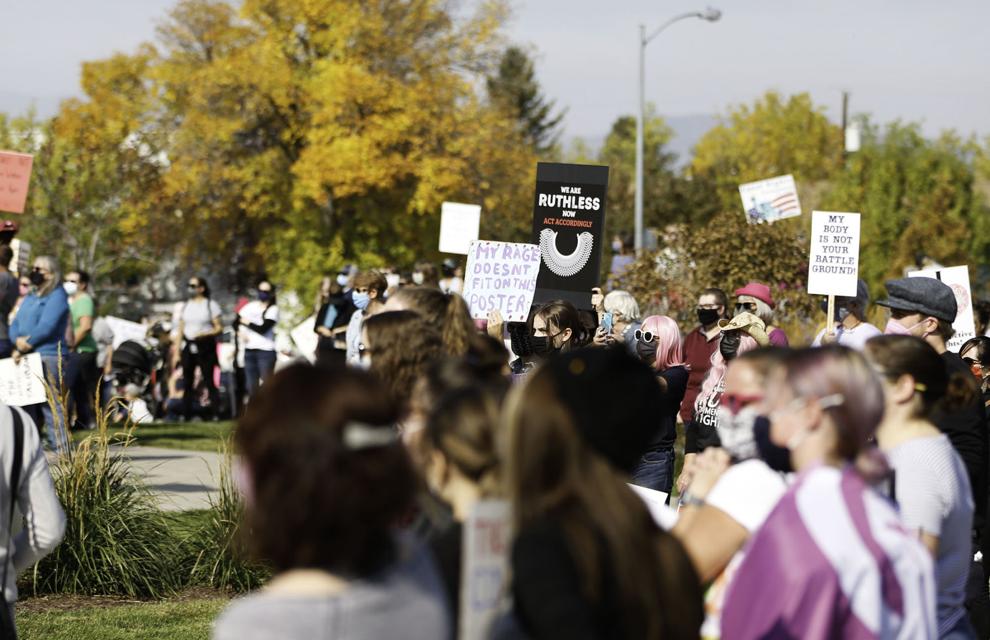 The court is set to reconvene Monday. Abortion is one of the issues expected to be brought before the justices.
In the 2021 state legislative session, GOP lawmakers passed three laws that were to go into effect Oct. 1. That includes a ban on abortions after 20 weeks gestational age; requiring a woman to be informed of the option to view an ultrasound before an abortion; and requiring informed consent before a drug-induced abortion and block providing the medication through the mail.
Yellowstone County District Court Judge Michael Moses granted Planned Parenthood of Montana's request for a temporary restraining order against the laws going into effect after being assigned the case earlier Thursday afternoon. The order is in effect for 10 days or until Moses decides on a preliminary injunction, whichever comes first.
Rep. Mary Ann Dunwell, D-Helena, called the laws passed by Republicans "unconstitutional" and said the rally was sending a strong message.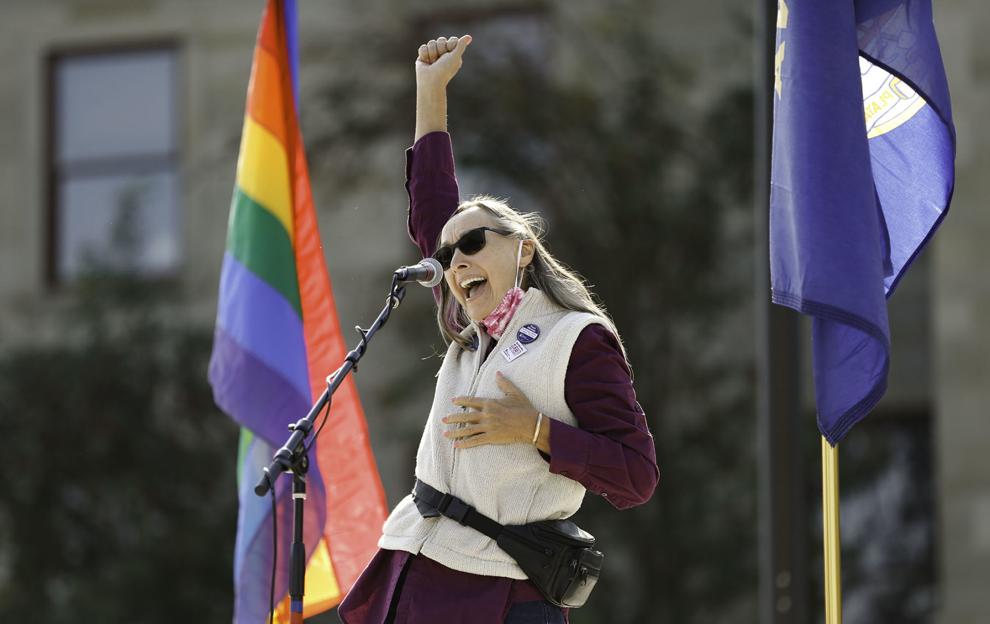 "Thank you for having the courage to be here today," she said.
Dunwell said she chose to get an abortion in the early '80s when she was a single woman in Louisiana. She said it was a tough decision to make, "but it was my decision."
Cora Neumann, a public health expert and congressional candidate, said the country and state was in a "pivotal" time. She noted that 55% of Montana women live in a county without access to abortion care. She urged people to oppose the new laws, saying they are another form of violence against women.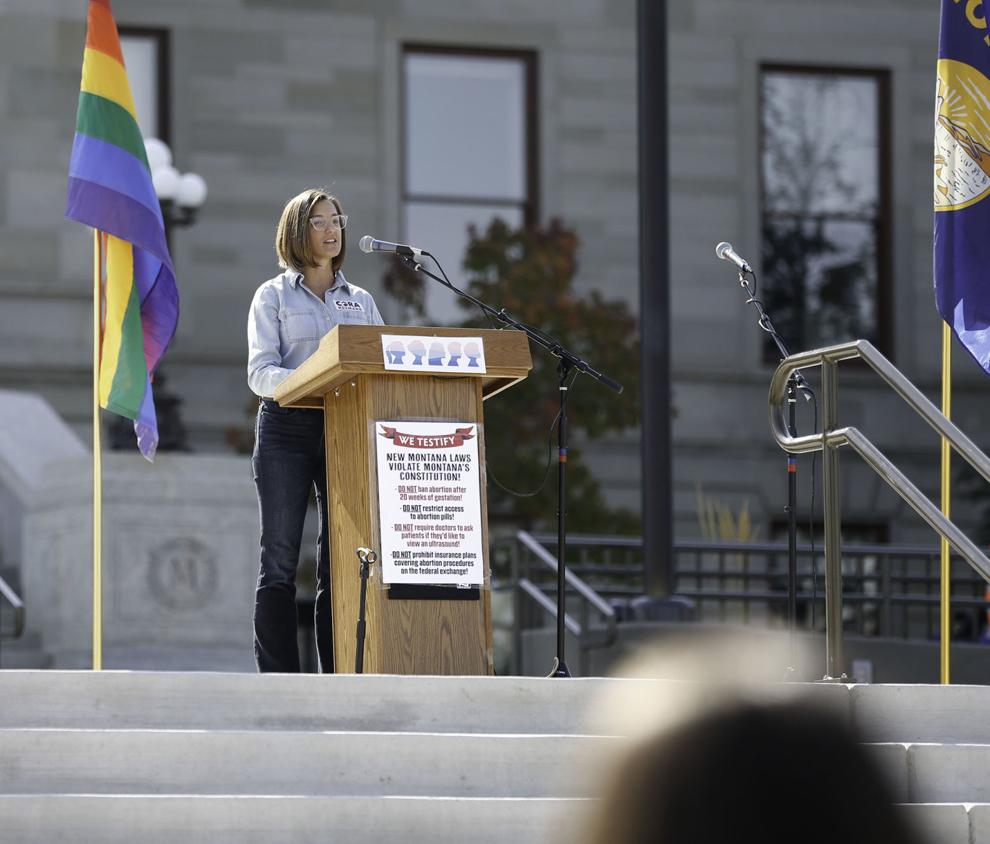 "Here in Montana we respect privacy," she said. "It's in our bones and our way of life."
Marci McLean, Indigenous program director at Leadership Montana, said women's rights have been under attack since 1492.
"Prior to that, women were seen as being equal to men," she said. "We need to restore reproductive justice."
McLean and Neumann are running retreats on reproductive justice for Indigenous women in Montana.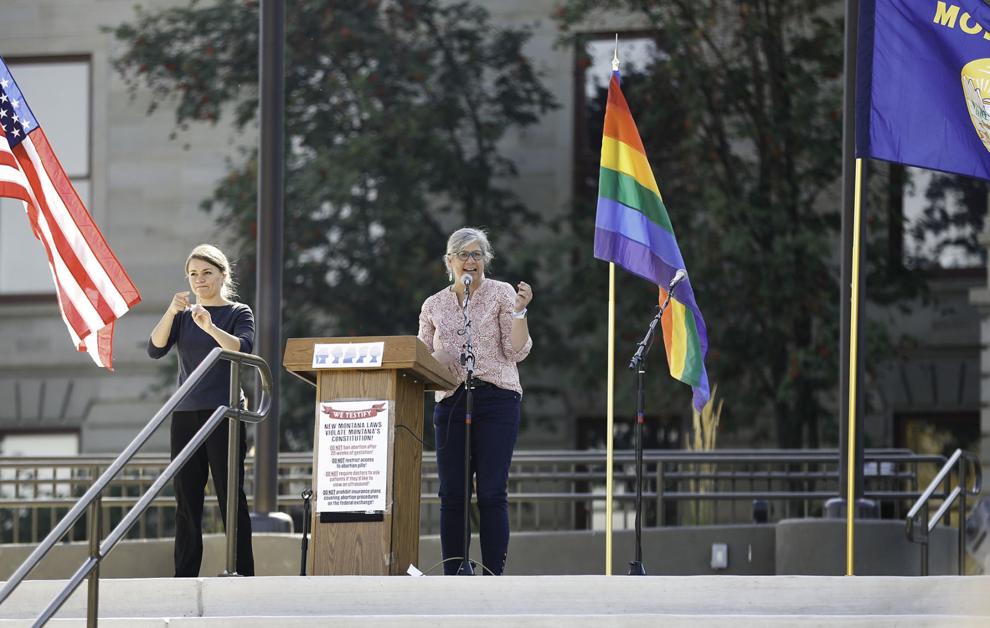 Rep. Laurie Bishop, D-Livingston, who is also running for a congressional seat, urged people to mount opposition to a "born alive" bill slated for the November 2022 ballot. The bill says that infants born alive, "including infants born alive after an abortion, are legal persons; requiring health care providers to take necessary actions to preserve the life of a born-alive infant …"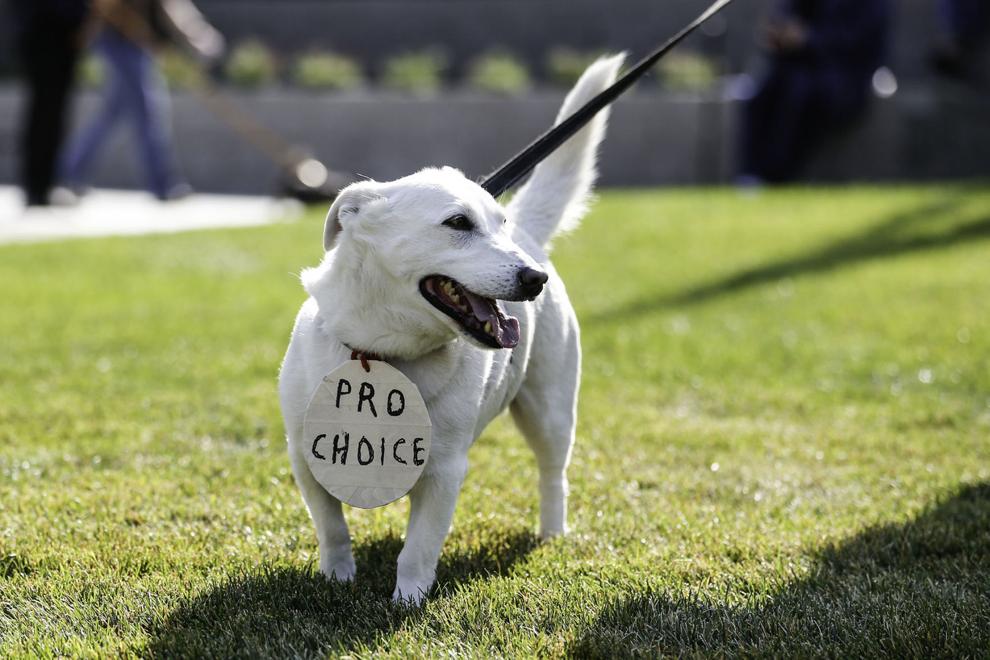 She called it a "bogus policy" and added it was based on the myth that botched abortions are happening in Montana. She said it was a ruse by Republicans who believe the bill will drive people to the polls.
Also participating Saturday were co-Poet Laureates: Mandy Smoker Broaddus and Melissa Jo Kwasny, and live music from Betsy Wise and July Fjell.
Among those in the crowd was JoAnn Hanson, 75, of Helena.
She said she has been in previous battles over women's rights and added she enjoyed Saturday's protest.
"I think it's wonderful to see all these women," Hanson said, adding she hoped they'd be able to stop these "repressive constitutional laws."