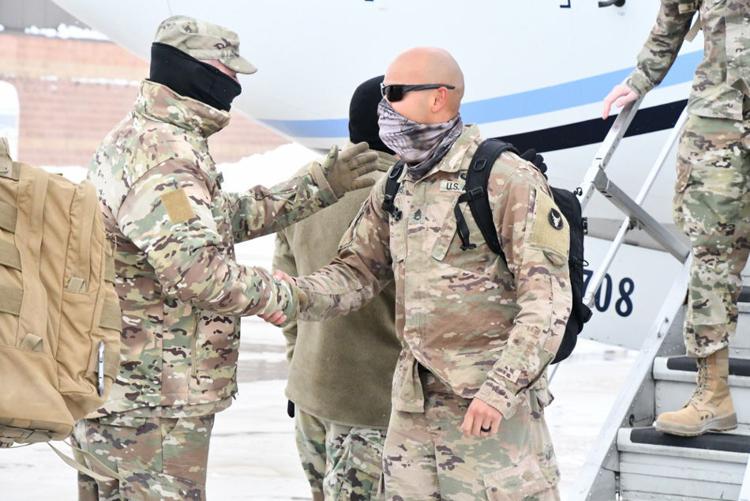 It wasn't the normal reception for our returning military from overseas, but these are not normal times. However, a global pandemic and a good, old-fashioned Montana snowstorm did not prevent a spirited "drive-by" homecoming for a group of local area soldiers.
On Saturday, 120 of the 240 soldiers of the Montana Army National Guard's 1-189th General Support Aviation Battalion arrived in Helena, from their year-long deployment to the Middle East.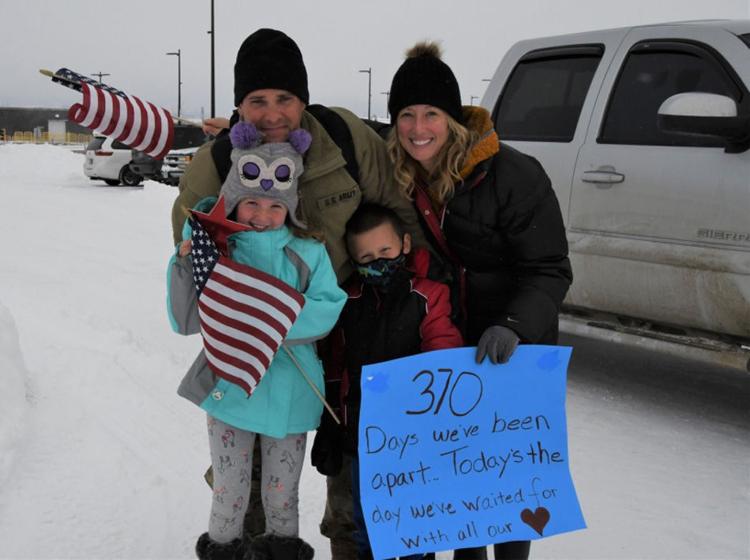 Their two charter flights landed at the Helena Army Aviation Support Facility (AASF) in the afternoon, welcomed by over 2-feet of snow, and temperatures in the mid-teens, compliments of an October blizzard the night before.
The weather did not deter dozens of the local community lined up along Skyway Drive between the Helena Airport and the Aviation Campus – armed with yellow ribbons, placards and flags – to welcome the soldiers home. And Mother Nature made it easier to abide by the social distancing guidelines to remain in their vehicles.
"To ensure our COVID-19 compliance, the soldiers will disembark the plane and immediately be paired with their families and return home," Maj. Gen. Matt Quinn, adjutant general of the Montana National Guard, wrote in a Friday press release.
Only family members were allowed into the AASF compound to receive their arriving soldier, "…however, the important point is that the soldiers are safely returning to Montana and being greeted by their immediate family after the year-long deployment," Quinn said.
The remaining 120 members of the battalion will be arriving individually and in small groups on commercial flights around Montana at different airports nearest their homes, in another step to minimize potential exposure of the public and the soldiers.
History in the making
The 1-189th GSAB departed Montana in October 2019 and conducted operations throughout the Middle East; including Kuwait, Iraq and Syria, according to the MTNG. The battalion, headquartered in Kuwait, was part of the 34th Expeditionary Combat Aviation Brigade from the Minnesota Army National Guard.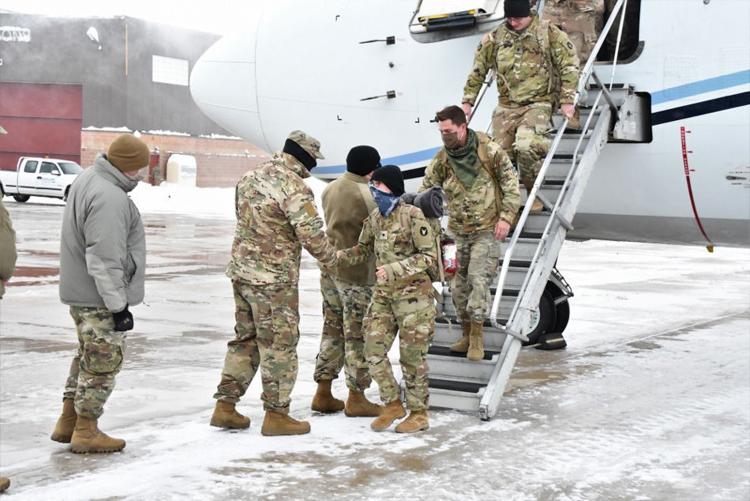 Joining fellow National Guard soldiers from Nevada, Minnesota and four other states, the 1-189th formed part of Task Force Javelin, a rotary wing aviation unit supporting Operations Inherent Resolve and Spartan Shield.
The Task Force spread throughout the U.S. Central Command area in the Middle East. The unit served as the primary method of aerial medical evacuations for U.S. forces in the area, as well as aerial movement of personnel and equipment. In addition, ground teams supported the refueling and ammunition resupply of aircraft.
"It's seeing history in the making," said Command Sgt. Maj. Frederick Haerter, the senior enlisted leader of Task Force Javelin. "It's Task Force Javelin's mission to fix and fly helicopters and these soldiers are the tip of the spear."
Task Force Javelin's fuel and ammunition support distributed more than 2.3 million gallons of aviation fuel to over 8,000 aircraft. During this time the fuel section operated in five locations simultaneously, accounting for nearly 40% of the fuel issued in theater.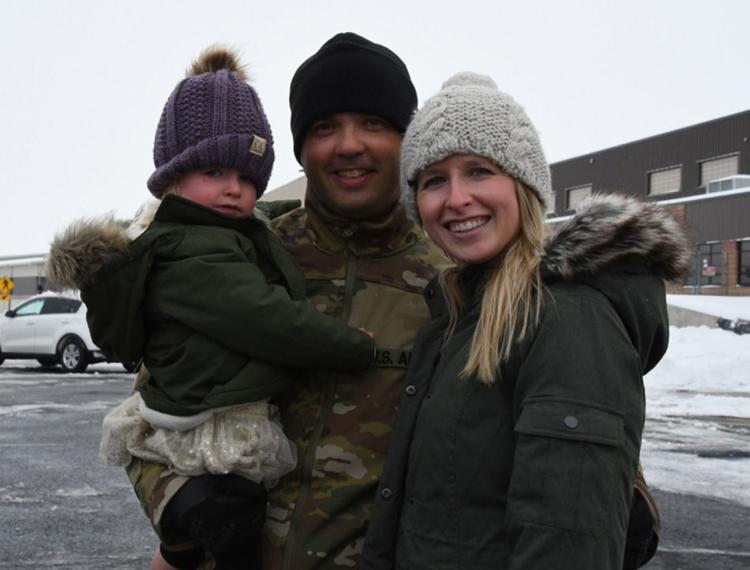 The outfit delivered fuel utilizing nearly every fuel system in use by the U.S. military, as well as operating forward refueling operations.
Led by LTC Fowler, CSM Haerter
The 1-189th GSAB's battalion commander is Lieutenant Colonel Paul B. Fowler, who has served in the U.S. Army for 24 years. After graduating from Capital High, LTC Fowler enlisted in the MTNG in 1994, as an E-1, prop and rotor mechanic.
He commissioned through the Montana Officer Candidate School in 1998 and attended Ordinance OBC before being branched Aviation. Among his numerous positions in the National Guard, this is LTC Fowler's third overseas deployment. He previously served as the Company D, 140th GSAB commander to Iraq in support of OIF III, and then with 1-189th GSAB as the S4 in support of the battalion's deployment in 2014.
Among his decorations are the Bronze Star, two Meritorious Service Awards, Air Medal, two Army Achievement Medals and the Combat and Special Skill Air Assault Badge.
A Helena native, LTC Fowler and his wife Sara have two children, Lizabetta and Christrian.
The battalion command Sergeant Major is CSM Frederick A. Haerter, Jr., who is also returning from his third overseas deployment. A 31-year military man, Haerter enlisted into the Army National Guard in 1989.
Haerter has held every leadership position from fire team leader to command sergeant major. As a mechanized infantryman, he served as platoon sergeant for CO B 1-163 IN in Bosnia Herzegovina in SFOR 11, and as the leader for the same platoon during a deployment to Iraq in OIF 11.
A few of CSM Haerter's decorations include Army Commendation Medal (with "V" device), Army Commendation Medal (5th award), National Defense Service Medal (with Bronze Star) and Iraqi Campaign Medal (with Bronze Star).
Haerter and his wife of 26 years, Melissa, are the parents of Emily and Evan.
A different welcome home
For Saturday's return home, a special system was put in place for safety measures. The soldiers were assigned a color – red, white, blue or yellow, upon boarding the charter plane from Fort Hood.
"Upon landing, each color was called, and that group of up to 20 soldiers were asked to disembark the plane and go to that color door in the AASF Hangar," related Major Dan Bushnell, chief, public affairs, MTNG. "That door led directly to the corresponding color-coded parking area, where their families were located based upon color code."
After reuniting with their families, they left the AASF parking lot to return to their homes.
"The soldiers will report for their first Yellow Ribbon Event in Helena beginning in January," he said. "The Yellow Ribbon program…provides soldiers and their families access to Montana support services, training and events that assist them in reintegrating back into civilian life and work."