On Sunday afternoon, upwards of 2,000 people crowded into Memorial Park to participate in the 15th annual Montana NAMIWalk event in support of mental illness awareness and advocacy efforts. Put on by the Montana Chapter of the National Alliance on Mental Illness, the event is NAMI's primary fundraiser and awareness builder.
"There's so many people who struggle with mental illness and this event is great way to bring about awareness and highlight that recovery is possible," said Matt Kuntz, executive director for NAMI Montana.
The Montana chapter of the National Alliance on Mental Illness held its 15th annual Montana NAMIWalk Sunday at Memorial Park in Helena.
From the first year it was hosted in Helena, the event has continued to grow. This year's fundraising goal was $125,000. As of Sunday afternoon, the NAMI Montana website reported  that 397 participants and 45 teams had raised more than $86,466. Contributions provide funds for NAMI's mental health support, education and advocacy services on local and national levels.
"We're slowly working together to build a better world for people struggling with mental illness," said Kuntz.
Prior to the start of the 5K walk, participants listened to an address given by keynote speaker Cammy Heck of Sidney, who was recently chosen as Miss Montana's Outstanding Teen of 2018. According to Colleen Rahn, education director for NAMI Montana, Heck was asked to speak because of her platform aimed at removing the negativity surrounding mental illness.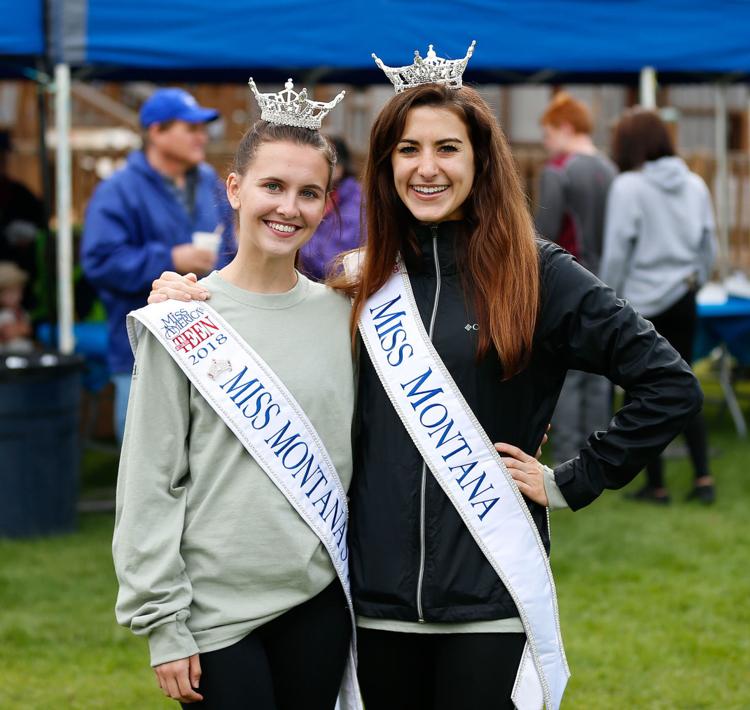 "Mental illness is real, it's a disease," said Heck at Sunday's event. "We don't realize how common it is because it's hidden."
"It's about breaking the negative stigma surrounding mental illness because that's something that's really prominent in our school and our town," said Heck. "The shame, the stigma that people think mental illness is weird, or not something you should [be] talking about, something you should keep silent. I think it prevents a lot of people from getting the health care they need and reaching out for help."
After the opening addresses and a Zumba warm up led by members of Crossroads Fitness, the walk officially got underway. As the crowd began moving forward, Kuntz stood by, taking in the immensity of the crowd before joining the walk. Kuntz has served as NAMI Montana's executive director since 2008. He shared that he first became involved following the loss of his stepbrother, who suffered from post-traumatic stress disorder, to suicide in 2007.
"It's the most amazing sight to look out from the Memorial Park band shell and see different age groups and people from all walks of life walking together in support of this cause," said Kuntz. "The line of walkers stretches from the YMCA all the way to Carroll College."
Rahn, who works alongside Kuntz at NAMI Montana, was at Sunday's event as both a volunteer and walker.
"I'm volunteering and walking for everyone that has mental illness and to help bring awareness to the issue," said Rahn. "It's nice to see so many people come together for a common cause."
Deb Kralicek, pastoral care director for St. Mary's Catholic Community, was also among the colorful crowd of walkers. Kralicek was involved in helping put together a fundraising team of parishioners from St. Mary's called Saint Mary Stewards.
"In my position as pastoral care director, I have witnessed the effects of mental illness on parishioners, friends and family members," said Kralicek. "I had a good friend who completed suicide a few years before and felt that had I been more aware and paid more attention to what she said and did, she maybe would not have succeeded … this is just one little step I can do. There is so much more that I and others can do."
As of Sunday, the Saint Mary Stewards had already raised $425, surpassing their $400 goal.
"Four hundred dollars is barely a drop in the bucket, but everything helps," said Kralicek. "It was a realistic goal. Next year we will aim higher."
Kralicek, like many of the walk's participants, understand the importance of working to change the stigma of mental illness in our culture.
"Many people view mental illness as a flaw or something to be ashamed of, when in reality it is completely natural and inevitable," said Kralicek. "More education would result in a more empathetic and accepting society for those who do suffer."
Sunday's walkers joined thousands of others participating in a total of 88 different NAMIWalks across the country. In 2017, NAMIWalks collectively raised over $11.4 million.
"This event makes a statement of how much our community cares about making life better for those with mental illness," said Kuntz.
Get local news delivered to your inbox!
Subscribe to our Daily Headlines newsletter.