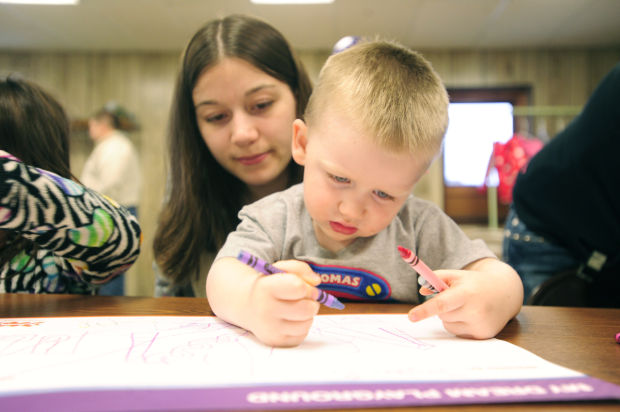 Ten weeks ago on June 10, East Helena residents found out most of the funding would be available to build a new community playground at the city's Main Street Park. Seventy-four days later, the effort is hurtling to completion. More than 200 people will converge on the park to build the new playground in six hours or so on Aug. 23.
The timeline has been very tight, said Heather Ireland, an East Helena resident who's been a major force in moving the project forward. Once they learned the funding was available, she had to organize a day for design eight days later. At the design day, a few dozen kids and 40 or so adults collaborated on creating designs.
The project design, planning and construction are being led by KaBOOM, a national nonprofit organization that helps communities construct playgrounds. KaBOOM built its first playground in 1995. Since then, the organization has helped communities build 2,200 new playgrounds.
From the ideas presented at the Community Design Day, KaBOOM created three designs. The planning group made its choice the last week of July.
Most of the funding is coming from Blue Cross and Blue Shield of Montana, but East Helena residents and businesses have stepped up and the local group that's organizing the project gathered more than $8,500 in just six weeks as the community's contribution to the effort.
Some 170 Blue Cross and Blue Shield employees have volunteered to help with the build, and the rest are the from the East Helena community.
Montana Blue Cross and Blue Shield's willingness to get involved was an easy call for the company, according to John Doran, the company's director of public relations.
"A playground is a central part of most Montana communities," Doran said. "It's a place where families come together … it can be the heart of the community.
"Childhood obesity is a big problem in Montana and across the country," he continued. "Our mission is to do everything possible to help Montanans lead healthier lives. This is a perfect fit for our mission."
Ireland recalled one of the lighter moments in the process, when they were making a progress report to the city council. "At one council meeting," she said, "we were discussing changing a Bing-Boing for an Overdrive. It was funny at a (formal) council meeting."
Although the construction is expected to take only a half-dozen hours on Aug. 23, the volunteers are putting in lots of time preparing the location. At the playground site, there was a wading pool or ice rink (depending on who you ask) and a concrete warming building that have had to be removed. Ireland said she's currently hoping to find someone who will donate fill dirt. Right now, she said, "it's kind of a bathtub."
As part of the effort to get the community behind the playground project, Ireland said, there will be a community fair Saturday, Aug. 9, at the Main Street Park where the new playground will be.
East Helena Mayor James Schell said he's happy with the way things are going with the playground project. "I feel very good about what's going on … in a very short timeline."
What Schell is most pleased about, he said, is providing kids with a place they'll remember about their hometown later in life.
"People have different memories," he said. "Someone might remember the old curly slide because they burned their can on it on a hot August day. Other people will have different memories of it.
"So many people of East Helena have come out to support this," Schell said. "It's been really neat to see.
"The person who's been doing the most is Heather Ireland," he continued. "She's a shining star. She's a wonderful, wonderful person."
"East Helena needs a new playground," said Doran. "The community has so much pride and so much willingness to get behind an effort like this, to really buy into it and make it happen. This is not just for now, it's for generations to come."
Anyone interested in helping out with the East Helena playground project can call Ireland at 406-465-0231 or contact her via email at heather.m.ireland