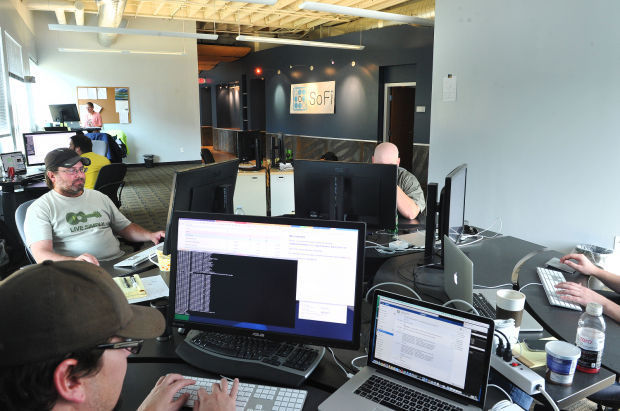 A San Francisco-based startup opened an office for software developers in Helena this spring and is now looking to hire 25 to 35 new employees.
Social Finance, Inc., a company that refinances student loans, found talented developers in Montana through its work with the Student Assistance Foundation, David Thompson, SoFi's director of engineering, said.
Thompson, who used to work on contract with the SAF, said SoFi had a difficult time finding employees in the highly competitive San Francisco market.
This May, SoFi employed Thompson and some of his colleagues full-time.
Thompson said the Helena office, which now houses about 10 employees, is advertising for more positions.
The spots are being advertised nationally, but Thompson said they have received some applications from within Montana so far.
"It's easier for us to find more local guys," he said.
Christina Henderson, executive director of the Montana High Tech Business Alliance, said Montana's talent, environment and low cost of business are what draws nationally-competitive companies to the state.
"I think it's fantastic for Montana and I think it's a growing trend," she said.
Though there's not a lot of information on the state's tech industry, Henderson said she knows of several large-scale companies with branches in the state. Since the alliance launched this May, she's received several inquires from other companies looking to do the same thing.
Arguably the most beneficial part of these jobs coming to Montana is the high salary level.
"They have to pay very competitive wages to attract talent here in Montana and keep talent here in Montana," Henderson said.
Part of the reason this is taking off now, Henderson said, is because of the Internet, there are no longer geographic constraints for employment.
Which is exactly what makes SoFi's office possible.
Thompson said most of their work is cloud-based, so the only infrastructure he and other software employees need is a fast wireless connection, which they receive from Treasure State Internet.
Helena also houses software jobs for national companies like the securities and logistics corporation Northrop Grumman and Xerox's ACS Inc.
Thompson said outside those national companies the new jobs at SoFi will come with higher salaries than most IT jobs in the city.
More capital in Helena means more consumer spending power.