Dr. Greg Holzman is entering his final days as the state's medical officer after being among the familiar faces in Montana's battle against COVID-19 during a torturous time for the state.
"It feels good, it will be nice to take some time off," he said as he approached his last day with the state on April 16, leaving a position he has held since 2015. From the onset of the pandemic, Holzman was a fixture at news conferences led by then-Gov. Steve Bullock, a Democrat, and provided information and fielded questions from reporters along with other Department of Public Health and Human Services staff.
He submitted his resignation Feb. 11, the day after newly elected Republican Gov. Greg Gianforte lifted the statewide mask mandate, prompting news reports to note the timing. The reports stated the last time Holzman had appeared in a news conference was Jan. 29.
"I'm grateful for Dr. Holzman and his dedicated service to our state, particularly as Montanans have confronted the pandemic over the last year," Gianforte said Monday in an email. "Dr. Holzman was instrumental to our efforts to swiftly and efficiently administer vaccine doses across Montana, particularly to the most vulnerable among us. We'll miss his experience and expertise."
Holzman, 54, said in a recent telephone interview he had been thinking about moving on prior to submitting his resignation. He balks at questions about politics or as to whether his decision had anything to do with the lifting of the mandate.
"I don't want to get into that," he said, adding that he focused on his role to get the best scientific information out at the time.
"I am not elected, and the decisions of where the state is going to go is up to the folks in Legislature and the governor," Holzman said. "I have appreciated the kindness Gov. Gianforte has shown me and I appreciated being in both administrations."
"Thank you for allowing me to work with the dedicated employees within the Department of Public Health and Human Services," he wrote in his Feb. 11 resignation letter. " ... I believe we have accomplished some exciting projects, and I know there are many more to be accomplished."
New DPHHS Director Adam Meier issued a statement later that day:
"I appreciate everything that Dr. Holzman has done for the state of Montana during his tenure at DPHHS," Meier said. "He's done an incredible job as a medical advisor during the COVID-19 pandemic and through an ever-changing environment."
He noted Holzman has worked tirelessly. Margaret Cook-Shimanek, who has been working with Holzman through the pandemic, will serve as interim medical officer.
Bullock, who could not seek another four years due to term limits, praised his former medical officer.
"Dr. Holzman was not only one of my closest advisers from the onset of the pandemic to when we began getting shots in arms, but also a true public servant whose wisdom aided health care workers, local public health officials, Tribes, businesses and Montanans all across our state," he said Monday in an email. "Montana was fortunate to have such an attentive, caring and knowledgeable chief medical officer to guide us during the challenges of the past year. His contributions and commitment extended far beyond this last year, however, and I know he will continue to leave a mark in his future."
Vicky Byrd, chief executive officer of the Montana Nurses Association, called Holzman "a strong stable public health voice," especially during the pandemic.
"He understood the culture in Montana including the geographic and political differences and the need for flexibility," she said in an email. "He has been a tireless advocate for the 'locals' or those public health people on the front-line."
Byrd said Holzman always spoke through an evidence and science-based lens, even when unpopular. She said he established credibility for himself and public health professionals to further the goals and importance of public health across Montana, "even during this difficult time."
"Dr. Holzman has always been available and accessible, moreover, I am sure, as with all public health professionals and health care professionals, this pandemic has taken a physical and emotional toll, as it has on us all," she said. "MNA is grateful for his public health work and advocacy, he will be missed."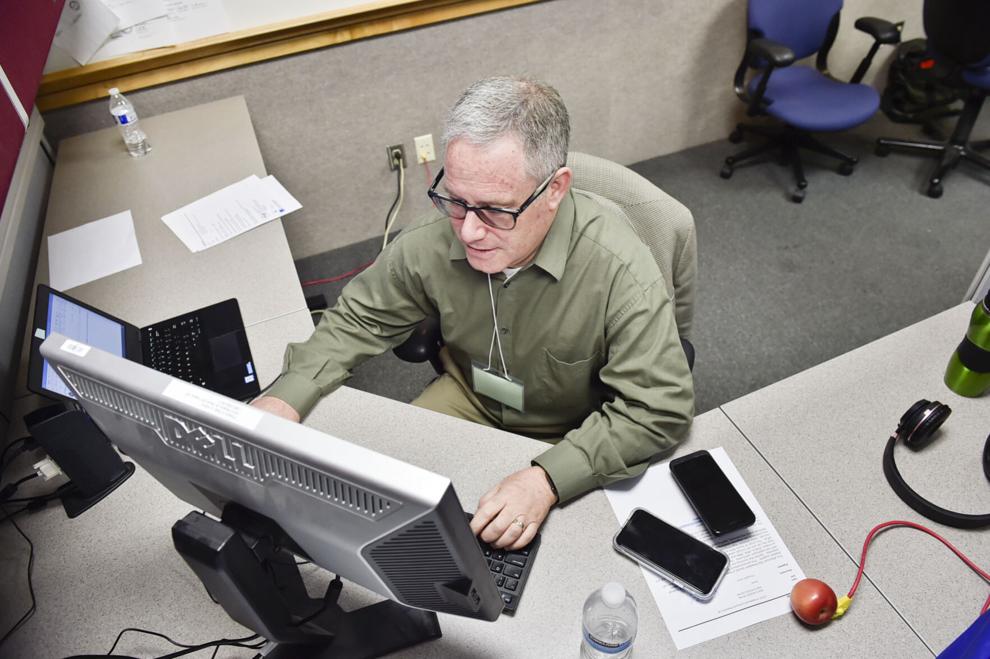 Rich Rasmussen, president and chief executive officer of the Montana Hospital Association, said Holzman was open and inviting to suggestions from the association on different approaches to the pandemic.
"I had some different views on responses and Greg was open to every one of them," he said, adding that collaboration is important "because you can miss things."
Rasmussen said the state was well served by Holzman and his successor could look for no better mentor. He said the pandemic was the most challenging period in the state's history from a public health perspective and said Holzman served as the quarterback.
"The entire team of the Department of Health did a yeoman's job in all this," he said, adding that Montana's measured approach has allowed it to be in a better situation economically than many other states.
According to a biography posted online, before joining Montana's DPHHS full time, Holzman was the director of the Healthy Campus Initiative at Michigan State University. He also served as deputy director of the Office for State, Tribal, Local and Territorial Support at the Centers for Disease Control and Prevention. And he had been the chief medical executive for the Michigan Department of Community Health.
He is board certified in family medicine and preventive medicine and a graduate of the University of Florida's College of Medicine. Before completing his second residency in preventive medicine, he worked on the Blackfeet Indian Reservation in Browning.
As medical officer, his priorities include providing leadership for statewide public health programs, researching and monitoring emerging public health issues and representing DPHHS as a medical spokesperson and point of contact with Centers for Disease Control and Prevention, according to the Association of State and Territorial Health Officials.
Holzman said he is looking at some possibilities for his future, but at this point there's nothing definitive. He said he would "love" to stay in Montana.
He said while the coronavirus may not be the most difficult challenge he has faced in his career, it has been the longest. He balks when asked about Montana's response. The first case was March 11, 2020. 
Bullock said at the time its arrival in the Treasure State was unsurprising. Among actions he took was a temporary stay-at-home order and several other directives, such as school closures and business restrictions.
These decisions did not please all Montanans. On April 19, 2020, nearly 350 people attended a "Liberty Rally" on the sidewalk around the state Capitol, calling for an easing of restrictions. Other protests were held as well.
As of Tuesday, Montana has had 106,426 confirmed cases of COVID-19. Of those, 103,8954 have recovered and 1,526 have died. The state has distributed 597,082 doses of coronavirus vaccine and 250,643 people have been fully immunized, according to the state website covid19.mt.gov.
Holzman talked about the challenges the coronavirus, a respiratory illness, posed for the state.
"An infectious disease knows no boundaries," Holzman said. "To say one state has a great response is not a fair way to look at the problem."
"I think we are doing well in a lot of areas but I think we need to be very vigilant," he said later.
Holzman said the vaccine rollout has gone well and the state has done well in getting the vaccine to vulnerable populations.
"The next big challenge is educating people to get a majority of Montanans vaccinated," he said. "The more we have vaccinated the more we will lessen the spread."
"We cannot put down our guard at this point in time," he said, "but I think we need to find that balance and instead of arguing over little points, how do we move forward in the safest possible way to allow our activities and our life."
He said there are a lot of lessons to be learned.
He said ideally, the whole world would have battled the crisis together, perhaps through the World Health Organization.
"You may have the greatest play in football, but if every player is running a different route, you cannot expect a great outcome," Holzman said. "Clearly we should have been more clearly unified from the top down."
"We should have moved politics out of it as much as possible" and had clear communication from scientists on "what we knew, what we didn't know and why we were recommending the points we were recommending."
"That might have helped with a lot of the confusion," he said.
Holzman said you can credit the Trump administration for some things, such as the way it moved with the vaccine, and how a team of scientists got a vaccine out within a year without cutting corners on safety.
He said the Biden administration deserves credit as well with the vaccine rollout.
"Messaging has been a major challenge all the way through and has caused issues," he said. "The virus was fed by a lot of political divisiveness and that did not help either."
He said the frustration came in communication and getting the clear point across of the seriousness of the virus and the ways we can work as a community to protect each other.
He said when the state first closed down in March, people heard the term "flattening the curve."
"We were trying to find out at that time about a brand new virus we knew little about," he said.
In the early days, when there were not as many cases, officials were trying to learn about the coronavirus.
"We were even learning about masks," he said, adding it was later learned that the virus could be transmitted asymptomatically.
"And that changed things," he said. "It showed that a mask can make a difference."
Holzman said there will likely be more people wearing masks after this is over, such as on public transportation or airplanes.
In 2018, before COVID-19 turned the world upside down, Holzman, Todd S. Harwell and Steven D. Helgerson wrote an article on the 1918 Spanish influenza toll on Montana. He said he was saddened by some of the similarities.
"While politics have played a major issue, I did not believe it would be as divisive and challenging as it was in the United States," he said. "We did not translate knowledge of the 1918 flu as we as we could have for COVID-19."
Holzman said he is most saddened that, aside from the lives lost and the lives affected by the virus, "I know we could have done better."
But he said local public health agencies and others in the health care system did the best they could. He said you have to look at what is going on in other places to realize what will happen close to home.
Rasmussen said Gianforte is inheriting what is now a very seasoned public health team that because of its experience can carry the state through other public health emergencies.
"I have great confidence that anything we face in the future we will do well to respond to it," he said.
Holzman called back a few hours after the interview to ask if he could add another comment or two. It was as the state Legislature was grappling with its $12 billion two-year budget and what programs would be funded.
"I truly believe we need to take some time for what happened over this past year to invest in public health, but not make rash decisions," he said. "Not only to prevent the next pandemic, but also for so many of the other public health issues that have a significant effect on our community and economy.
"This is the time we should learn from this to invest in that," Holzman said. "There were a lot of hard decisions made with not all the data we wanted, but I have admiration for the politicians and public health officers and board of health of officers who made some really tough decisions at times with what they saw was the best way to save lives and decrease challenges to people's health."
Holzman also said public health has done work on several other issues, noting people forget about vaping and e-cigarettes, issues involving water quality and the environment.
He said the agency has also addressed issues on strokes, diabetes, cardio and suicide.
"The list can go on and on of the work that public health does," Holzman said, adding that when public health is working well, "nothing is happening."
"The issues are taken care of before there is a major problem," he said. "The countries that do well are the ones that invest in public health. If the community is responsible for it, we can make a difference."
Assistant editor Phil Drake can be reached at 406-231-9021.