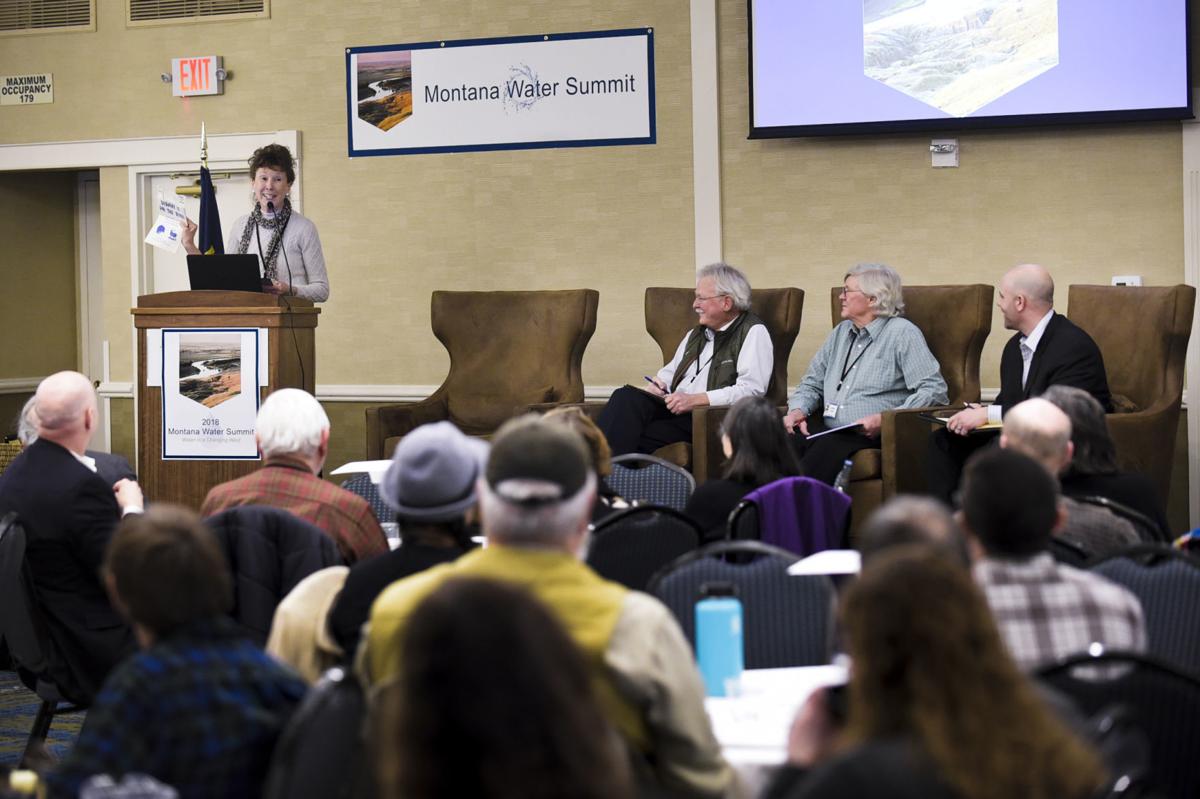 A Helena conference about water in the West is drilling down into important questions about surviving in a changing world.
The Montana Water Summit is focused on asking questions about the most important resource in the West, and specifically in Montana: water.
Montana is a headwater state, with complex ecosystems of mountains, basins, valleys and plains that all demand different management plans. And those complexities brought some 300 people out in full force of the water policy intersection Tuesday to listen to speakers discuss Montana's water past and future.
Professor Leon Szeptycki, director of the Water in the West program at Stanford University, took the stage first. In an interview last week, Szeptycki said climate change is "a huge driver" of water scarcity in the West, as California's recent drought and fire cycles have demonstrated.
"Whether we adapt our tools in time depends if water is not effectively and clearly allocated," Szeptycki said.
Szeptycki pointed again and again to data collection as a key to correctly caring for water resources in the West, while pulling up pictures of Oroville Dam in California in times of significant drought and explosive overflow as examples of the effects of climate change on water systems.
Data collection and sharing between academia and agencies was a central thesis in professor Marco Maneta's talk. Maneta is an associate professor of hydrology and hydrologic modeling at the University of Montana who has measured water in soil and how that relates to farmers reacting to drier climates in their growing seasons.
Maneta pointed to major differences between the East and West; the East is more reliant on precipitation while the West can irrigate without needing as much natural intervention. Maneta said that climate change and its warming effects would change the precipitation patterns for the state even more as the years go by, changing how agriculture might work in the state over the next century.
John Tubbs, the director of DNRC, focused on the difficulties of data collection in Montana, saying that data collection should be more of a priority, even as the DNRC has seen cuts to its budget in past years.
Afternoon panels included current and former legislators and experts in applying water policy.
Water has long been a contentious issue for lawmakers. The complexities of water law, adjudicating water rights and forming compacts with tribes have been some of the most difficult issues to tackle.
Former state Sen. Lorents Grosfield opined about the challenge of passing legislation allowing in-stream flow as a beneficial use for water rights while Sen. Chas Vincent, who went from opposing to sponsoring the CSKT water compact, spoke emotionally about the decision and importance of the bill. Vincent emphasized that his opposition changed after significant research and said he is concerned tribes could decide to walk away if Congress does not ratify it soon. 
The final panel included Tim Davis with DEQ and Adam Schempp, director of the Western Water Program and the Environmental Law Institute in Washington, D.C. discussing the divide between water quality and quantity. Despite a close ecological link, water quality and quantity bear a few similarities in terms of regulation -- quantity falls under DNRC and quality under DEQ, Davis said. 
The Montana Water Summit concludes Wednesday with topics focused on adaptation, water efficiency and conservation, and dealing with climate and growth.  
Get local news delivered to your inbox!
Subscribe to our Daily Headlines newsletter.