With more winter weather expected this week, Montana's snowpack is trending well above normal.
Most of Montana's river basins had some snow in the higher elevations at the beginning of the water year Oct. 1, according to the National Resources Conservation Service, with snow at all elevations by Nov. 1.
Consistent snowfall statewide during November increased snowpack totals through the third week of the month, before a warm and dry period near the holiday melted some low elevation snow and slowed mountain accumulation. The early December lull in snowfall lasted through the middle of the month before the pattern made a major change.
The latter half of December brought substantial snowfall across the state, and helped many basins improve from below normal in mid-December to near to well above normal on Jan. 1. During that same time, SNOTEL sites west of the Divide received up to 10.9 inches of snow water equivalent from storms, raising basin percentages in all western basins. While the most recent storm favored basins west of the Divide, basins east of the Divide also received up to 7.5 inches of snow water in south central basins.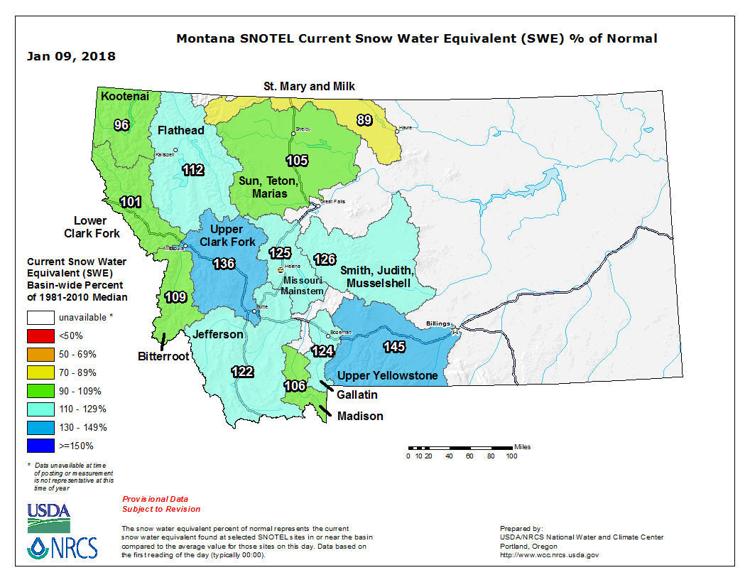 "The snowpack in Montana is off to a great start across the state, and it's nice to brag about it, but it's really important to remember that there is a lot of winter left to come," said Lucas Zukiewicz, NRCS water supply specialist for Montana.
The Columbia River Basin has 126 percent of normal snow-water equivalent and 119 percent of average precipitation. The Missouri River Basin has 126 percent of normal snow-water equivalent and 112 percent of average precipitation. And the Yellowstone River Basin has 145 percent of normal snow-water equivalent and 118 percent of average precipitation.
By this time of the year, typically about 40 to 50 percent of the seasonal snowpack has accumulated west of the Divide and 30 to 40 percent of the snowpack has accumulated east of the Divide.
"Really, it's the April 1 and May 1 snow totals that mean the most for water users in Montana. By then we should have a better idea of the amount of water being stored in the statewide snowpack, and how that will impact water users during the spring and summer," said Zukiewicz.
A pair of winter weather systems are also forecast to hit Montana, including the Helena area, this week.
From Tuesday night into Wednesday, forecasts call for 1-2 inches of snow accumulation. Then starting Thursday morning, another 1-2 inches is forecast for Helena, according to the National Weather Service in Great Falls.
The mountains west of Helena, including MacDonald Pass, could see 6-12 inches from the storms.