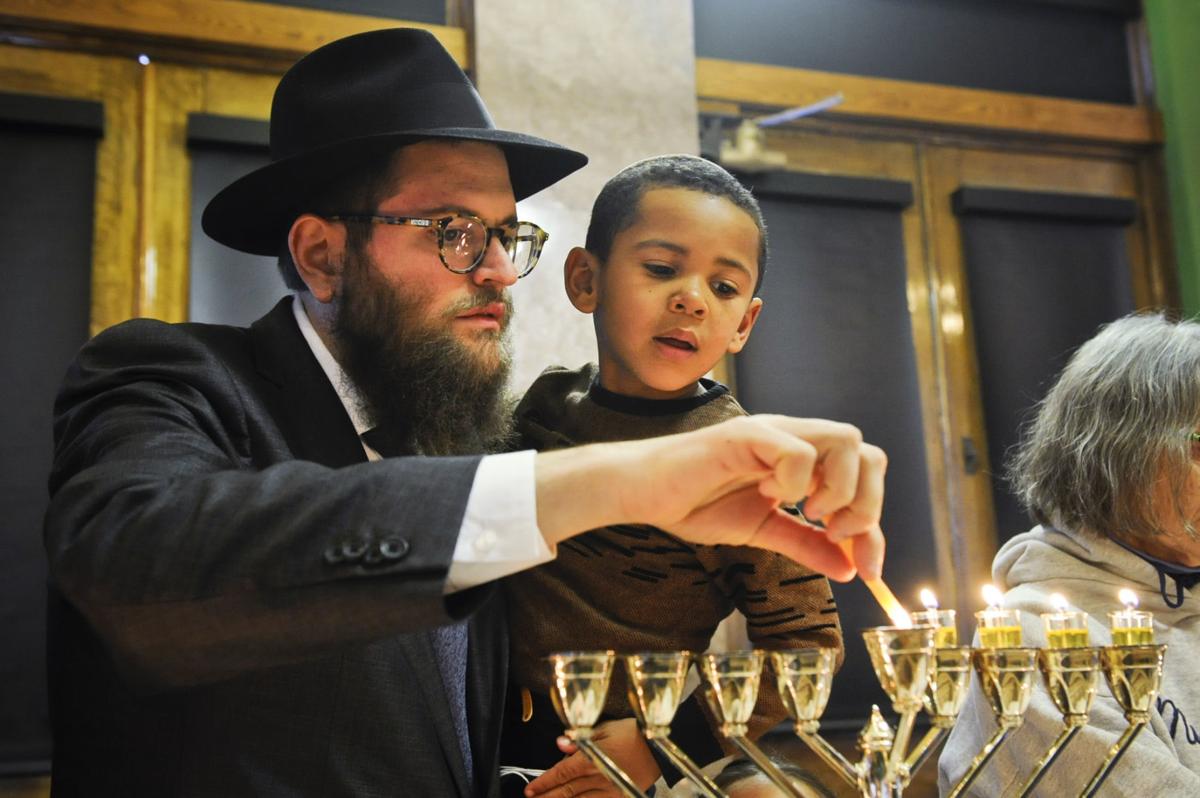 Members of Montana's Jewish community came together at the Montana State Capitol on Thursday to light menorahs ahead of the fifth night of Hanukkah in a ceremony punctuated by Lt. Gov. Mike Cooney as well as the Capitol rotunda's 30-foot Christmas tree.
Rabbi Chaim Bruk from Chabad Lubavitch of Montana noted that Thursday's crowd represented a drastic growth from the Capitol's 2005 "ceremony," in which Bruk, then a yeshiva student, lit a menorah in the office of then-Lt. Gov. John Bollinger. Asking rhetorically why the event and the celebration of Hanukkah had grown so much in the state of Montana, Bruk drew upon the actions of Judah the Maccabee, who in the second century B.C. led the rededication of Jerusalem's Second Temple to Jewish worship, as commemorated by the Hanukkah holiday.
"Judaism cannot survive if you only do Judaism in your basement," Bruk said.
Other speakers Thursday talked of the role Hanukkah plays in increasingly nationalistic times. Such discussions have become more commonplace in light of recent anti-Semitic demonstrations and attacks, including the 2016 Unite the Right rally in Virginia and the Oct. 27 shooting at a Pittsburgh synagogue in which 11 Jewish worshippers were killed.
"We cannot sit alone and afraid in the dark," said Janet Tatz, lay leader of Helena's Jewish community. "Hanukkah offers a fitting message for our time: It reminds us we must fight to maintain our traditions, we must fight to reinfuse our traditions with meaning, and we must never forget the joy and inspiration that is available to us through the Jewish tradition."
In his speech Thursday, Rabbi Ed Stafman of Bozeman's Congregation Beth Shalom called nationalism "a form of idolatry that puts a country or a nation ahead of biblical priorities" and connected its rejection by the Jewish people to the very founding of Hanukkah.
"Love of God, love of neighbor … principles that God has given us in the Torah, is the heart of the biblical ethic," Stafman said.
Stafman also spoke approvingly of remarks made by Emmanuel Macron during last month's Armistice Day ceremonies in Paris, in which the French president publicly rebuked nationalism, calling it "a betrayal of patriotism."
"Merci beaucoup to the president of France for making this connection ... and happy Hanukkah to all of you," Stafman said.
Get local news delivered to your inbox!
Subscribe to our Daily Headlines newsletter.