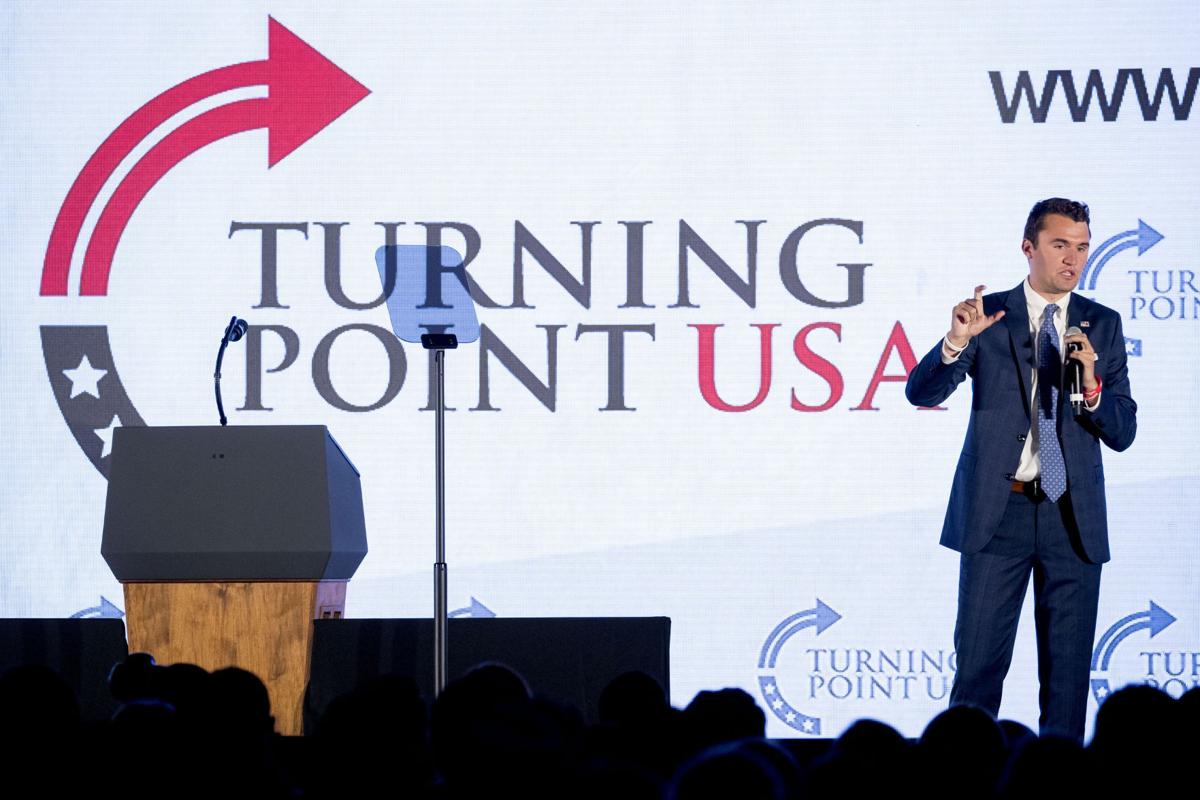 The Montana Human Rights Network released a report about Turning Point USA in March 2020, saying the group was bringing a "Minor League version of White nationalism" to the Treasure State.
The 21-page report notes that Turning Point founder Charlie Kirk is criticized by human rights supporters and media for "inflammatory, biased and exaggerated statements."
"Kirk and TPUSA's provocative style have attracted curious students," the report states. "However, once recruited, students are exposed to questionable ideas and tactics. Kirk has built his public persona by distorting data and spreading misinformation," the Montana Human Rights Network (MHRN) stated.
The report notes that White nationalism is a social movement that espouses the United States was founded by and for people of White European heritage.
A website promoting Saturday's Turning Point USA event near East Helena touts it as "a fun, patriotic evening to hear from some of the leading conservative voices from around our state and country!"
Organizers said last week they hoped attendees will be motivated to create positive change within their communities. And they said it gives people a chance to "engage with those on all sides of the political spectrum to exchange ideas and learn from one another."
The MHRN said the group's history has examples of its connections to racism and White nationalism.
Several members of Turning Point dismissed such White nationalism claims Saturday at their East Helena event.
Vince Dao, one of the speakers, called it a "cheap tactic," adding it showed "intellectual laziness." He said it was an attack on conservatives in general and should be rejected. 
"Who cares what they say, they are godless, deeply unhappy people," he said.
Dennison Rivera, chair of the Lewis and Clark County Young Republicans, also rejected the claims.
He said Turning Point represented "our values, our culture and great things."
He said Democrats and those opposed to Turning Point are "all about racism."
Gabbi Antos, 19, said Turning Point gives conservative students a space on campus.
Cheryl Chavez said her son is a member and he is Native American, Latino and White.
"There is thousands of people in the group like that," she said.
Phoenix, Arizona-based Turning Point USA says it has representation on more than 2,000 high school and college campuses and more than 160 full-time staff. It said it is the largest and fastest-growing conservative youth activist organization in the country.
As of Saturday in Montana, Turning Point USA claims on its website to have chapters or activism hubs in Billings, Bozeman, Butte, Columbia Falls, Dillon, Helena, Kalispell and Whitefish. Many say they are located on college or high school campuses.
At the time of its March 2020 report, MHRN said Turning Point USA had three chapters in Montana.
"… there's no question that the chapters and their students have pushed the group's ideology in Montana," MHRN states. "Their activity has ranged from targeting professors to pushing the narrative that campuses are hostile to conservatives."
The MHRN notes that one member was Braxton Mitchell. He is now a Republican from Columbia Falls serving in the state Legislature. He had organized pro-gun marches in high school, the report notes. There is a profile of Mitchell posted on the Turning Point USA website. He has also served as an ambassador for the group.
During the 2021 session, Mitchell introduced a bill in the state Legislature that would designate Antifa (short for "anti-fascists") as a domestic terrorism group. The bill was tabled in committee.
Turning Point USA also has a "Professor Watchlist," which lets students report non-conservative professors who "advance a radical agenda in lecture halls," MHRN said.
Tobin Miller Shearer, University of Montana professor of African American studies, was listed. Turning Point said he had lectured about the history of White privilege.
MHRN said Shearer disagreed with Turning Point's claims the list was meant to be non-threatening.
"You can't pretend that it's not," he told the Montana Kaimin in 2017. "You're responsible for the rhetoric and the people that you're pointing out."
The MHRN states that credibility problems make Turning Point USA a bad choice for students.
"TPUSA capitalizes on the political curiosity of young people on college campuses," it states. "Those who join and buy into the program merely learn how to use dog whistle racism and conspiracy theories to drive political discord on campuses.
"The young people receiving this 'political education' from TPUSA then take its divisive content out into the wider community."
"Charlie Kirk and TPUSA ultimately seek to divide us into warring camps, where winning political points is more important than building healthy communities."
Assistant editor Phil Drake can be reached at 406-231-9021.