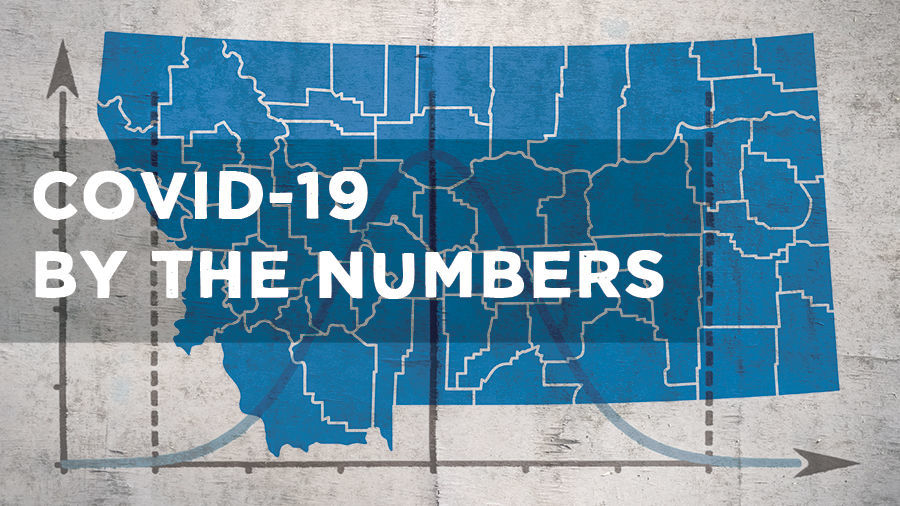 Their messages offer divergent views on the best way to proceed as Montana reached just shy of 400 laboratory-confirmed cases of the disease caused by the new coronavirus, marked its seventh death earlier this week and has tracked almost 200 recoveries since the four cases here were announced March 13.
"The decisions are going to be guided by the ongoing data and the science, not politics," Bullock said in a call with reporters Tuesday. "... I know that this is incredibly hard, but the data and the science does tell us that we need to continue these efforts at this time."
The letter, which was signed by Speaker of the House Greg Hertz, Senate President Scott Sales, as well the two leaders below each of them, called some of Bullock's directives unconstitutional and said Montanans would need "just a simple ask from their governor" to follow the social distancing measures that prevent the virus's infection rate from growing exponentially. 
"It is past time to rethink your response to COVID-19 as it pertains to the citizens of Montana and implement more strategic measures in an effort to re-engage our economy once again," the letter reads.
Bullock has emphasized often that he understands the severe financial hardships his orders have caused, but has also said they are drafted with input from consumers, business owners and public health experts and are necessary to keep people safe. He was critical of the GOP leaders' letter, calling it "disappointing" and saying "it certainly isn't time to politicize these efforts."
"I want to get the economy going, just like every Montanan does. But I want to do it in that way where we can make sure that the steps that we take today won't put us in a worse spot," Bullock said.
He also acknowledged that even when the state starts to reduce restrictions, a risk will remain.
"I don't think until and maybe even after there's a vaccine, we're ever going to be zero risk-free again," Bullock said. "It's balancing the risk to our overall health care systems, to our economy even longer-term if we have future flare-ups again. It's balancing those and then trying to take those measures that would be the most proactive going forward and most proactive in responding to any additional positive cases or outbreaks that occur."
In recent press conferences, Bullock has been asked more and more about when and how he would lift some of his orders. The governor said he is consulting with public health experts, neighboring states and others about what he'd need to see in terms of Montana's COVID-19 case growth slowing or other metrics, but is also stressing that what the state returns to might look different from life even two months ago.
"It'll need to be a measured and calculated and gradual approach, because that's what will really allow our economy to get back on track," Bullock said. "We can't just flip the switch. ... We could walk back all of the progress we've made over the past month."
The state's 1.06 million residents have been under a stay-at-home order since March 28; it is set to expire April 24, though that could be extended. It limits travel and business operations to only what is deemed essential and, following a previous order that closed down many businesses where people congregate like bars and theaters, has put people out of work.
Though national hot spots like Seattle and New York City have still not reached their predicted peaks in cases, in Europe some countries are starting to take small measures to loosen restrictions and discuss what the "new normal" might look like as the virus continues to circulate but economic pressures mount.
In Montana, the past two days each saw an increase of five cases to the statewide COVID-19 tally, which is down from daily jumps of 20 or more a week ago. Gallatin County, which has the most cases in the state at 138, has not added new confirmed cases since Saturday. The public health officer in Bozeman said last week to take those signs of encouragement as reasons to continue following the stay-at-home order and other directives, not to prematurely return to how things operated before. 
Hertz, from Polson, said Tuesday he wants to see Bullock first focus on making sure the state unemployment system is up and running and that people can access benefits in a timely manner. 
Many have reported issues getting through to sign up for payments as a crunch of applicants overloaded the system. The state Department of Labor and Industry said Monday it added additional staff and made more than 59,000 unemployment insurance payments totaling over $19.5 million since April 6.
Bullock said he's doing everything he can to provide economic stability, while acknowledging some of the challenges the department has faced in processing more than 167,000 claims since March 13.
"Let's recognize also what a Herculean exercise this is; 32,000 benefit payments are being processed today to the tune of about $20 million," Bullock said.
Also Tuesday, the state said it started paying the Federal Pandemic Unemployment Compensation benefit, which is an additional $600 to those who have lost jobs or incomes, on top of state unemployment payments.
Second on his list, Hertz said, would be allowing school districts to make their own decisions on when to reopen. Bullock has put all of his directives, including the closure of public K-12 schools, on a two-week schedule for reevaluation. Hertz said that makes it difficult for districts to plan.
The letter from the GOP legislators says Bullock should lift his orders and let counties make decisions on letting businesses reopen to stave off a steep decline in the state's economy.
"A rural community in Montana many not have many cases at all, yet our metro centers are where cases are, so there just needs to be different circumstances and different modes of operation in the different areas we have," Hertz said.
Bullock said that could be part of the approach he wants to see to reopening. 
Montana was the 22nd state to impose a stay-at-home order. The CDC has told people to stay home if at all possible to slow the spread of the virus, which can be transmitted through respiratory droplets in the air and on surfaces.
Only eight states do not have any statewide measures like Montana's. Bullock used one of those states, South Dakota, as an example of what can go wrong if precautions aren't taken. South Dakota has 988 cases with a population of about 885,000 and a governor who again Tuesday rejected a stay-at-home order.
The GOP lawmakers also called a directive from Bullock that pauses evictions and foreclosures for those affected by COVID-19 unconstitutional and said he should have worked with landlords, tenants and banks directly. Bullock said at some point he would respond to the letter, and that all directives are in line with the Constitution and state law.
Hertz said the GOP leaders sent the letter to try to open pathways to working with Bullock.
"Even though we called out the governor for some of the issues that we had with some of his directives, we still want to work together and do what's best for the people of Montana," Hertz said.
Concerned about COVID-19?
Sign up now to get the most recent coronavirus headlines and other important local and national news sent to your email inbox daily.