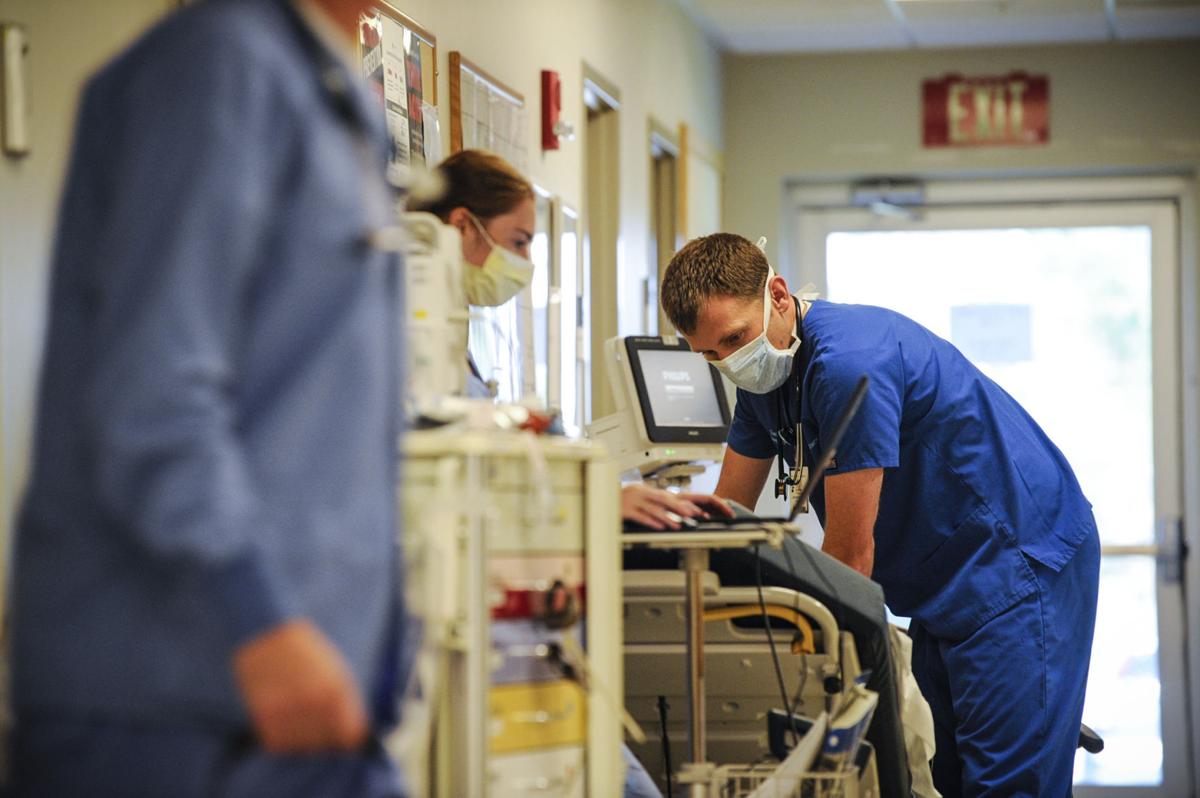 A mobile morgue remains on standby but is not yet on site as St. Peter's Health in Helena deals with an increase in deaths largely due to a surge in COVID-19 cases, hospital officials said Thursday.
"Our morgue, as is typical in a community hospital, is small. It can hold no more than four deceased patients depending on several factors," a statement from the hospital says. "We always ensure appropriate accommodations for the deceased are met, and one way to meet those needs may include utilizing external resources like a mobile, temporary (refrigeration trailer) provided by our County partners."
In a press conference Sept. 16, St. Peter's Health Chief Medical Officer and President of the Regional Medical Center Dr. Shelly Harkins said the hospital's morgue was full just a few days earlier.
"On Sunday, I received a phone call from our administrator of the day, 'Our morgue is full. What do we do with the next body?'" Harkins said, recalling the conversation. "For the first time in this pandemic, we face the reality that we're going to have to bring in morgue support. And what that actually means is a (refrigeration trailer) in the parking lot."
However, hospital officials said Thursday that morgue capacity is constantly changing and the refrigeration trailer has not yet been necessary. The hospital has used refrigeration trailers in the past due to a refrigeration malfunction in the morgue, but this was the first time hospital officials have considered using one due to a full morgue. 
"It is critical to recognize that our capacity – bed capacity, staffing capacity, and yes, morgue capacity, fluctuates often," the statement says. "The data that we are sharing is a point-in-time glance at our current status."
One of the factors that affects morgue capacity is the length of time a deceased patient is held there, officials said. 
"Sometimes, funeral homes or the coroner are able to pick up the deceased within a day or two," the statement says. "In some cases, hold times are longer."
While the number of patients hospitalized with COVID-19 complications is also in flux, St. Peter's officials said they have had about 20 each day for the last week. The average age of the local COVID-19 patients is about 55, and many of them spend several weeks in the hospital.
As of Thursday morning, the ICU and advanced medical units were both 100% full. Five of the eight patients in the ICU were hospitalized with COVID-19 and four of them were being ventilated.
St. Peter's had an additional 62 patients on home oxygen due to a COVID-19 diagnosis.
"These are community members who are seriously ill with COVID-19 and require supplemental oxygen but currently don't fit the criteria for inpatient admission," the statement says.
On Sept. 24, nine members of the Montana National Guard arrived at St. Peter's Health to help care for patients.
"We want to emphasize that it is safe to seek care," the statement continues. "Primary, specialty and preventative care is available. It is important to seek medical care when you need it."
Hospital officials also emphasized the importance of COVID-19 vaccines. 
"Vaccination remains our best tool to fight this pandemic," the statement from the hospital says. "We continue to offer drive-through and in-clinic COVID-19 vaccination opportunities, and we encourage anyone who is eligible and not yet vaccinated to get vaccinated as soon as possible. We also encourage anyone due for their second dose to prioritize making an appointment. The second dose is critical as the contagious and dangerous Delta variant is widespread in our area."
Editor Jesse Chaney can be reached at 406-447-4074, or find him on Twitter: @IR_JesseChaney.