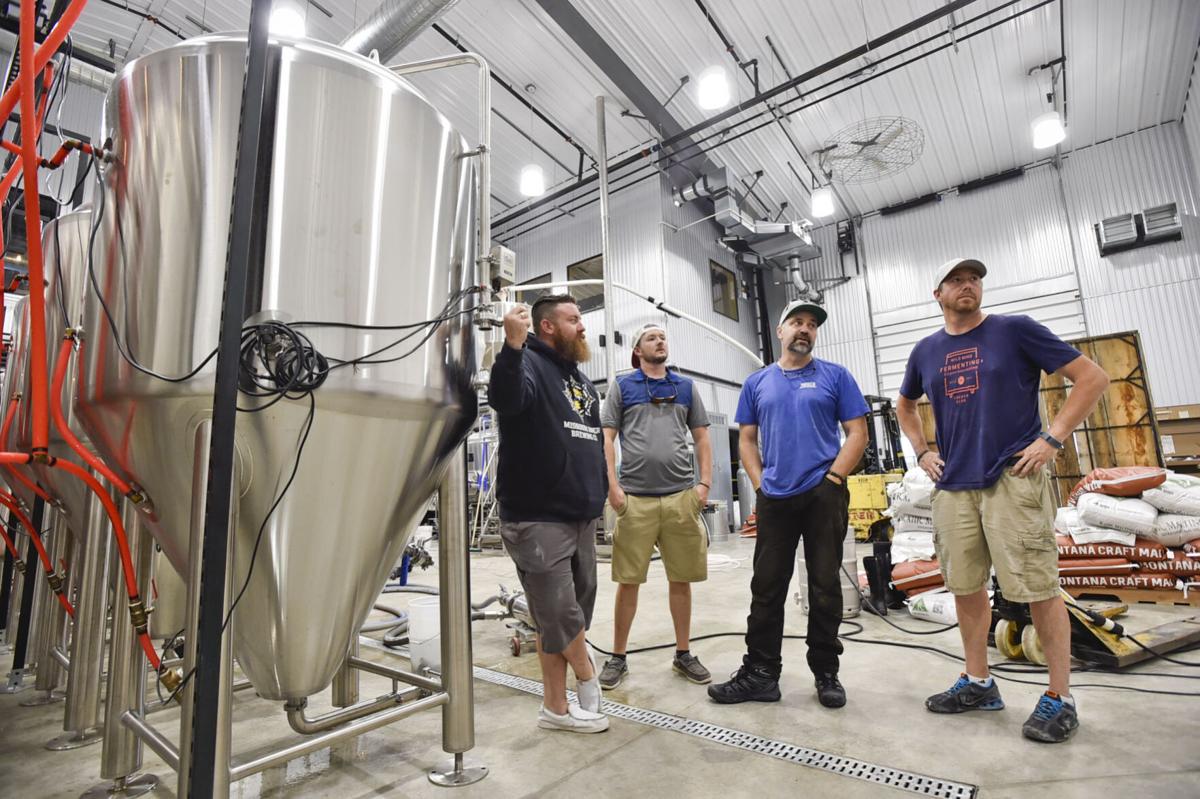 East Helena will soon have a new cornerstone business coming to the community with the opening of Missouri River Brewing Company in August.
The brewery is the culmination of a longtime idea had by Adam Hutchinson, Jaramia Bunker, Scott Hansing and Tim Moran. The men are partners and co-owners of the brewery and share 20 years of brewing experience between them, all with different brewing styles and techniques.
Hansing said they had the idea to open a brewery for several years prior to East Helena, but this particular opportunity came to them, according to Hutchinson.
"We're always looking for the 'best beer'," Moran said. "Eventually that turned into who can make the best beer."
The building, just off Highway 12 in East Helena, was built from the ground up to be a brewery. This means that the guys had it designed in such a way that gives them room to experiment.
The brewery uses a customized delivery system with distribution designed by Helena's Justin Trafton of Independent Draught Services. The system contains isolated lines for each brew that feeds into one of 24 active taps on four different brew towers.
The brew room has 12 vats for making readily available on-tap beers. Hansing said if they went full production the room could potentially brew 300 to 350 barrels per month.
The brew room also has what Hansing referred to as a "pilot system." The system allows for small-batch capacity brewing so the crew can experiment with flavors or different styles of beer without the potential for great waste if it doesn't turn out how they want.
Hansing said if a small-batch becomes extremely popular, it can be moved to large-scale brewing. His goal with the pilot system is to be able to brew not only seasonal beers, but different kinds of beer that have some historical significance.
Growing and experimenting is important for the crew of Missouri River Brewing. They all share an appreciation for a variety of different beer types and want flexibility in what they can brew.
At launch, the crew plans to have four or five choices of IPA, a stout, a lager, a pale ale, a scotch ale, a seltzer, an amber, a mimosa IPA and a Baltic porter on the nitro tap.
The interior aesthetics of the tasting room is something the owners put a lot of care into as well. With the help of Don Reich at Old Garage Works, they've designed the room with an aged steampunk/industrial theme. Hutchinson said Reich's work is really what fuels the look of the brewery.
The aesthetic extends beyond steampunk tap towers and a copper-top bar. Everything down to the duct work was specifically treated by Bunker to fit with the look the crew is shooting for.
"Everything in here has thought behind it," Hutchinson said. "We've probably done 80 to 90% of the finish work ourselves."
This doesn't mean that everything in the bar will be antiquated. The menu boards are digital and connected to the tap system, and the business' social media provides instant notification about beer availability.
The full capacity for the tasting room will be around 300. There is a downstairs and an upstairs with service and bar tops on both. The upstairs has an outdoor balcony area were patrons can relax. There will also be a game room for kids and a conference room that businesses can reserve. Hutchinson said the conference room was specifically designed with that use in mind after feedback from several area businesses.
The owners are also planning things like trivia nights for when the coronavirus pandemic lifts. Some work remains to be done like adding furniture, televisions, flooring and more finish work. They hope the work will come together quickly as they plan to do a soft opening in mid to late August.
Originally, the crew had even planned to open a restaurant in the building. However, Karmadillos stepped up and moved their business location into an area attached to the brewery, according to Hansing.
Hansing said they deliberately chose East Helena because of its potential for growth. The spot they chose was always ripe with potential, according to him.
"Breweries are community based, and East Helena has a great sense of community," Hutchinson said. "We've already had so many people tell us that this is impacting the community."
The brewery will be the first of its kind in East Helena. According to the crew, they've already been welcomed to the community and they can't wait to open the doors and let everyone try their beer.
Get local news delivered to your inbox!
Subscribe to our Daily Headlines newsletter.