The medical marijuana business can be quite lucrative for those willing to wade through the red tape. 
With more than 30,000 cardholders in Montana, and growth between 500 and 1,000 new cardholders each month, there are more potential customers than ever. However, delving into the medical marijuana business isn't necessarily easy. 
"It's the hardest job I've ever had in my life," said JJ Thomas, owner of The Higher Standard in Helena. 
Thomas has faced his share of challenges with both the state of Montana and the city of Helena. His business on Helena's Westside was recently annexed into the city, which didn't allow dispensaries within city limits at the time, though Helena's city commission has since decided to allow dispensaries and Thomas was able to keep The Higher Standard open. 
Since then, the city has issued licenses to 10 medical marijuana dispensaries, according to the city's Community Development Director Sharon Haugen. New stores such as 710 Montana opened in city limits shortly after the decision. 
"I've failed a million times before now," Thomas said. "It take a lot of hardworking individuals who work as a team to make this happen. I'm lucky to have such a great team." 
Thomas is a native of Helena and known business owner in the community. His first business was the General Nutrition Center in Helena, which he still runs. His first foray into medical marijuana was many years ago when he opened The Marijuana Company in Butte. He said that at the time, Helena wouldn't allow dispensaries within city limits and Butte was the closest and most accepting place to open a dispensary.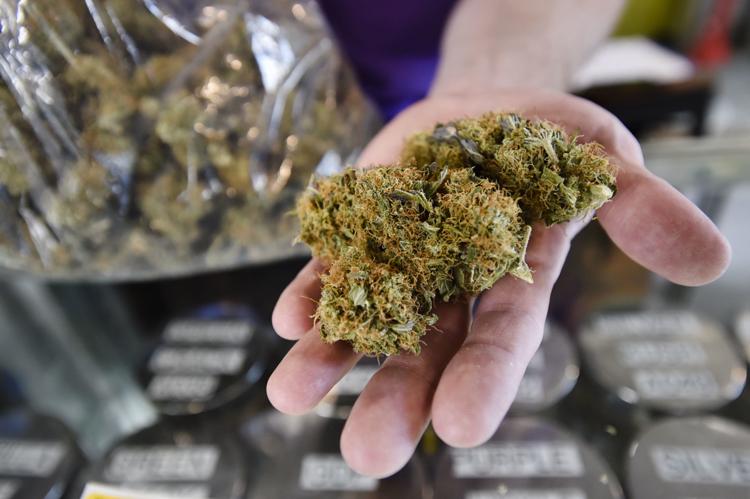 Several years and a name change later, Thomas now owns stores in Helena, Butte, Livingston, Dillon and Missoula.
The yearly licensing fee that must be paid to the state is $5,000 for each of the first four stores, $25,000 for the fifth store and $100,000 for the sixth store. 
"I'd like to open another store in the heart of Helena," Thomas said. "But I can't afford the $100,000-a-year fee for the sixth store."
The high cost can be hard on chains like The Higher Standard, though Lionheart Caregiving has been able to open 10 stores statewide. Lionheart has had a store just outside Helena city limits for several years and hopes to open another on Prospect Avenue soon. 
The Higher Standard has been in Helena for about a year and a half. In the past, Thomas said, the company did delivery-only in the area for a few years. Some of his five stores make higher profits than others, but his Helena store brings in the most volume. Thomas believes this is because he is a Helena native and receives a lot of community support. 
"It takes all of the stores to keep everything floating," Thomas said. "The stores have really become more like convenience stores. People get what they need as they need it." 
Josh Hughes, an employee at The Higher Standard and GNC, said he usually sees one or two dozen customers at the dispensary per day day, possibly three dozen on a very busy day. 
"I'm just the hump-day guy though," Hughes said. "So I don't see the Friday rush or anything." 
Lewis and Clark County had 2,505 cardholders and 17 providers as of March 2019. This comes out to about 150 cardholders per dispensary, though some businesses only offer delivery. Thomas said some cardholders might even travel to another city to visit a dispensary they like. 
Statewide, Montana has about 263 approved providers, 53 pending providers, 272 physicians and four laboratory licenses. The most common age range for cardholders is 31 to 40, which includes 6,841 cardholders, or approximately 21% of the total. The smallest age ranges are under 17 and over 80, which make up less than 1% each. The most common listed medical condition is by far "severe chronic pain," with over 25,000 cardholders reporting this on their applications. 
Income and illness make up two large variables in what customers purchase, according to Thomas. He said lower-income buyers may buy less cannabis more often, whereas high income buyers might buy more less often. Additionally, a pain customer might buy less than someone suffering from cancer.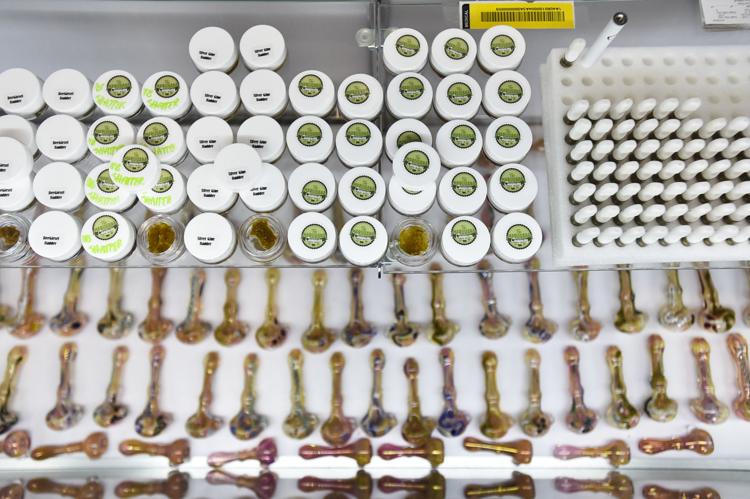 An additional income source for stores like The Higher Standard and other dispensaries are non-cannabis items. When entering The Higher Standard, for instance, customers are presented with many CBD products and accessories. These are products that a customer doesn't have to be a cardholder to purchase. Hughes said the store sells accessories frequently. 
Hughes said the store's top selling non-cannabis items are the CBD items. These are usually used to treat more minor ailments. Hughes said he was initially skeptical of CBD, but after trying an ointment for inflammation he became a believer in the product. 
Product quality and customer service are how Thomas aims to keep people coming back to his stores. He said all of the store's products are Montana-made, from the edibles to the glass pipes. Thomas grows the store's cannabis in Missoula. That cannabis is the store's bread and butter when it comes to making money. 
"The company is 100% family owned and operated," Thomas said. "Family grown, locally owned. That's our motto." 
Thomas likes to think of his staff as part of that family. He said he pays them above and beyond what is normal because he wants them to stay and have a sense of ownership in the business. Hughes said Thomas is a great employer. 
"They are all great at customer service," Thomas said. "And knowledgeable of the products we sell."
Currently, dispensaries are taxed by the state at a rate of 2% collected by the Department of Revenue per MCA Title 15, Chapter 64. However, this is set to change come July 1. The passage of Senate Bill 265 upped the tax rate to 4%. 
The Department of Public Health and Human Services assesses licensing and cardholder fees. According to Herbert "Chuck" Council, communications specialist for DPHHS, these taxes and fees are used to support the operations of Montana's medical marijuana program. This includes the agency's regulatory oversight. 
Dispensaries pay no additional taxes or fees to individual cities beyond what is authorized by law for businesses.