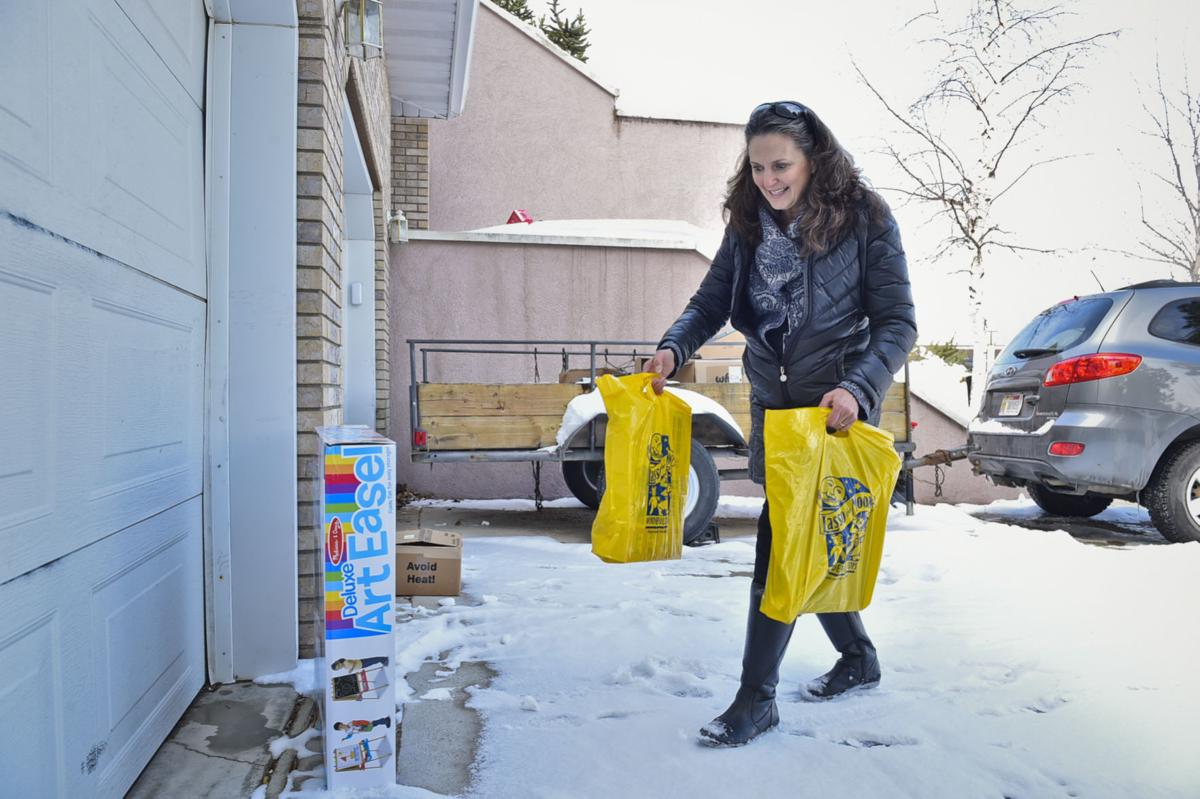 As tighter restrictions and growing fears related to the rapid spread of COVID-19 continue to erode small business across the country, some Helena business owners are scrambling to adapt.
When asked what sales numbers have looked like recently, Lasso the Moon Wonderful Toys owner Amy Barrett said: "Way down. Way, way down."
Although Last Chance Gulch feels like a ghost town, Barrett said she has faith in her community's willingness to help keep local businesses afloat.
"We're not panicking down here," she said. "Helena is a really great town for understanding the importance of small businesses."
With schools closed until at least Friday, Barrett said she feels that providing quality entertainment and educational materials for Helena's youngest citizens is a public service she intends to keep up as long as possible.
Without an online catalog of products or e-retail services, Barrett has resorted to sending pictures of products to potential customers via text message and making deliveries around town herself.
"We have to do whatever we can to pay our rent and our employees," she said.
Unemployment claims nationwide have shot up by 30% in the last week alone, according to the Labor Department, as businesses tighten their belts or close altogether.
The number of Montanans who filed for unemployment benefits last week was nearly 3,000, up from less than 60 the previous week.
M'Liss Bordelon purchased Wildflower Boutique in November, fulfilling a longtime dream of hers. Now she is wondering how long the dream will last.
"This was supposed to be the beginning of the good months, and it's obviously completely dead," said Bordelon, who took a break from filling out a Small Business Administration economic injury disaster loan form to be interviewed for this story. "We're kind of all in a pickle here."
She said her lone employee is a retiree who voluntarily stepped away from the job, helping her cut back on overhead.
The SBA is offering loans with an interest rate of 3.75% to businesses and small agricultural cooperatives that were affected by the outbreak and do not have credit available elsewhere. But for some small businesses, additional debt, even at a low interest rate, can be more of a hindrance than a help.
Bordelon said it is a risk she is willing to take.
"If I need to take a plunge for a little bit to get through this, if I have to bite the bullet just so I can keep the doors open -- because I've been wanting this for a long time, and it's finally happened -- I'm not letting it go," she said.
Chelsia Rice has co-owned the 45-year-old Montana Book Company for the past two years. She said she has never seen anything close to the current situation.
"It was fine through last week," Rice said Wednesday. "But last weekend as people were preparing, we noticed a dip."
The company is offering home delivery for Helena customers, curbside pickup and virtual transactions via mobile apps such as Venmo.
"We want to give people as many options as possible," she said. "Especially for seniors and immunocompromised people, we just want to make sure that if they are avid readers, that they can get deliveries to their doorstep safely and don't have to expose themselves."
Many of the business owners along the Gulch are communicating in a group text message, passing along information as they learn it, sharing advice and offering support.
"We're all sticking together, everyone on this block," Barrett said.
The Painted Pot, which normally offers in-store pottery and canvas painting events, has pivoted to offering "Pottery to-go" kits that include the pottery, paint and brushes.
Customers can pay over the phone, and an employee will run the packages out to customers' cars. Once painted, the pottery can be dropped off at the shop to be fired in the kiln.
"We survived the recession, but this is unprecedented," The Painted Pot owner Brianne Harrington said. "I think we'll be able to weather the storm."
Helena Business Improvement District Executive Director Micky Zurcher said her organization is putting together resources and sending out information as quickly as possible to help its members cope, but that it will take some creative strategies to keep businesses afloat.
"It's great to hear that some businesses are looking outside the box," Zurcher said. "We're trying not to panic, but trying to forward think about how we're going to get through this together."
Blackfoot River Brewing Company started offering growler and keg deliveries within the Helena area Friday in response to recent closure orders coming from the county and state. Managing partner Tim Chisman said Friday the switch was necessary because the largest portion of the brewery's revenue, which is sales to bars, restaurants and casinos, evaporated after many of them were ordered to close.
"We do rely so heavily on the bars; it's a huge part of our business," Chisman said. "Because the bars are closed, we're not even brewing right now."
Chisman said the brewery's recent adaptation is an effort to not only help prevent the spread of COVID-19, but also to keep beer in their neighbors' refrigerators and employees on the payroll.
"We're trying to keep a smile on our faces," he said. "The customers have been amazing. The phone has been ringing off the hook all day."
Helena resident Kevin Ward, his wife and their two dogs stopped by the brewery Friday afternoon to pick up a couple of growlers for a "social happy hour" with friends using Zoom, an online videoconferencing service.
He said the trip was "mainly for my sanity, but more importantly this has been my spot since I could imbibe. I want to support them."
The city of Helena has suspended enforcement of paid parking downtown until March 31. However, the city will continue to enforce ADA parking and any illegal parking, such as blocking fire hydrants. 
Concerned about COVID-19?
Sign up now to get the most recent coronavirus headlines and other important local and national news sent to your email inbox daily.