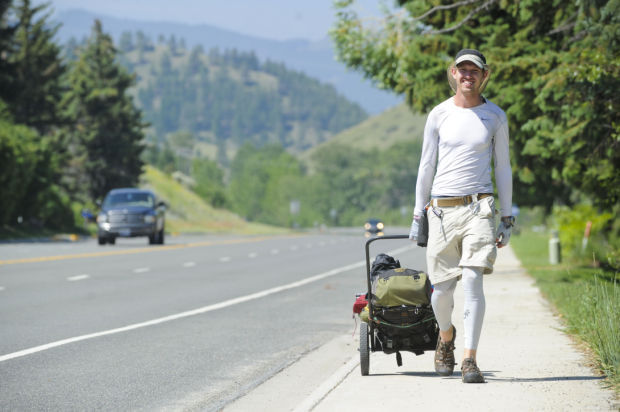 A young man walked through Helena Wednesday pushing his possessions in a game cart and carrying $100 bills.
He began the day's trip along U.S. Highway 12 near Rimini, walked into town and crossed "Malfunction Junction" on Montana Avenue, with plans to camp somewhere between the state's capital and Townsend.
His final destination is Portland, Maine.
Tommy Lukrich, 23, is walking across the country this summer, from Seattle to Portland, and he's doling out cash along the way to the people who help him.
"The goal is to reward 100 kind and generous people with a $100 bill," Lukrich said.
The recent college graduate started his trek in May, armed with the roughly $3,600 he's received so far from an ongoing crowdfunding campaign — all of which will be distributed to strangers Lukrich meets.
The trip, as Lukrich describes it, might be called an experiment in the power of kindness. His guiding principle is written on each bill Lukrich hands out: "Kindness + Generosity > $."
Lukrich said he wants to celebrate small acts of kindness but has to reserve the handouts to those who "really risk themselves" to help him. Already, he's found no shortage of people ready to lend a hand.
One $100 recipient, Lukrich said, had recently lost a job, been dumped by a fiancé and couldn't pass a kidney stone.
"And you're still giving me $10 and protein bars," Lukrich said of the individual.
Another woman pulled off the interstate during a rainstorm and asked Lukrich if he needed help. The two sat inside her truck talking until the storm passed, he said, and she ended up offering her apartment in Helena as a resting place.
"People have been really, really supportive," Lukrich said.
Lukrich also said the trip is his way of honoring the people in his life whose support he has relied upon.
"I feel like I carry a little card in my head that has all the people who have helped me, and I have a chance to pay it forward, and that's dang exciting to me," he said.
Though Lukrich received scholarships and held part-time jobs throughout college, he said he nearly dropped out at one point as his finances strained. Then a professor gave him $2,000 to make it through the semester.
"This is not a loan. You can keep this," the professor told Lukrich. "There are no strings attached."
"I was blown away," Lukrich said.
"It was a good lesson in swallowing the pride, because I didn't want to take the money. I think it's hard for anyone." he said. "Sometimes your hard work (is) just not enough if you want to try to pursue your dream, so to say."
The money Lukrich is distributing mirrors his experience with that college professor. He doesn't ask how they'll use it, and the gift has "no strings attached." He has given out at least seven of the token handouts so far, which the often-reluctant recipients have pledged to donate to things like medical research, animal shelters or friends in need.
In Helena, Lukrich stayed with a distant relative, Robin Murphy, north of town. She picked him up after he descended MacDonald Pass with what seems to be a stress fracture in his foot. The two hadn't met before.
He stayed for several days so the swelling could subside before Murphy dropped him off at the same spot.
"As a mom," Murphy said, "the first thing I said to his dad was, 'Oh my God, aren't you scared? Aren't you nervous? There's crazy people out there.'"
Lukrich acknowledged the hazards he may encounter during the trip, but added that, as a young, middle-class male, his risk isn't as high as it might be for others. Strangers may be more willing to help him, he added, because his demeanor is jovial and his appearance clean cut.
Still, the barrier that a concern for safety sometimes erects against kindness is something Lukrich said he wants to examine.
"Sometimes people don't seem so good because they want to stay safe. Is that valid? I think that's a fair question," Lukrich said.
It's something he hopes the individuals he meets reflect upon, too.
"I hope they'll tell their friends about it," he said. "It's not really as dangerous as we really think."