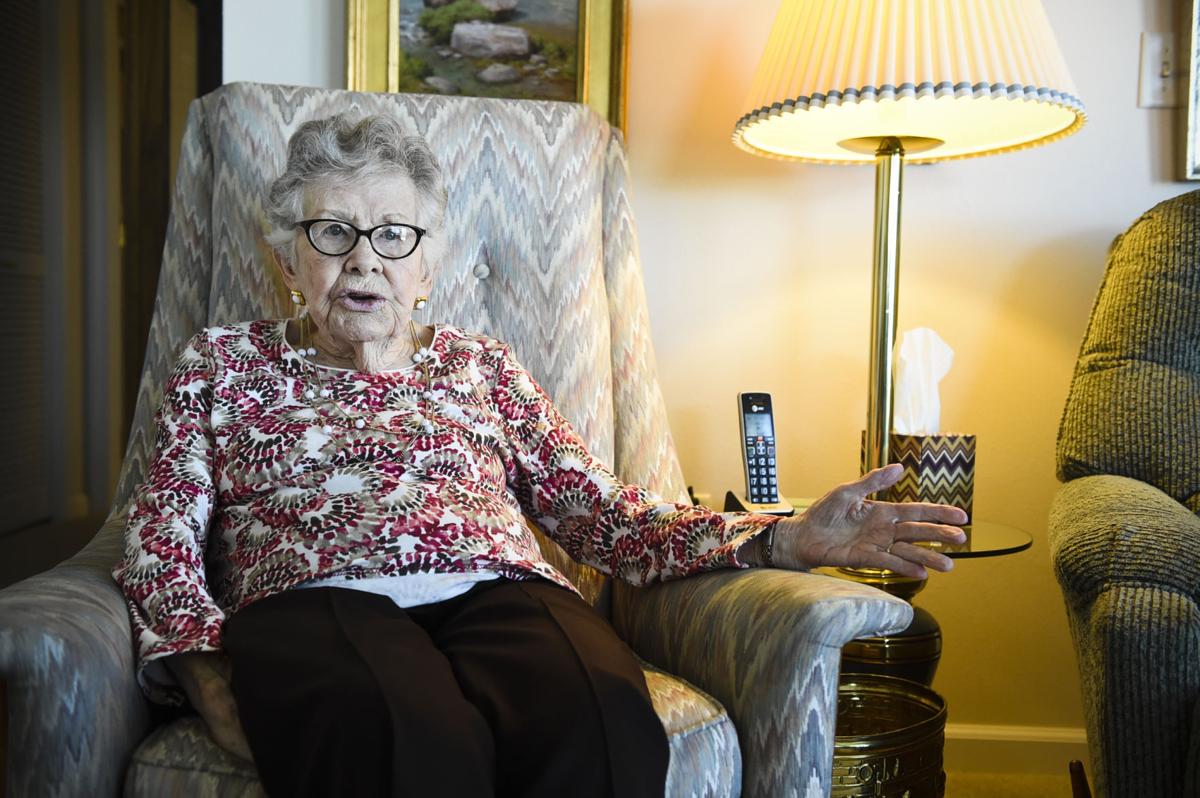 On Tuesday, Mary Munger will give Jodi Smith the keys to her new home at a dedication ceremony for the most recent Habitat for Humanity project.
Munger, 93, has dedicated most of her life to public service, first as a nurse and finally creating a foundation to fund dozens of organizations and projects in the community each year. This year, she wanted to do something for Habitat for Humanity and sponsored the renovation of two homes. Both homes will go to two women who are each single mothers to three children.
Jacob Kuntz, executive director of Habitat for Humanity in Helena, said Munger's work to make all systems more just is an inspiration.
"Mary Munger is the perfect partner in the work we're doing," he said.
Munger was born and raised in Butte and later attended nursing school at St. James School of Nursing in 1944.
Munger initially got involved in the Montana Nurses Association with a job answering phones, but she stayed for 16 years. She eventually took a position as executive director and worked to help nurses organize.
"Working conditions for nurses was very, very bad," she said.
In 1963 as a lobbyist for MNA, Munger fought for legislation to allow nurses to collectively bargain. She continued to lobby until the bill, which had been nicknamed the "blue-eyed nurse bill" in her honor, passed three sessions later.
She later worked for the American Nurses Association and traveled to educate nurses on collective bargaining. In 1971 she resigned, and started a master's program at the University of California.
After graduation, she returned to Helena as a consultant with the state. She spent several years there before helping Carroll College get their nursing program accredited. She taught public health full-time at Carroll for six years and part-time for 10 years until she retired in 1991.
Since then, she's stayed involved with different nursing organizations and dedicated herself to giving away the money her family made after they became part owners of Valley Bank when her husband, Chub, sold the land it sits on.
"That's where I got my ability to help other people," she said. "We worked hard all those years, but I didn't make any money as a nurse."
The Munger's had been married for 46 years when Chub died in 1999. He was so generous that early on Mary had to remind him they had bills to pay. When he was gone, Munger wanted to continue her work for the rights and education of nurses as well as continue her husband's legacy of generosity.
In 2008, Munger started a foundation to make small contributions in Helena and across the state to a variety of organizations.
Early in December, Munger read a story in the Independent Record about Habitat for Humanity donating it's 32nd area home.
"I wanted to do something big for Christmas," she said. "I wanted to help Habitat for Humanity. I didn't realize it would do so much."
Before the house was finished, Munger came and saw all the volunteers who put in time to complete the home and met the mother who will soon move in with her family.
"She was very sweet. We hugged each other," Munger said. "I was thinking about my own mom."
Munger's father died when she was 12, and her mother raised four children on her own. It was difficult, but having a house provided a level of security.
"We owned our home and that made all the difference in the world," she said. "It meant so much to us."
Now, Smith and her three children will have a safe and reliable place to live.
"It's a whole new chance at life," Munger said.