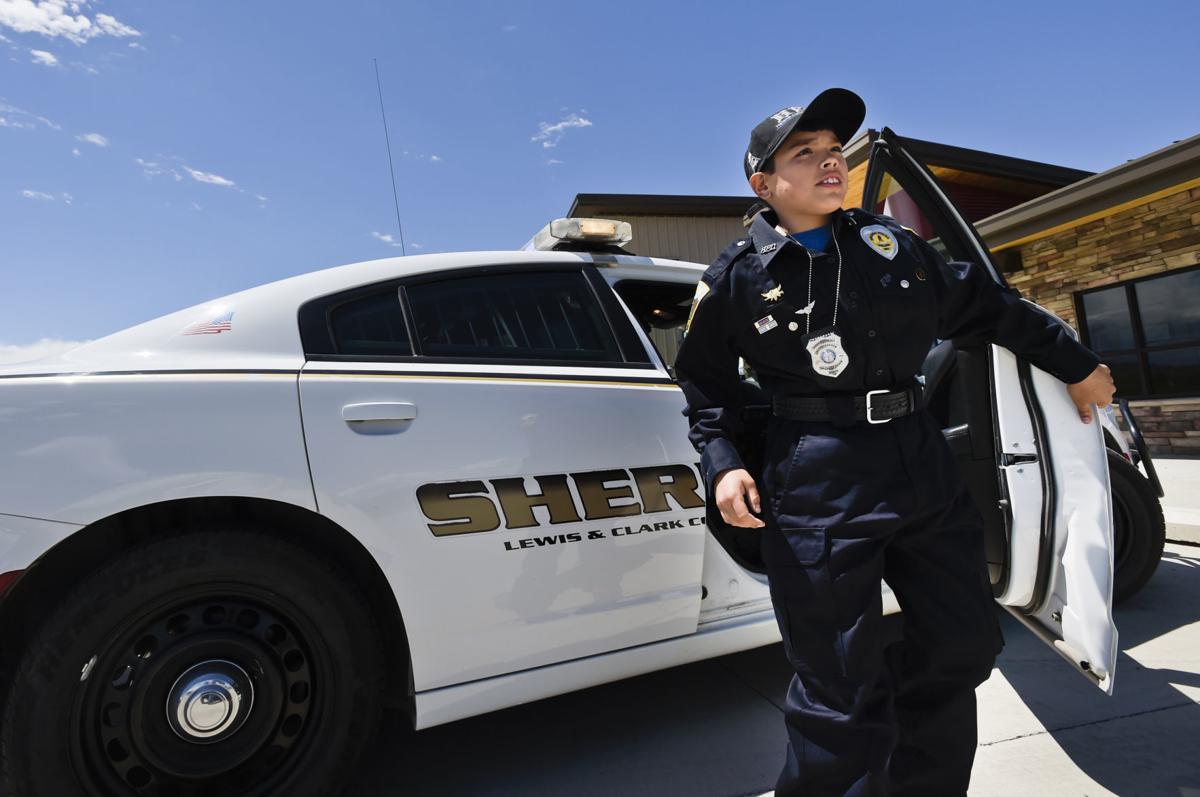 Jacob Hartford-Corpron of Boulder has wanted to be a law enforcement officer for as long as he can remember. On Friday, the Helena Police Department and the Lewis and Clark County Sheriff's Office got together to give him that opportunity. 
Jacob has Gaucher disease, the result of a buildup of certain fatty substances in organs, usually the spleen and liver. It can cause organs to enlarge and affect their function in a life-threatening manner.
So on Friday, Make-A-Wish and both law enforcement agencies teamed up to provide Jacob with a ride-along in a sheriff's office patrol car, an entire Jacob-sized uniform from the HPD complete with badges, pins and the works, including two hats and a motorcycle helmet that was actually used by previous officers, a ride on an ATV and a chance to meet deputies and officers from both departments, including the K-9 squad.
Jacob's grandmother, Karen Corpron, said they had surprised him with the opportunity to be a cop for a day.
"But when we told him, he said 'I knew it all along!'" Corpron said. 
Jacob makes a yearly trek to Seattle for treatment, part of the fight against Gaucher that he battles every day.
"We asked him if he wanted to go on a trip for his wish, but he said 'no, I want to do this,'" Corpron said.
Assistant HPD Chief Steven Hagen said he had pulled the uniform out of the storeroom for Jacob, who put it on over his regular clothes in a heartbeat.
You have free articles remaining.
"The shirt is a women's medium," Hagen said with a grin. "And the pants are a 28 waist, because not a lot of officers are that size."
Since the HPD no longer has motorcycle officers, the department had an extra helmet.
"It's pretty dinged up," Hagen said. "I don't think those all came from falls, but some might have."
Deputy James Turpin gave Jacob a tour of the sheriff's office, walking him through dispatch, the briefing room and up to the historic exhibit of sheriffs throughout Lewis and Clark County.
Turpin is the sheriff's office's "kid guy," who takes care of DARE and other community outreach programs. "I have kids at home so I figured why not move my career that way too," Turpin said.
He was enthralled by Jacob's new uniform.
"I've never seen one that small!" he said with a laugh.
Jacob said he was nervous coming in to meet all the officers, but he wants to be a SWAT officer, so he got it together and made the rounds with ease.
Rod Austin of Make-A-Wish said Jacob's wish was about the 600th in Montana. 
"It's pretty inspiring," Austin said about Jacob. "When we first met Jacob at the hospital it was obvious that he wasn't having a good time. He's a pretty quiet, shy kid, so it was awesome to see him smiling and being such a happy camper."