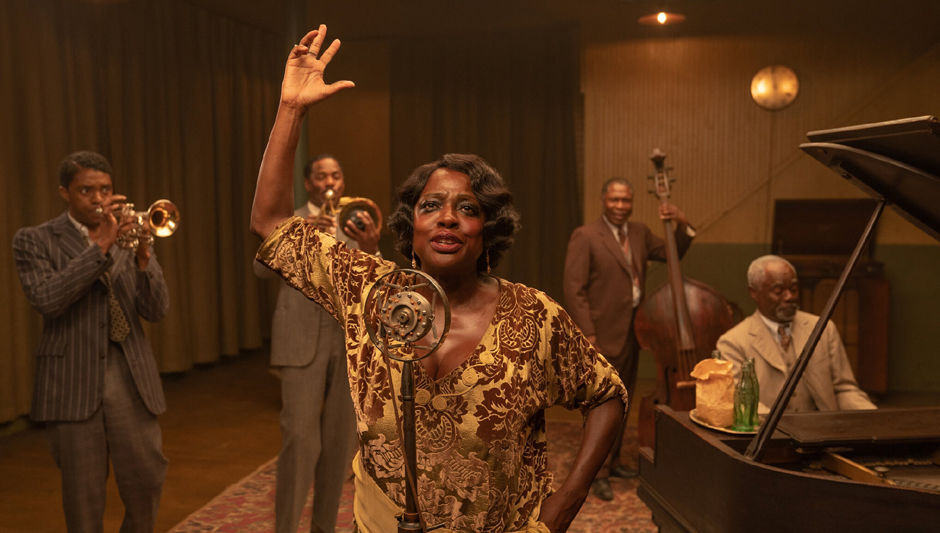 Ma Rainey's Black Bottom
(R)
Every moviegoer's prayer is that one scene from 2018's "Black Panther" will move from screen to life.
Presumed dead, Chadwick Boseman, The Black Panther, made his electric return.
"As you can see, I am not dead!"
On Aug. 28, 2020, Boseman died of colon cancer.
His last film, released over Thanksgiving weekend, serves as a memorial.
In George C. Wolfe's "Ma Rainey's Black Bottom" Boseman plays a brash young trumpet player, invited in 1927 to Chicago for a recording session with singer Ma Rainey, pianist Toledo, trombone player Cutler and Slow Drag on double bass.
They will record some amazing blues for their white producer, yet another case study in Black history of the appropriation of Black culture. Four years later, in 1931, singer/actor Paul Robeson would say bluntly that if Blacks wanted a culture of their own, "they will have to leave America to get it."
The script is filled with references to America's painful racial history.
"We're just leftovers," says Toledo, as he remembers warming up some stew for a meal.
"Ma Rainey" is based on a play by August Wilson, part of a 10-play "Pittsburgh Cycle." The film honors its stage roots, without "opening up" the play to make it more "cinematic."
Denzel, who won a Tony and an Oscar nomination for Wilson's "Fences," used his considerable influence to bring "Ma Rainey" to the screen. The other plays in the cycle will follow.
Although Boseman is wonderful, Viola Davis steals every scene as Ma Rainey, "mother of the Blues."
Ma needs a Coca Cola before she can sing. The producer says "I forgot to get it. Let's just play the first number."
Ma knows she's getting less than she's worth, but during rehearsal, Ma's the boss – and she clearly revels in ordering white producers around. They need her and she knows it.
They scramble to find her a Coca-Cola.
Levee, a brash young songwriter, has an idea for a new way for Ma to perform her signature song.
"You ain't messing up my song," she says.
If Ma's late, she doesn't speed up.
"I'm coming, crazy as I can be."
She knows she's being exploited, but it's the only way to get her music heard.
"They don't care nothing about me. They just want my voice."
Sadly, we don't hear many songs at full length. We get passages, yes, but show-stopping numbers like "Bottom" deserves a showcase.
Every set begins with Cutler setting the rhythm: "One...two...you know what to do."
Boseman takes the spotlight from the moment he takes his trumpet out of its case. He doesn't need to practice, he says. Yeah, right, they say.
When he spots pretty Dussie May, his poetry isn't hard to translate.
"Can I introduce my red rooster to your brown hen?" he says.
"Ma Rainey's Black Bottom" along with Stephen McQueen's "Small Axe" and Spike Lee's "Da 5 Bloods" may add some color to Oscar night.
Stylistically, the film reminded me of "Fences," another Wilson play that was brought to film while respecting its stage origins with a minimum of special effects and lots of dialogue.
The script is a portrait of race in America during the 1920s.
In a "New Yorker" interview, Wilson talked about America's black and white landscape.
"We are living examples of America's hypocrisy," Wilson said. "We know white America better than white America knows us."
The power of "Ma Rainey" lies both in the Wilson dialogue and in the brilliant ensemble acting. I particularly liked Toledo, a warm humble man whose piano playing never upstaged his friends – and yet his contributions were central to their sound and soul.
Davis plays her part like a Viola concerto. Seattle critic Misha Berson captured her beautifully.
"Padded and heavily made up with the kind of stagey greasepaint the singer favored," wrote Berson, "Davis presents an imposing diva who rebels against the white music industry's exploitation of Black artists by issuing a stream of delays and demands."
Wilson lived in Seattle for the last 15 years of his life, dying in 2005 of cancer. In interviews he talked of wandering around Capitol Hill where he suspected people thought he was homeless.
Oscar-watchers like myself have to be resourceful this year to see nominated films. We have to find their streaming sites.
"Ma Rainey" is available on Netflix, and it's certain to earn a host of nominations.
More than one crystal ball predicts Boseman may win a posthumous Oscar for his work. I suspect whoever accepts turn to us all and say: "As you can see, Chad Boseman is not dead."