Entering 2019, Helena had only five homes listed within its most popular price and size range. 
"This is about a half-month's supply of inventory," said Shaun Moore, of the Moore Appraisal Firm. "That's the story of 2018 -- low supply and high demand."
The most popular Helena homes are priced between $215,000-$249,000 and have 1,725-1,924 square feet of space. For those who want to stay within that price range but are willing to settle for something smaller, Helena has 17 listings available, or about 1.6 months' worth of supply. 
"There are more people moving in than out," said Mary Ahmann Hibbard, a broker and board member of the Helena Association of Realtors. "If homes are priced correctly, they sell immediately."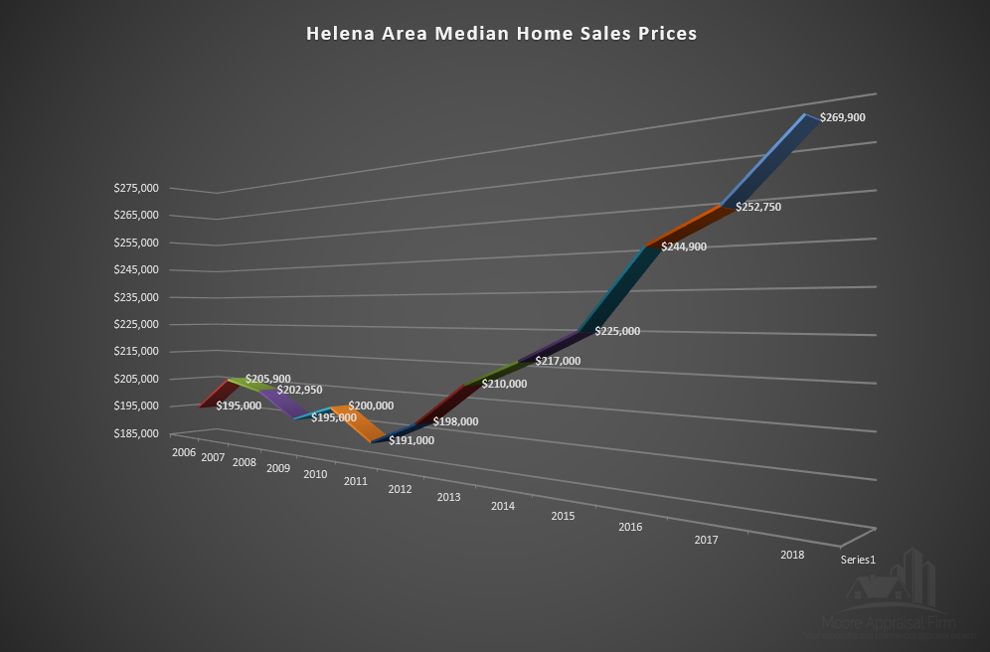 Helena's home costs have grown exponentially over the past several years. The housing market has boomed and market expectations have risen alongside sales prices, according to Moore.
"It's following a national trend. Helena has been on an increase for several years now," Moore said. "We are seeing an increase in people moving to Helena and an increase in Helena residents purchasing homes."
"Things are just moving quickly," said Ahmann Hibbard. "Generally we see home sales slow down in the winter, but now listed homes still sell quickly."
The median price for the 289 Helena homes currently on the market is $319,900. This increased from $294,900 at this time last year.
Helena homes were on the market for an average of 50 days before selling in 2018, which is 15 days less than in 2017. 
The median sales price increased about 7 percent from 2017-2018.
In 2018, 965 Helena homes were sold at a median price of $269,900. The most popular price in 2018 was $215,000-$249,000, with 126 sales in this range. The most popular size was a single-family home with three bedrooms and two bathrooms, which made up 33 percent of sales.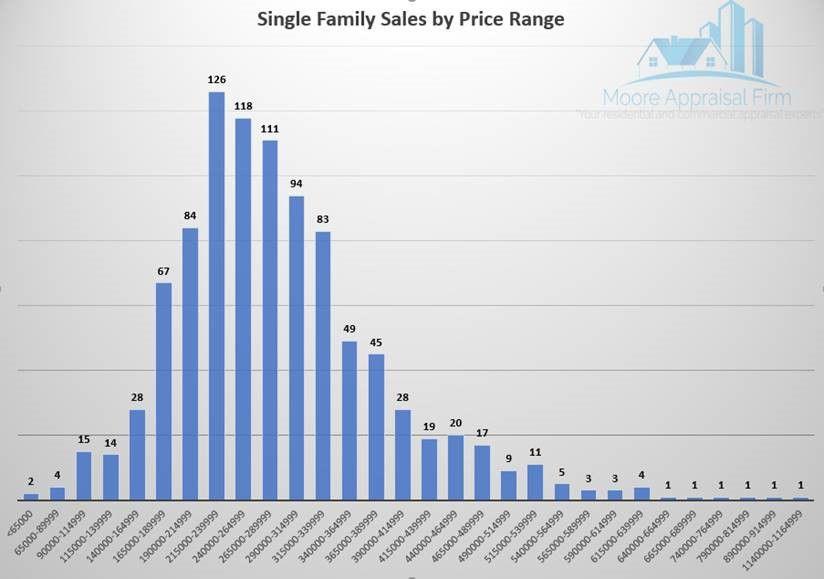 This strong seller's market has made it difficult for first-time homeowners to find affordable homes, according to Moore.
"First-time home buyers are having some trouble getting into the market due to pricing," Moore said. "It's a very competitive market and properties in the 'first-time home buyer' price range move quickly."
Homes priced at less than $190,000 made up a significantly smaller portion of sales in 2018. Agents sold 15 homes that cost $90,000-$115,000, 14 that cost $115,000-$140,000, 28 that cost $140,000-$165,000, and 67 that cost $165,000-$190,000.
Ahmann Hibbard said location has the biggest effect on price, though competing offers also drive up the costs. 
"Downtown homes often sell within a week," Ahmann Hibbard said. "Valley homes can take longer."
One up-and-coming area is Helena's Sixth Ward, according to Ahmann Hibbard. Because of local businesses and the new Bryant Elementary School under construction, she said, the neighborhood is getting some buzz. "There is more supply there than anywhere else in town, and there are start-priced homes," Ahmann Hibbard said.
Moore and Ahmann Hibbard agree that Helena is continuing to follow a national trend, albeit a few years behind the times.
"Helena has always followed the national trend, but to a lesser degree," Moore said. "We don't have the same highs or lows."
Helena's housing market is stabilized largely by the state government, which provides steady employment and anchors the local economy. "Because employers like the state government aren't going anywhere, Helena will always see a steady growth," Ahmann Hibbard said.
Other factors that help boost the Helena housing market include the trail systems, arts community and outdoor recreation of the area.
The ability to telecommute also attracts young professionals to the area. Ahmann Hibbard said she has worked with many families who are moving back to Helena after many years away.
Moore and Ahmann Hibbard said they have both seen an influx of individuals moving to Helena from Bozeman. With the Bozeman housing market becoming more expensive, they expect more people to move to Helena in the future.
Moore expects Helena's market growth to stabilize in 2019. He said larger markets like Denver and Seattle slowed significantly in 2018, and he believes Helena will follow suit. "It's kind of the perfect storm," Moore said. "But outside factors could always throw a wrench into the system."
Ahmann Hibbard disagreed, saying she isn't seeing much of a slowdown in Helena. "As long as there is more demand than supply, we will continue to see these trends," she said.
"As more people discover the town," Ahmann Hibbard said, "demand will continue."