The Lewis and Clark County Commission approved $340,000 of open space bond cash Tuesday to use on two properties purchased by Prickly Pear Land Trust.
The land trust's $2.1 million Peaks to Creeks Initiative included the 2016 purchase of 534 acres of land on Seven Mile and Ten Mile Creeks. The Seven Mile parcel stretches northwest from the intersection of Birdseye Road and Head Lane north of Helena, while the Ten Mile stretch is located generally between Williams Street and Country Club Avenue. 
By buying these two properties, Prickly Pear and Lewis and Clark County hope to preserve both grassland and riparian habitat while adding more trail connection and access to both creeks. The land trust hopes to restore the 350-acre Seven Mile property as a thriving wetland and rehabilitate the creek back to its natural state. 
Prickly Pear Executive Director Mary Hollow said while other projects were on the way, the organization was particularly keen on this project.
"This project was very complicated," Hollow said. "It's important and valuable when discussing flood mitigation, which is one of the benefits of Peaks to Creeks."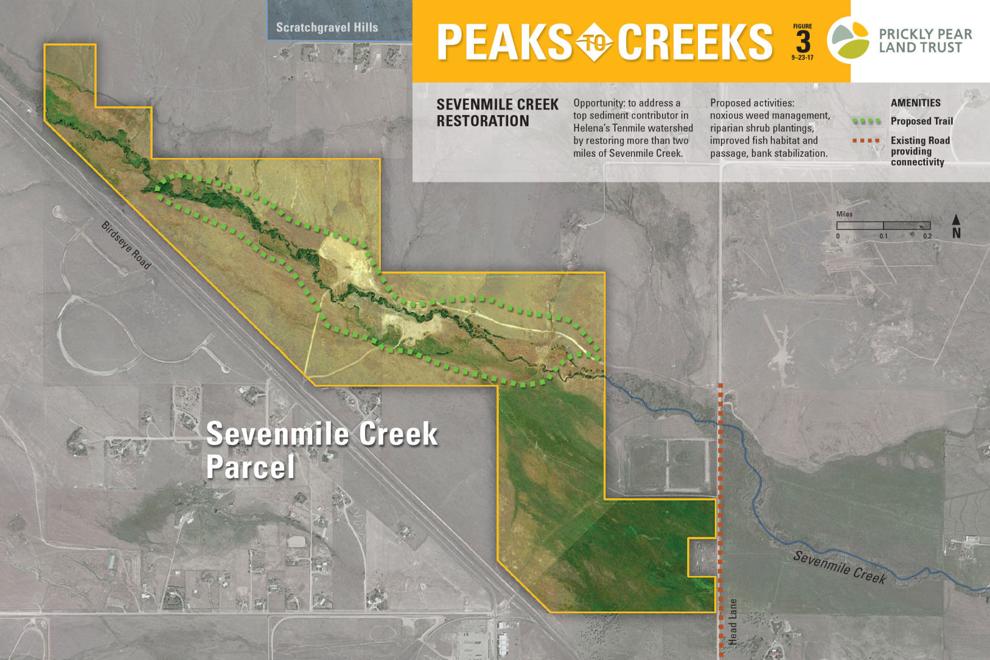 Hollow said the stream restoration at the heart of the Peaks to Creeks project would help the Helena Valley deal with flooding, part of the naturalization process the land trust is implementing on both creeks to mitigate sedimentation and future flooding.