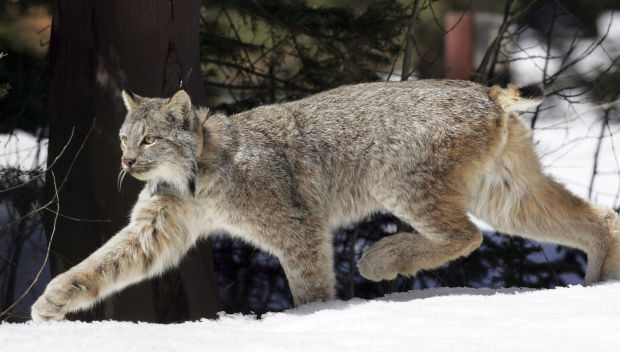 While many people may decry litigious environmental groups and point fingers at judges that rule in the groups' favor, it's hard to deny that they have often prevailed in court, and the federal government has been found in violation of environmental laws.
And that was one of the major points made by Mike Garrity, executive director for the Alliance for the Wild Rockies, and Steve Kelly, executive director for the Montana Ecosystems Defense Council, in the Oct. 14 Independent Record story that reported the taxpayer-funded fees their attorneys had received as a result of litigation. The real story, they said, was not attorney fees for holding a government agency accountable, but that the government had broken the law.
More than 80 laws govern the Forest Service's land management, but the National Environmental Policy Act (NEPA), Endangered Species Act (ESA) and National Forest Management Act (NFMA) are most often cited as the basis for litigation, according to a 2014 State University of New York and Western Michigan University study published in the Journal of Forestry.
"The Northern Region has experienced a relatively high level of litigation," said Forest Service spokeswoman Elizabeth Slown. "From 2008 through 2013, the region had more than 70 projects litigated. In recent years, litigation has encumbered as much as 40 to 54 percent of the region's planned timber harvest volume."
NEPA, enacted in 1970, is a procedural law that directs federal agencies to consider the environmental consequences of their actions. To do so, agencies must prepare either an environmental assessment or the more rigorous environmental impact statement if environmental consequences are likely. Both include public participation and anticipated consequences for several alternative actions.
"It's a look at the effects in context and intensity," said Kim Smolt, NEPA and litigation specialist for the Forest Service. "Opinion doesn't enter into it. We look at things that are site-specific."
The Forest Service must show that it has met every law in their environmental documents, she said.
Analysis is based on recent science, such as what an animal might need for habitat and what effects a particular project would have on that habitat, she said. Much of their analysis is based on models, and professional judgment is based on scientific training and experience, she added.
The one thing that NEPA does not force an agency to do is choose the most environmentally friendly alternative. It also allows an agency to categorically exclude an action if it has been shown consistently to have no significant environmental impacts.
"Congress passed NEPA as a look-before-you-leap approach," said attorney for Earth Justice Tim Preso. "I know the other side wants to downplay NEPA as a procedural technicality, but it's a pretty fundamental law that allows an injection of democracy into the process."
Preso emphasized that his firm has not represented Garrity or Kelly in timber sale litigation.
In general, agencies have tried to put more and more projects under categorical exclusions, Preso said. That may be taking us back to a pre-NEPA world, where serious environmental disasters occurred without an informed public.
"There's a balance, and in my experience courts are pretty deferential to agencies, and it's only when agencies pretty seriously mess up that they'll get involved," Preso said.
The State University of New York and Western Michigan University study found that of the 1,125 lawsuits filed over federal land management between 1989 and 2008, the Forest Service won 53.8 percent of the cases while losing or settling the rest. Of those lawsuits, 78.9 percent sought less resource use and development.
"Logging isn't illegal as long as they follow the law, and even if we don't' like it there's nothing we can do about it," Garrity said.
Garrity estimates that the alliance prevails in court or in getting changes under a settlement 85 percent of the time.
Decisions that may impact species listed under the ESA like the Canadian lynx and grizzly bear are often where court decisions sway in favor of environmental groups. Unlike a procedural law like NEPA, the ESA dictates that an agency cannot perform an action that adversely impacts an endangered species' survival, with some caveats for permitting take.
NFMA dictates individual national forests to form a forest plan. That plan requires a "multiple use, sustained yield" approach, but also requires a viable population of species.
Rather than only suing for listing under the ESA, environmental groups often allege deficiencies in analysis, or a misinterpretation of analysis of those species through the NEPA process, or violations of NFMA.
"Lynx are endangered and we're trying to recover them," Garrity said. "It's easy to say lynx aren't there if you don't look for them and follow protocol."
Garrity pointed to the Cabin Gulch Timber Sale in Broadwater County. Although the area is not listed as lynx critical habitat, after analyzing the Forest Service's analysis, Sara Johnson of the Native Ecosystems Council found that the Forest Service had not looked for lynx in the last place in the area they had been historically documented, he said.
"Some people may look at that and say, 'That's a procedural violation,'" Garrity said. "If you're a scientist, that's a really important thing."
A judge ordered additional lynx analysis after the alliance and council sued. The Forest Service performed the analysis, and after the judge signed off, the project got underway this year. That decision is currently under appeal before the Ninth Circuit Court of Appeals.
Other recent cases the alliance has won include Glacier Loon in the Swan Valley. A federal judge found that the Forest Service violated its forest plan on road density in grizzly bear habitat for newly acquired land from the Nature Conservancy when it continued to allow logging.
In the Colt-Summit decision also in the Swan Valley, a judge found deficiencies in lynx analysis and ordered additional work, awarding attorney fees in the case. The project was developed through a collaborative that included timber, recreation and conservation interests.
Depending on who manages forests and their receptiveness to environmental concerns and following the law, the alliance has often reached agreements that included timber harvest without litigation, Garrity said.
"I think it's a cultural thing where forests get more brownie points for the more trees they can cut," he said. "They could cut all the trees that they wanted to if they covered the law and ensured a viable population of species."
Litigation and the long time it takes NEPA to work are a major concern for the Montana Wood Products Association, said executive director Julia Altemus.
"It can take four or five years for an environmental impact statement, and then they get litigated on procedures on top of that," she said. "It takes that long because (the Forest Service) has so many rules and regs, and that makes it almost impossible to bulletproof an EIS against litigation."
With all of the regulations, a judge is bound to interpret something as deficient, Altemus said. The goal of the ESA is to recover species, but it has only succeeded in around 10 cases, she said.
"The ESA is really not working all that well," Altemus said. "What we need to be able to do is provide a viable habitat, but you can't give every species everything they need on every acre, and that seems to be what these litigants are asking for."
Often the goal of a lawsuit is simply to delay a project, and a deficiency in analysis that actually impacts a species is pretty rare, she said.
"Any more it's just throw everything and the kitchen sink at it and see what sticks," Altemus said. "That doesn't help the species at all."
Around 5 million acres of Montana's national forest were identified as unhealthy under the 2014 Farm Bill, and timber harvest is needed to bring those lands back into balance, she said.
The Farm Bill categorically excludes certain timber projects in forests heavily impacted by insects and disease from full analysis under NEPA, and includes other regulations that require fewer alternatives to speed up forestry work.
"We're cautiously optimistic, but we know this is going to get litigated," Altemus said. "Until we get through a court case we're only cautiously optimistic."
Litigation and the slow NEPA process has driven up the price of timber, she said. The market is good, but mills have recently paid prices of three times or more simply to keep mills running. That model is not sustainable unless more timber begins flowing from federal lands, Altemus said.
Despite more than a decade of failing to reach timber targets from Montana's national forests, the Forest Service's Northern Region which covers Montana hit its goal of 280 million board feet in the last fiscal year.
"I would attribute it to good analysis and attention to regional wildlife issues when planning out the projects," Slown said. "I think it's an indication of how things have changed towards us meeting our goals."
The Forest Service has prioritized work with external groups and collaboratives, which identify and create public support for projects needed to restore these lands, she said.
This story has been edited to reflect the Forest Service timber target of 280 million board feet.
Get local news delivered to your inbox!
Subscribe to our Daily Headlines newsletter.