When Prickly Pear Land Trust acquired property along Sevenmile Creek as part of the Peaks to Creeks Initiative in 2016, there were evident signs of degradation along the banks. Erosion and weeds overtook the property, and sedimentation deeply affected the creek, which is a main tributary to Tenmile Creek, one of the Helena Valley's primary water sources.
PPLT has begun a project that aims to restore the area, which stretches northwest from the intersection of Birdseye Road and Head Lane north of Helena. With the necessary time and funding, PPLT hopes to restore the 350-acre property as a thriving wetland, help bolster biodiversity in the area and rehabilitate the creek back to its natural state.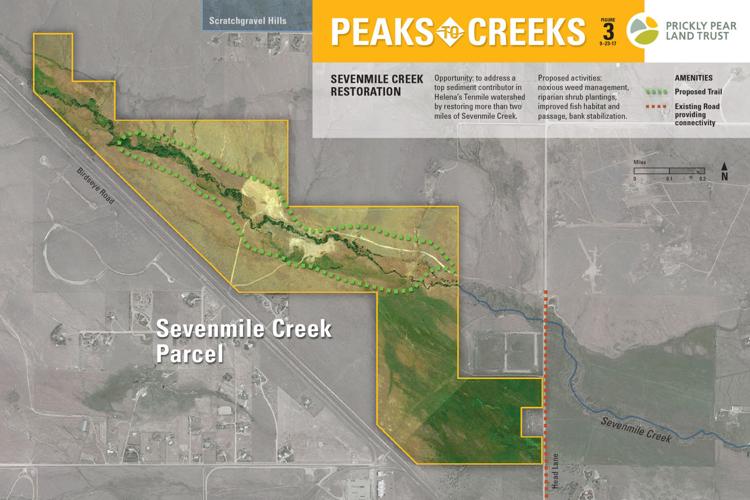 "It's such a great win for conservation in the community," Hollow said.
Hollow also said one of the main goals of the restoration project is to reverse the effects of "channelization," a process used to widen or deepen a creek or river. Channelization in the 1900s damaged the natural properties of the creek by removing its natural pathway, and PPLT has been working to restore its meandering curves to help mitigate sedimentation. 
"Over time we've learned that that is the worst thing you can do for a stream," Hollow said. "A lot of restoration projects these days are sort of de-channelizing streams. That's the main focus of this restoration project."
So far, the project has used $250,000 in funds, but has the potential to use much more. According to Nate Kopp, project manager with PPLT, obtaining the permits to do this kind of work can eat up a budget.
Part of the restoration project falls within a floodplain designated by the Federal Emergency Management Agency, which requires an additional permit. Despite the area not being open to residential development, the permit applies to both development and restoration projects.
"The quality of the restoration is still there, but we did lose about 600 feet of what we had intended to do," Kopp said.
The project is expected to wrap up in 2019, and although it isn't the kind of project that the community is necessarily used to seeing, Hollow and Kopp say it's equally as important. Restoration projects push people to look beyond the more visible projects of trails and parks, and see the broader scope of work that PPLT has accomplished, and what it is capable of.
"Opportunities for land, water, open-space and recreation projects all fall within the context of what a community land trust does," Hollow said. "PPLT will always have a role in the South Hills and maintaining those trails we helped to make possible. We will always do that."