Helena-area families no longer have to travel to Great Falls for Flippin' Family Fun. The trampoline bouncing fun center has arrived in Montana City.
Natalie Riggin, owner and creative mind behind Flippin' Family Fun, started the business in Great Falls six years ago. When her son was 2, she realized "there wasn't enough to do for the 10 months of winter here."
She said she didn't want a franchise and was trying to come up with ideas that weren't already in the area. She saw a trampoline park in Spokane, Washington, and "that was it!"
The idea took hold. She traveled to see other trampoline parks and then developed her own. She found a building and resources and put up her family finances to make it happen.
The park in Great Falls is a success and has been drawing people from outside the area on a regular basis.
"We've had a lot of people specifically come from Helena to Great Falls for us," Riggin said. "Lots of people have come in and said we need to open one in Helena. The last person who said to do it, I was feeling sassy, and said, 'you find me a building.'"
That person connected Riggin with a Helena-area Realtor and within two weeks she had a building and was moving forward on development.
The location, at 5 Wall St. in Montana City, was the former site of Gym406 and was a great space for what Riggin had in mind. She designed the layout herself.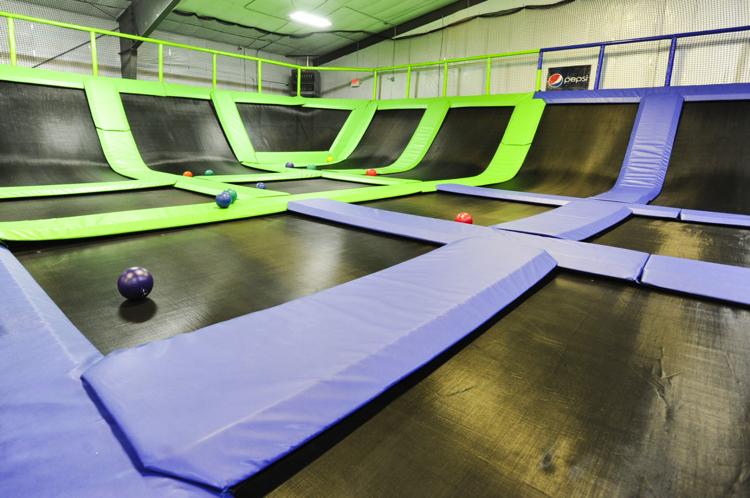 In addition to the trampolines, there is a ninja course. Obstacles include balance platforms, monkey bars and rings.
"This is for all ages," Riggin said. "We encourage parents and grandparents to get out and play with their kids. We want families to participate and to be together.
"It's on purpose," she said, "that seating is limited. I don't like looking around and seeing parents sitting looking at their phones. This is to encourage movement and for them to play together. It's our whole reason for opening it."
The Helena location will offer special hours and days, including Family Night on Monday, Military Night on Tuesday and Cosmic Jump (think laser lights and glow-in-the-dark elements) Friday and Saturday. Drop-in Dodgeball is on Wednesday and Thursday. Twice a month there is Extreme Cosmic Night with a DJ and root beer floats.
Admission is $12 for the first hour for those 8 and older and $8 for ages 3 to 7 for the first hour. There is no fee for those younger than 2 with a paying adult. Those familiar with prices in Great Falls will notice an increase in cost, which is a result of the higher cost to do business in Helena.
Operating any business has its price, but the cost of operating a business that involves trampolines is astronomical. "I pay more in insurance than most people make in a year," Reggin said.
Getting financing wasn't easy, she said. But with help from Mark Menke, director of lending at Montana Business Assistance Connection, she was able to get direction and financing.
"That specialty equipment is hard to finance," Menke said.
Montana Business Assistance Connection is all about economic development, job creation and retention to help grow the community.
"I'm not a lender of last resort," Menke said. "I just try to find out a way to say yes instead of say no. I like to help people like her get (their business) off the ground."
In Reggin's case, Menke said, it wasn't like they were reinventing the wheel. He said with her strong background and business already established in Great Falls, they knew where they were headed.
"Montana is one of the best places to be an entrepreneur and start a business," Menke said. "It there's a niche and a market, favorable people like Natalie can come in and provide that service."
With everything moving so smoothly, the business opened Friday, Dec. 21.
Before jumping, visitors are asked to sign a waiver, even if they have a waiver on file in Great Falls. The waiver can be downloaded online, flippinfamilyfun.com, or at the front desk. Also required are no-skid socks. Socks can be purchased onsite for $3 or brought from home, as long as they have the grip pads on the bottom.
Get local news delivered to your inbox!
Subscribe to our Daily Headlines newsletter.