Punk rock crocodiles dancing on a beach.
A lemur leading a fitness class.
And a wildly luminous mantis shrimp art instructor.
These are just a few of the fantastic creatures one meets on the 100% fantastical journey, "Body in Motion."
They're all part of Julynn Wildman's dance film and installation at the Holter Museum of Art that opens with a reception from 5 to 7 p.m., Friday, Oct. 22. The dance film premieres at 6 p.m. (and you won't want to miss it!)
Wildman is the recipient of the first Intrepid Credit Union Artist Fellowship at the Holter.
Instead of taking us on a journey to the moon or to the center of the Earth, Wildman takes viewers on a journey via dance to the center of the self -- the fancifully fantastic evolutionary twists and turns that took us from fins to limbs.
"We're excited for Friday," said Holter Executive Director Chris Riccardo. "It's really unique. We think it will really draw people. We're ready to let the public see it."
Wildman's dance film and exhibit tell the story of a young girl, Mika, who is walking in the woods and climbing a tree when she spies a shiny object glittering in the stream below.
As Mika stretches out to reach it, she tumbles into the water, where she sinks down into a swirling, beautiful underwater world of jellyfish and is swallowed by a manta ray. And she is off on an adventure of discovery.
The exhibit and dance film pull on a lot of scientific research, but use humor and fantasy to show the different perspectives of animals that Mika meets, said Wildman.
Each of the chapters of the film and Mika's adventure are represented in the exhibit.
As part of her fellowship, Wildman spent the past year researching and creating Mika's story through a series of dance/science workshops she held at the Holter.
When viewers enter the High Gallery, they'll encounter jellyfish and step through the jaws of a manta ray.
"The whole exhibit is an immersive experience where viewers can go into the world of Mika -- the lost girl," said Wildman.
Mika's journey is her own creative take on evolution.
"You don't see the usual stops you would in the evolutionary tree," said Wildman. "She makes different detours and pit stops."
Among them is meeting a group of rude punk rock crocodiles, who are beach squatters.
Suddenly, on the beach a red door mysteriously appears, and Mika finds herself in a jazzercise class led by a lemur, where all limbed vertebrates are welcome -- including reptiles and amphibians.
Fast forward, and Mika's wandering in a fantastic warehouse studio space as she chases after a scuttling mantis shrimp.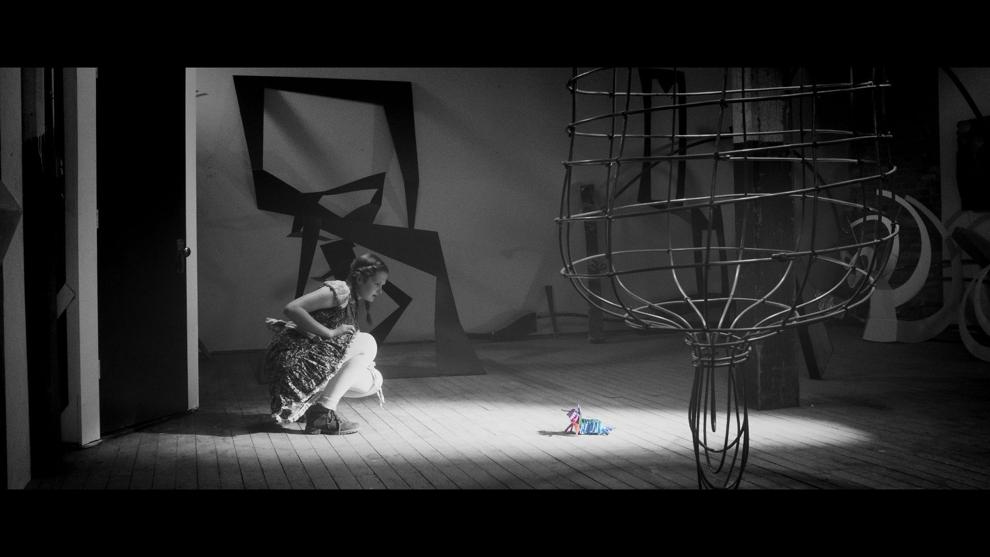 This particular shrimp teaches painting. And because this shrimp has the amazing ability to see a wide spectrum of light -- including ultraviolet and polarized light -- she's frustrated with her students who can't see the fantastic colors she can.
"It's really been fun to work with people to explore this ... imagining if you could see like a mantis shrimp and imagine trying to share that!" said Wildman.
When the surly shrimp attacks Mika, wanting to make her paint, Mika falls backwards through a painting into a space where she meets human figures, who show her that human forms evolved after primates, who happened after mammals, who happened after reptiles, going back to single-celled organisms floating in water. And Mika finds herself in the stream back where she began.
Mika's story is one layer, a more accessible layer, of Wildman's deep dive into exploring what fascinates her about animals' amazingly different evolutionary adaptations.
But she spiced up the science with some wacky humor and fun fantasy in exploring different animals' perspectives.
"It became important to me to give it to the audience with joy, and that it be fun. There are things about animal physiology that are so amazing. And so, what I really want to give people is this sense of wonder and wondering about being in the world."
She is also sharing the scientific information she learned on plaques throughout the exhibit.
Wildman, a Colorado native, came to Helena as an AmeriCorps volunteer in 2015.
"I wanted to dance as long as I can remember," she said, and pursued a double major in dance and cross cultural relations at Bard College at Simon's Rock in Massachusetts.
Her background has given her "a lot of rich and creative soil to grow an inquiry-based creative practice, balancing form with research and intention and using movement to explore different subject matters," she said in an IR interview last November when she was first launching her project.
Wildman's wildly creative story of Mika's journey through dance is beautifully captured on film by Lenny Eckhardt and his Dead Dinosaur Productions, with some delightful special effects like a psychedelic mantis shrimp.
"I think curiosity is very much part of this process," said Wildman. "I learned so much through this fellowship and being able to dive into this research."
"I think there are so many ways of understanding something." You don't have to write a research paper to find an understanding of something.
"You can make art and reach an understanding.
"I'd rather be an ambassador to wonder and curiosity. I think it gives us a deeper understanding of ourselves.
"It gives us a lot of perspective and insight into ourselves and into other inhabitants of this world. How do we see our world is absolutely shared with every other thing on this world? I think there's something very special in realizing that."
Holter Museum hours are Tuesday – Saturday: 10 a.m. – 5:30 p.m. and Sunday: noon – 4 p.m.