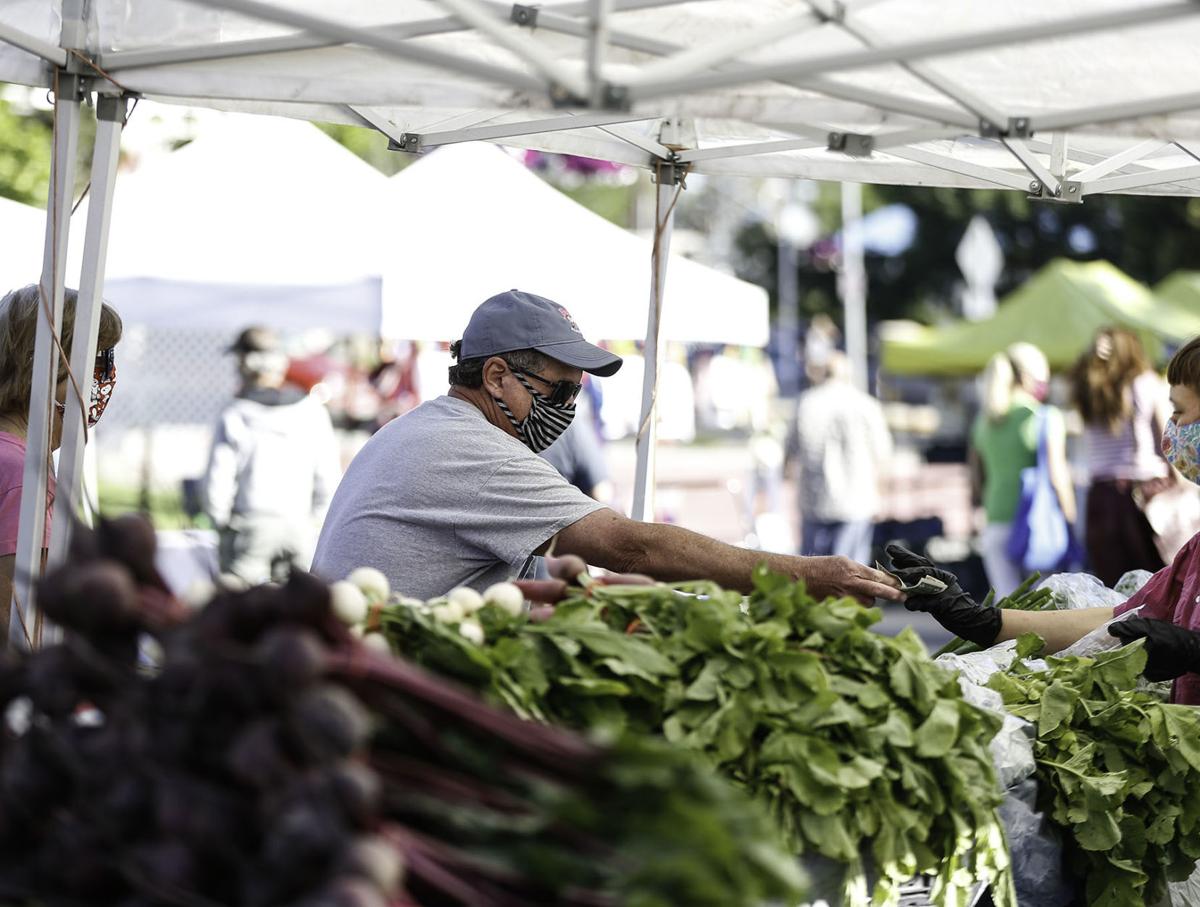 A district court judge has issued an order temporarily ceasing the weekly Helena Farmers' Market, which was held without a permit Saturday. 
The city of Helena revoked the permit for the farmers' market on Fuller Avenue at the request of Lewis and Clark Public Health, which said event organizers failed to meet the requirements of a July 8 health order seeking to limit the spread of COVID-19. The countywide health order prohibits events with more than 250 attendees and requires the organizers of events with 50-249 people to submit a plan explaining how they intend to adhere to certain health guidelines.
On Tuesday, Lewis and Clark County Attorney Leo Gallagher filed civil action asking the court to force the farmers' market and the president of its board of directors to comply with the health order and pay an unspecified amount in expenses associated with obtaining that compliance. On Wednesday, Lewis and Clark County Judge Michael McMahon issued a temporary restraining order prohibiting the defendants from continuing to hold any events with more than 50 people without approval and requiring them to comply with any subsequent orders from the county health officer. 
"The manner in which Defendants have operated and continue to organize events contrary to the Lewis and Clark City-County Health Officer Order 10-2020 constitute an immediate and irreparable harm, affecting and risking the health and safety of the citizens of Lewis and Clark County..." the restraining order says. 
The restraining order expires after 10 days, on Aug. 1. The defendants were ordered to appear before the judge at 9 a.m. July 31 to show cause, if any, why the temporary restraining order should not be converted to an injunction. 
Helena Farmers' Market board President Wayne O'Brien said he plans to comply with the court order. 
"I don't want to spend my summer in jail trying to prove a point," he said. 
Although he knowingly allowed Saturday's event to occur without a permit, O'Brien said the board made the decision to cancel this weekend's event even before learning about the restraining order Wednesday. 
"We're fighting something we shouldn't fight," he said. 
After Saturday's farmers' market, the Helena Police Department submitted a report to the Helena City Attorney's Office because the event was blocking the street without a permit and another report to the Lewis and Clark County Attorney's Office because of the alleged health order violation. 
In his report to the county, Lt. Jayson Zander reported that 52 booths were set up along Fuller Avenue, three were set up in Women's Park and one was set up on the north side of Neill Avenue for a total of 56 booths Saturday morning. He estimated that 112 people were working at the vendor booths, and all but about five of them were wearing a mask. 
Zander estimated that more than 250 patrons were in the two-block area by 10 a.m. Saturday. He reported that about 25% of them were not wearing a mask, and some were practicing social distancing while others were not. 
Any event organizer found in violation of the county's health order may face a misdemeanor charge for each attendee at the event, the order says. Lewis and Clark County Attorney Leo Gallagher said he probably will not file criminal charges related to the alleged health order violation because the farmers' market has ceased, noting "I hope the message we need to protect public safety has been sent and received." 
Helena City Attorney Thomas Jodoin said his office is still reviewing the information related to the street closure without a permit. 
O'Brien said the board of directors plans to revise and resubmit its COVID-19 plan to the health department in hopes of bringing back the farmers' market in the future, but noted "I'm not optimistic that we'll be able to open again." He said the board intends to request and review plans that have been approved in counties that are allowing farmers' markets to continue. 
"We've got a lot of livelihoods attached to this," he said.