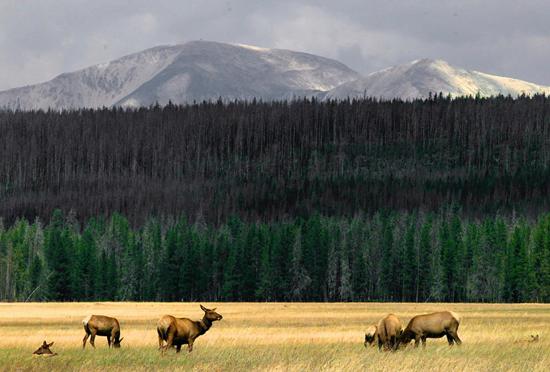 For the second time in a month, Montana Fish, Wildlife and Parks Commission members heard about efforts to learn more about the extent of brucellosis in elk populations and possible ways to deal with it.
But Joe Cohenour, one member of the Elk-Brucellosis Working Group, noted after the commission meeting that they're facing a conundrum because for many sportsmen the disease is a livestock problem, not a wildlife problem, yet the commission is looking at solutions via typical wildlife management routes.
And moments after the hour-long presentation by FWP staff, Commissioner Ron Moody questioned whether even with new information on elk distribution and winter ranges, as well as the increase in number of elk that appear to be testing positive to exposure to brucellosis, they can effectively stop its spread due to differing philosophies.
"We have been pounding our heads on these stones for years," Moody said. "The brucellosis working groups focused on the way elk are aggregating and distributing themselves and the harboring on private lands. The PLPW (Private Land/Public Wildlife) group focused on the same exact problem and a lot of other groups have done the same thing.
"We're investing a lot of time, energy, talent and sportsmen's wildlife dollars on brucellosis and wildlife, but are we really actively trying to solve the problem? I don't think anyone said that in a way that's convincing."
Commissioners Dan Vermillion and Shane Colton were more optimistic, saying that if they get the right people to work together – ranchers, sporting groups and people who just generally enjoy wildlife – they believe they can come up with a way to eventually remove brucellosis from the landscape.
"I'm very encouraged that now we have on the landscape level a discussion of ways to set regulations that will allow us to enhance distribution (of elk)," Colton said. "That said, you will have to really understand what you're doing and a lot of advocacy groups will be defining what the vast array of objectives will be."
Brucellosis was brought to the Rocky Mountains in the early 1900s by cattle infected with the disease, which can cause them to abort their fetuses. It was transmitted to wild animals that grazed in areas where the afterbirth was present.
While it has largely been eradicated in cattle, the number of elk in Montana that are testing positive to exposure to brucellosis is on the rise since the early 2000. In addition, Neil Anderson, an FWP wildlife biologist taking part in the elk and brucellosis study, said that since 2007, five cases of transmission from elk to livestock took place in Montana.
In conjunction with the Department of Livestock, FWP set a Designated Surveillance Area (DSA) in Montana north and west of Yellowstone National Park, which is near where the exposed cattle were located. They've been doing numerous tests on elk within that DSA – which has been expanded twice as exposed elk were found outside of it – and livestock producers also have been more closely monitoring their cattle.
Anderson noted that their sampling is limited, but he's seen a jump from the 2 percent range in the early 2000 to anywhere from 6 to 12 percent of brucellosis exposure in elk in that they've tested. He's going to expand the testing to the lower Shields River Valley and the southern Pioneers to see if the disease is more wide ranging than thought.
Kelly Proffitt, another FWP wildlife biologist at Thursday's commission meeting, said she's been tracking collared elk within the DSA and found that they've migrated from the Jackson Hole feeding grounds and Yellowstone National Park deep into Montana. High densities of elk are suspected in its transmission, and the dispersal of elk from Jackson's crowded feeding grounds could further spread the disease.
Further complicating the matter is that one of the tests used was showing some false positives, added Quentin Kujala, FWP wildlife management section coordinator.
He noted that it's an incredibly complex issue, but added that the more they find out the better equipped wildlife managers will be when they sit down to set regulations as well as work with partners.
"You have three states, a national park, two advocacy groups that at times are singing the same songs or at times different ones – the livestock advocates and the sportsmen advocates," Kujala said. "Another layer of complexity is you can do different things with livestock than you can with wildlife. So you have a philosophical debate and a pragmatic, logistical debate.
"I think the answer may be a varied one."
The commission will hear a third presentation on the issue at its Nov. 8 meeting, and the commission will make its first formal decision on what action to take, if any.
Follow Eve on Twitter@IR_EveByron