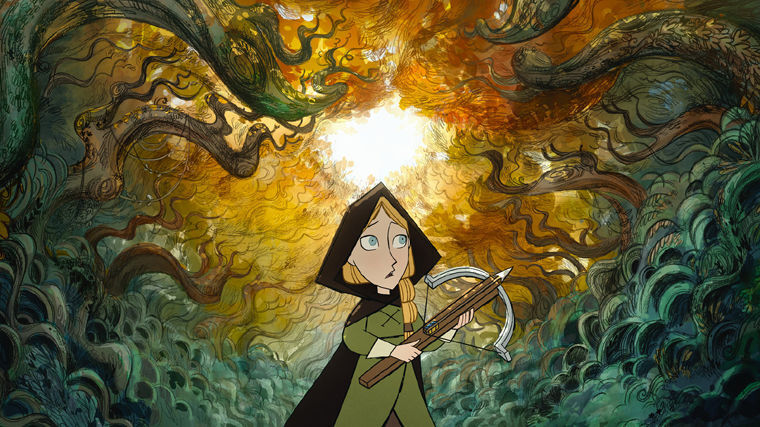 The Secret of Kells (2009)
Song of the Sea (2014)
Wolfwalkers (2020)
In the forests of Ireland, the faeries hide, watching and waiting.
I know that to be true. WB told me.
"At Howth, 10 miles from Dublin there is a fairies path," wrote Yeats. "Where a great colony of other world creatures travel nightly from the hill to the sea and home again."
I visited Yeats' grave in Sligo, Ireland, last March, a few drops before the last Guinness was drawn and pubs shut down. Yeats penned his own epitaph: "Cast a cold eye on life, on death. Horseman, pass by."
Ireland, faeries and Yeats haunt the films flowing from one of the world's finest animation studios in Kilkenny, Ireland.
No one who has sipped a pint of Guinness will be surprised at the studio's name: Cartoon Saloon.
Cartoon Saloon has produced hand-drawn animated films every bit as stunning as Pixar, and rivaling Hayao Miyazaki's Studio Ghibli.
All three films in the studio's Irish Trilogy were nominated for Oscars, including "Wolfwalkers," which will challenge Pixar's "Soul" this year.
These family films challenge and educate children while whisking them away into captivating lands every bit as enchanting as Narnia and Middle Earth.
"Song of the Sea," the middle film, swept me away, like a selkie swimming back into the sea.
"Song of the Sea" opens, appropriately, with lines from Yeats.
Come away, O human child!
To the waters and the wild
With a faery, hand in hand,
For the world's more full of weeping
We ride those wild waves, off an island near the Irish coast. We meet mythical mystical selkies, seals who can morph into humans. One of their own, Bronagh ("bronna"), is living on shore, sharing tales of selkies with her human son Ben.
Bronagh gives birth and vanishes – leaving behind newborn mute Saorise ("sersha").
Saorise straddles her two worlds, pulled by selkies toward the sea, and pulled by her father and brother toward land.
I think I learned that if Saoirse slips on her cloak and then sings the song of the sea, she will complete her destiny and "untangle" her worlds. The tune seems to hide inside a seashell.
Irish folklore comes alive, as if floating off the pages of a Yeats' poem.
The tale haunts us, but we are drawn as much to the animation. The designs reminded me of Ukrainian Easter Eggs or Chantilly lace tablecloths. At times, hallucinogenic colors swirl and flow, a magic carpet carrying the creatures away.
An Irish Post article says a Cartoon Saloon team of around 80 produce one second of film per day per animator. That labor of love produces exquisite art, frame by painstaking frame.
The other two films in the trilogy are just as magical.
The studio's first film, in 2009, "The Secret of Kells" focused on Brendan, a boy in 9th century Ireland who is mentored by a monk. Brother Aidan is illuminator of the unfinished Book of Kells, filled with Latin calligraphic "illuminated" transcriptions of the Gospels, with mythical creatures swimming across the gilded pages.
Along the way we meet the mystical Aisling, who slides between two worlds, wolf and girl.
The final film in the trilogy is the 2020 "Wolfwalkers," set in 1650 near Kilkenny. Lord Protector Oliver Cromwell orders peasants to clear the forest which are inhabited by frightening wolves.
But young fearless Robyn defies her dad to walk into the forest. There, she befriends a girl, a healer named Mebh, a Wolfwalker, who becomes wolf while asleep. Mebh's pack of wolves are part of a mystical mission, which includes finding/reawakening her mom.
We slowly learn why Robyn was called to the forest, like a nun being called to her faith.
While watching these, please allow your soul to be swept inside the glorious images.
These three films embody the care and craft of the gilded Book of Kells.
My eyes have never been wider than when I saw this Irish cultural treasure, kept safe in the library of Trinity College Dublin.
Cartoon Saloon is yet another treasure from that emerald isle.
In Montana, Irish faeries scurry through our forests. While the Butte St. Paddy's Day celebrations may have been slightly less foamy this subdued year, I'm sure Irish eyes smiled.
Butte needs one more pub: Cartoon Saloon, of course.