Few living people have experienced anything that compares to the COVID-19 pandemic. 
It's compared most often to the Spanish Flu which ravaged the world, leading to millions of deaths when it hit in 1918.
Irene Roberts of Helena, who turned 103 years old Tuesday, was alive during that time, as she was born on April 28, 1917. However, she wasn't quite old enough to remember the pandemic that spread across the world when she was a child.
She does remember things like polio and other diseases which were also prevalent when she was growing up, yet she doesn't remember anything quite like COVID-19.
"I don't think there has ever been anything like it before," Roberts said. "It is hard on families."
Just days after Montana started its gradual reopening, Roberts, who was born in McLaughlin, South Dakota, was celebrating her 103rd birthday at the Touchmark Senior Center on Saddle Drive in Helena where she is a resident.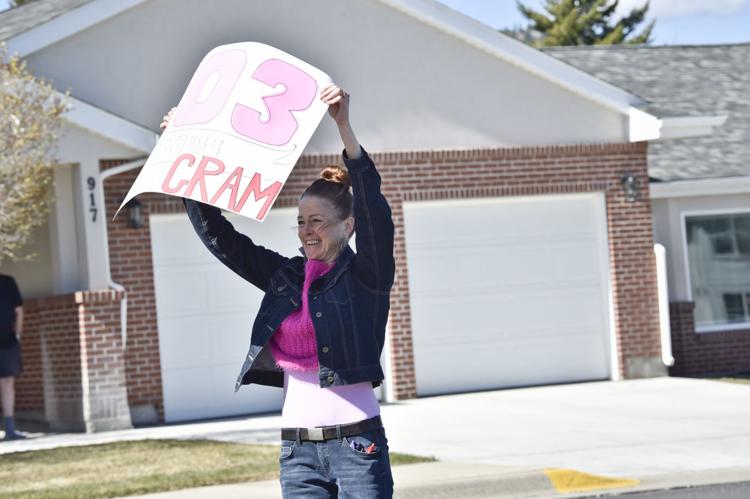 According to a press release from Spokane Shriners Hospital, Roberts is the oldest living Shriners Hospital patient. And despite the current pandemic, there were a pair of "drive by birthday parties" at Touchmark with one at 11 a.m. and another at 4 p.m. to celebrate the occasion.
That came in addition to family members getting to share the experience with her outside, as she had gifts and her favorite meals delivered.
For Roberts, who said she never expected to live to 100, age is just a number.
"My great-grandma lived to 101 years," Roberts said. "Living to this age isn't something you think about; it just happens. I don't fear death at all."
Looking back, Roberts has lived through some incredible times.
Not only was she around for the Spanish Flu and World War I, she also lived through the Great Depression, World War II and right on through into the age of the technology, witnessing the invention of TV, computers and the internet.
"Kids today have greater opportunities," Roberts said. "In my day, it seemed like everyone was poor and we all had to share with each other. Some of my friends were hungry, which is why I'm so proud to have been a part of food share, so kids have food."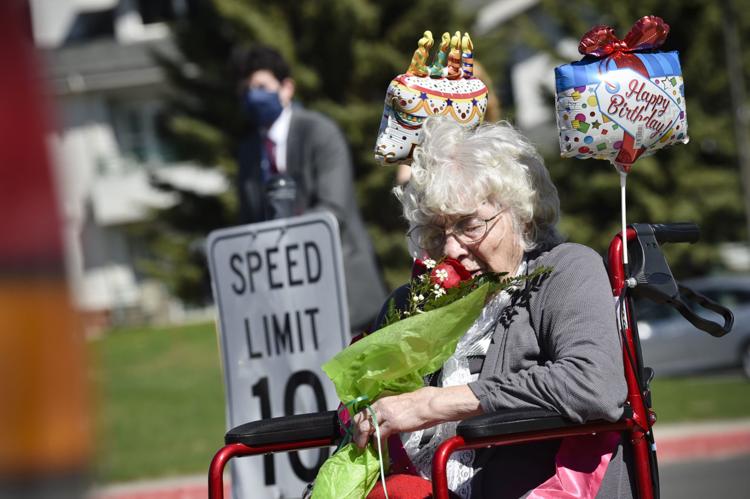 Volunteering was always a passion for Roberts, who gave birth to eight children after starting out as a school teacher in Ismay, Montana. 
"Once you were married, you had to give up the teaching job," Roberts' daughter Colleen Casey said. "So she didn't have a career. She had eight children in a period of 22 years. So one in the beginning of the baby boom and one at the end."
In addition to being a parent and grandparent, Roberts was active in the community, volunteering with her church and with the local food share program, among other things. 
Up until she was 95 years old, Roberts was auditing classes at Carroll College, and even in her late 90s, she was still volunteering at the Holter Art Museum. 
"I am thankful for an ordinary life," Roberts said. "I am thankful to have a mind open to all possibilities."
Now, she will spend her days listening to audiobooks via Alexa and watching television. She also enjoys getting outside, visiting with the staff and having a glass of wine on Thursdays, which is "Cocktail Night."
"It was one of the biggest blizzards they have had in South Dakota the day she was born," Casey said. "I always laugh that she was born in a blizzard. She was born without electricity, without running water and now, here she is, talking to Alexa. It's pretty amazing."
For Roberts, the key to her long, prosperous life, has been helping others.
"Well, I do have good genetics," Roberts said. "Sleeping well and eating well certainly help. In high school, I knew I wasn't here for myself but to help people. You have to help people in your life, so no one is alone. In loving others, you are loving God."
Chris is the sports editor and lead preps reporter for the Independent Record and 406mtsports.com. Follow him on Twitter @cmpetey406
Concerned about COVID-19?
Sign up now to get the most recent coronavirus headlines and other important local and national news sent to your email inbox daily.