Helena residents can now shop for groceries at several local stores without ever leaving their home.
Instacart, a national grocery delivery service, is launching in Montana this month, according to a company statement. It launched Thursday in Helena, where residents can order from Albertsons, Safeway, Costco, CVS Pharmacy, Natural Grocers and Petco.
Customers can place their order at instacart.com or by using the service's mobile app. Shoppers select their city and store, add items to their online cart and choose a delivery time range. Then, a local Instacart employee will accept the order, follow the shopping list and deliver the order to the customer in the designated delivery time.
Instacart aims to keep the online prices the same as the prices in the store for groceries. Sometimes the online prices are higher, however, and a section of the website compares the Instacart price to the prices at the store for various items. 
For example, the Instacart pricing information for the Costco in Helena says "prices are higher than your local warehouse. Costco members also do not earn 2 percent executive reward on Instacart."
Instacart expects to hire up to 100 local employees to shop for customers, according to a company statement. Employees are expected to pick the best produce, but customers can leave specific instructions regarding ripeness.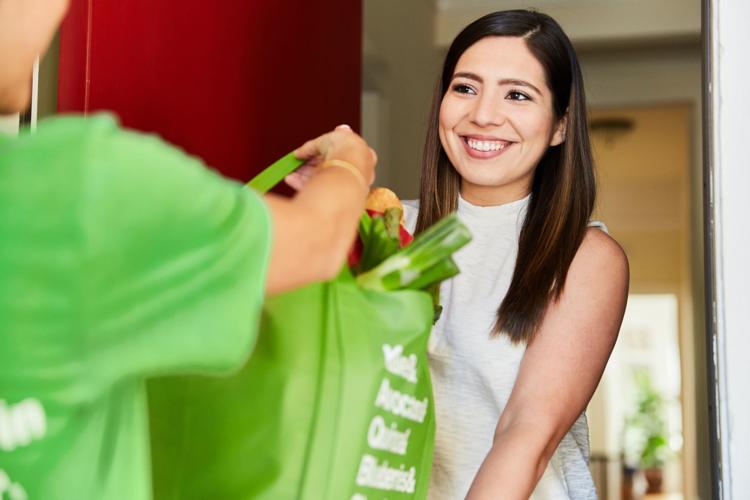 Employees are also instructed to pay attention to expiration dates and be careful with fragile items. If an item is out of stock, the shopper will make an appropriate replacement and contact the customer to make sure the replacement is acceptable, the website says.
Instacart partners with advertisers to give customers an incentive to buy from certain brands in exchange for free delivery. If a customer buys $12 in Perrier products, for example, delivery is available at no cost. 
For orders over $35, the standard delivery fee is $5.99. Shoppers can look up delivery fees for one-hour delivery or orders under $35 on the Instacart website. Popular delivery times can result in an additional busy pricing fee, according to the Instacart website.
Instacart also offers memberships for free and unlimited same-day delivery on $35 or more, for $149 a year.