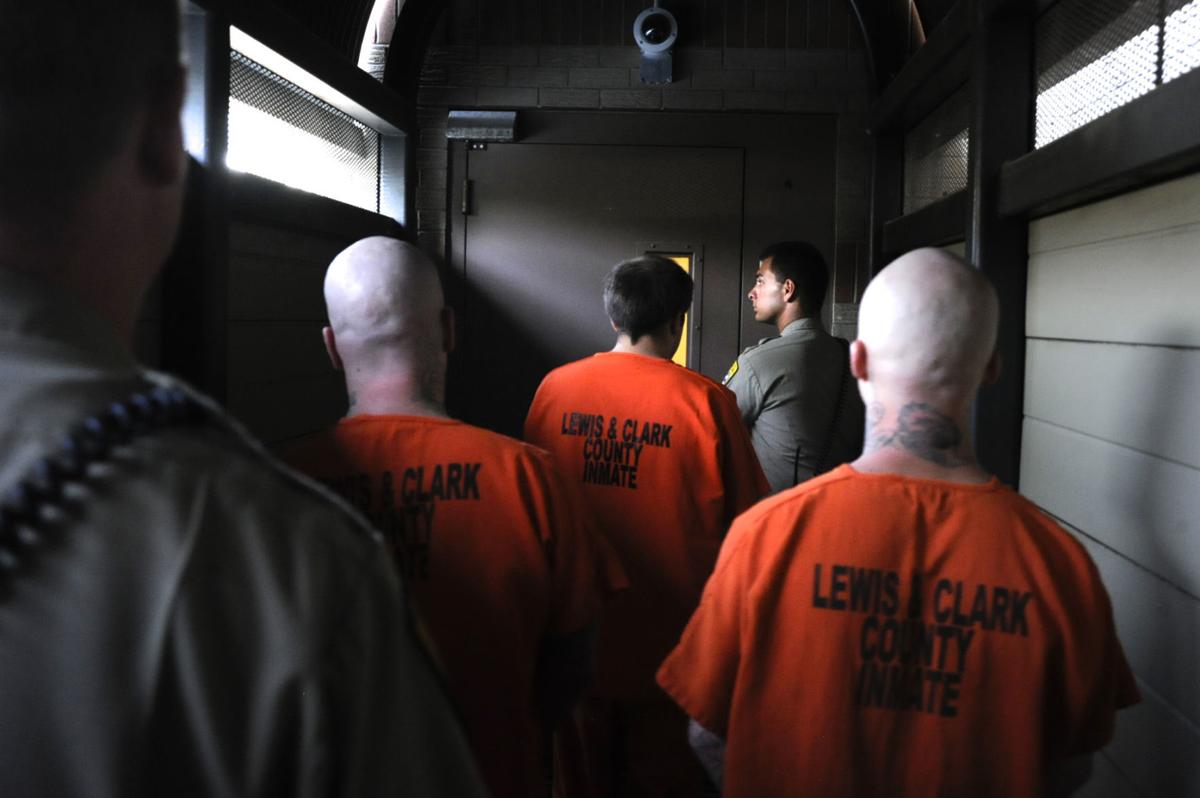 Despite measures in place to reduce the number of inmates held at Lewis and Clark County Detention Center, the population has climbed back to pre-COVID numbers in recent weeks.
In mid-March, the county took steps to limit who was jailed and who was written a notice to appear. Only violent suspects who posed a risk to the community were to be jailed under guidelines issued by state and county officials. 
Further, law enforcement officers were advised to only execute arrest warrants with bail amounts in excess of $10,000, up from $1,000, unless that officer believed an arrest is necessary.
The goal was to reduce the number of inmates to prevent a potential COVID-19 outbreak among the population and officers in the chronically overcrowded detention center. The Lewis and Clark County Sheriff's Office, which runs the detention center, said because of the lack of space, it was not adequately prepared to properly isolate infected inmates.
County officials also designated the Journey Home, a shuttered eight-bedroom mental health crisis stabilization facility near downtown Helena, as a place to quarantine inmates who contract the virus.
The plan was working. By April 17, the number of inmates was down to 71. It was still more than the 52-bed jail should house at one time, but a far cry from a recent February high of 125. 
But as of Thursday morning, the detention center held 109 inmates, with 101 held on felony charges and eight on misdemeanors. It costs the county about $123 per day to jail one inmate.
Capt. Alan Hughes, the officer in charge of the detention center, said the population reduction measures are still in place and every inmate currently held needs to be there.
"What I see is the crimes taking place out there are to the degree that requires them to be brought in," he said.
The increase leaves the facility, inmates and officers in a precarious situation while the county waits on the completion of its $8.3 million expansion of the facility. The addition is expected to come online sometime in July.
The use of the Journey Home was also up in the air until recently.
Lewis and Clark County's Chief Administrative Officer Roger Baltz said the county initially was told by the Center for Disease Control and Prevention that a specially designed ventilation system would need to be installed in isolation rooms, but has since been told it is not necessary.
The county was also concerned about staffing issues at the Journey Home. Sheriff Leo Dutton said his office would commit to paying staff overtime at a rate of $27 an hour, if need be.
"We will try to take that out of our existing staff if possible, but if we can't, that would require overtime," Dutton said.
Baltz said the Journey Home project is a necessary financial and logistical burden the county is willing to shoulder.
"It will be challenging, but with any COVID-19 resources, it's a challenge," he said. "We have to. It's our responsibility to make sure we have a functioning facility."
Lewis and Clark Public Health Officer Drenda Niemann said she and her staff are in "regular conversations" with the detention center, but that they are not verifying compliance in person.
"We don't think we need to be physically present," Niemann said. "The detention center is following our guidelines."
Niemann added that the threat of an outbreak among the overcrowded inmates has not changed.
According to Hughes, his officers are still screened daily prior to entering the facility and exhaustive sanitization efforts are ongoing.
"We have cleaned so many door knobs, it's unreal," he said. "We feel confident we've got a clean house."
Hughes said there have so far been no cases among his ranks and inmates. "We've been pretty lucky," he said.
Face-to-face meetings were put on hold within the facility as well. Hughes said the state government helped facilitate Zoom meetings for court appearances and attorney consultations.