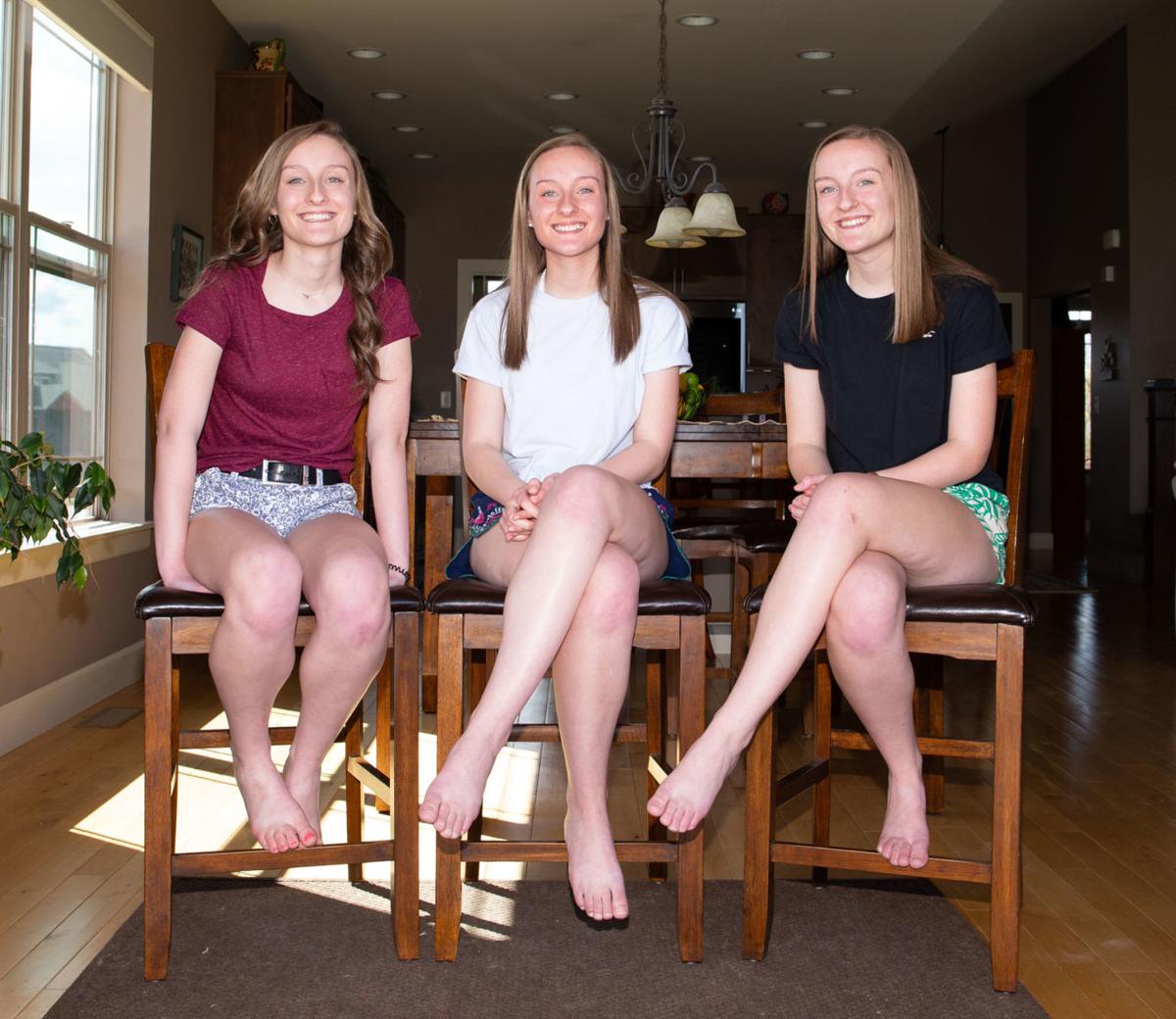 The National Honor Society at Helena High School had an incredibly rare induction this spring when three identical triplets joined its ranks.
Emily, Maddie and Sarah Hagengruber each maintained a 3.5 GPA and completed enough honors and AP classes to quality for the distinction.
"All three making it in is really unreal," said John Hagengruber, their father. "They've had a lot of good and different school experiences in their life."
Though the triplets are similar in many ways, each had her own motivations for pursuing the National Honor Society distinction. 
For Emily, it was good motivation to keep her GPA high, and it will look good when the soon-to-be senior seeks out colleges at the end of the next school year. Maddie said she had a lot of friends entering or already in NHS. Sarah said she was encouraged by her memories of their brother Adam being inducted into NHS.
John noted that his children have excelled more than he did in school. 
Maddie said she and her sisters are competitive with each other, and this extends to their academic achievements. This is a sentiment shared by Emily, who said she didn't want to be the only triplet to not be inducted. Sarah said they have been in the same classes throughout their entire school career, and they have been able to support and motivate each other as a result. 
"My sisters were pushing me to do it," Emily said.
Sarah said their parents never pushed anything on them, but they did want to live up to the expectations of their brother.
The triplets were inducted into the National Honor Society in late April via a virtual ceremony. Sarah said it was "kind of a bummer" that they didn't get to dress up and eat cake, but it was still fun nonetheless. Maddie said their grandparents neglected to mute their line during the ceremony, which made for a funny experience. 
Moving forward into next year, the triplets are excited for things to get back to normal in a post-coronavirus world.
Emily said she is really looking forward to taking the health careers class offered by Helena High and wants to spend time observing at St. Peter's Health before moving on to college. She also wants to join the Health Occupation Student Association, which her sister Sarah is a part of.
Maddie said she is hoping for a normal season of tennis during her senior year. As soon as tryouts were over, the season was more-or-less canceled this year due to COVID-19. She is also looking into joining Helena High's green group, a group of students dedicated to sustainability and recycling.
Sarah said she is excited about all the classes she signed up for. She specifically mentioned AP statistics, the Science Circus and Glacier College, a class that sees students study the climate of the titular national park.
Beyond school, the triplets all are interested in joining the medical field for their careers.
"We all kind of want to go into the medical field," Emily said. "Sarah always jokes that between the three of us we could open a clinic."
Emily is interested in pursuing a career as an infectious disease doctor, Maddie wants to pursue pediatrics and expressed interest in the Peace Corps and Sarah wants to be a pulmonologist, a lung specialist.
The triplets choosing to pursue similar careers was merely a coincidence, according to them. Despite being identical, they have different personalities, friends, life experiences and goals.
For their father, it's a point of pride that they are all successful in similar ways.
"We thought child two would be child two," John said. "But it turned into child two, three and four."