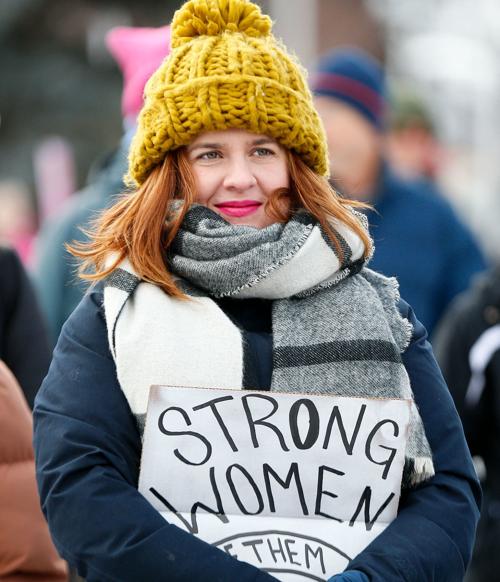 More than 700 people from around the region traveled to Montana's capital city Saturday to participate in the 2020 Women's March held in Memorial Park.
Congressional candidate and former state Rep. Kathleen Williams delivered an impassioned keynote address during the event that boasted the theme of "Put a Woman in Charge."
"'We're half the people, we should be half of Congress,'" Williams said, channeling the first woman to hold federal office in the country, Montanan Jeanette Rankin. "More women are writing laws than ever before; soon to be one more ... Our state, our country need us."
Emi Fujimori, a 19-year-old Montana State University student, traveled from Bozeman to participate in the demonstration.
"We still need to fight for what we believe in," Fujimori said. "There's still more progress to be made."
She said it was good to see so many people from a variety of backgrounds come together to support the various causes those in attendance hold dear.
"It's nice to see people of all different ages, men and women, here," she said.
Helena resident Shiloh Hernandez was one of those men in attendance. Hernandez echoed Fujimori's sentiment.
"It's a great showing of solidarity," he said. "One of the goals is intersectionality."
You have free articles remaining.
Signs held by demonstrators expressed support for causes ranging from women's health to global warming to the removal of President Donald Trump.
"I'm here to support a different vision of the United States than what is being advanced by the Trump Administration," said Hernandez, who was there with his wife and young daughters.
The organizers of the march also collected donations for various organizations in Helena, including God's Love homeless shelter, Helena Food Share and The Friendship Center.
Those who donated received a handmade pin. The artist who crafted the pins, which say "Put a Woman in Charge" on the back, made more than 600 to hand out. She declined to be named.
Local musician and music teacher Judy Fjell performed a rendition of Rosanne Cash's song "Put a Woman in Charge."
"We have shown up to resist," Fjell told the sea of civically minded gathered in front of the band shell. "We're the ones who believe this country can be doing more."
One of eight volunteer organizers who put on the demonstration, Rebecca Johnson said in an interview that organizing like this shows others what can be accomplished and she hopes those in attendance leave feeling inspired to do more.
"We want people to be advocates. We want to empower these people. We need to be heard," Johnson said. "2020 is the year it happens."
Williams summed up the optimism of the hundreds in her keynote speech.
"The doubters said it's just a phase. They said the movement wouldn't last," she told onlookers. "Now watch while we get a shot. Put a woman in charge!"