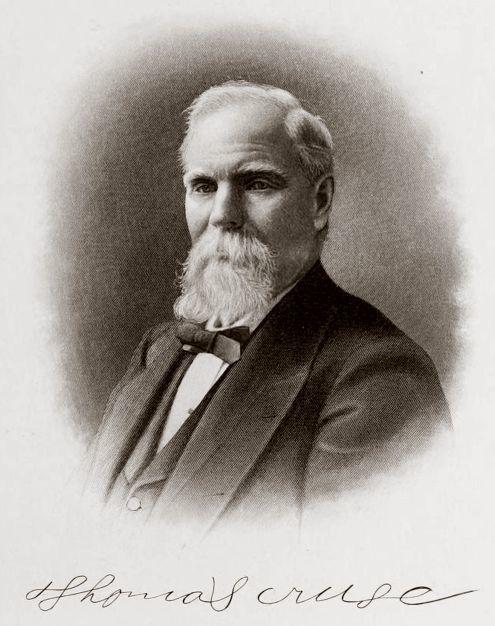 Thomas Cruse, known as Tommy to his friends, was a stubborn Irishman who came to the Helena area in 1867. While he slept on the streets his first night in Helena, he would eventually become one of the town's most wealthy residents. He is best known for his large financial contributions to the St. Helena Cathedral and the state Capitol building. Today, some may recognize him as the namesake of Cruse Park at the intersection of Last Chance Gulch and 11th Avenue, and Cruse Avenue which runs from the park to near the library.
In 1868 Cruse located a quartz lode near the town of Marysville. He then went to the courthouse in Helena to officially claim the new Drumlummon Mine. Cruse chose to name the mine Drumlummon after the parish in Ireland where he was born. Other mines opened in the area, and soon Thomas Cruse realized he needed additional capital and equipment to continue to compete. To expand the enterprise, Cruse sold the mine to an English syndicate. However, being a shrewd businessman, he retained rights to a large portion of the royalties. The Drumlummon Mine was only the beginning of the wealth that Cruse would build upon. When Cruse eventually sold the Drumlummon Mine, he made close to $6 million.
After selling his mine, Cruse moved from Marysville to Helena. He established a bank, built a large home, and married Margaret Mary Carter. Margaret Carter was several years younger than her husband and she was much better educated. Thomas and Margaret's wedding was an extravagant affair. It was held at the Cathedral of the Sacred Hearts on Helena's Catholic Hill. Catholic Hill is located near the Fire Tower and was also home to St. John's Hospital, St. Ann's Infant Home, and St. Vincent's Academy. The wedding spared no expense, with Margaret weaering a gown of cream silk trimmed in Spanish lace. Orange blossoms and other exotic flowers were shipped in from as far away as Portland.
W.W. DeLacey, in his recount of Helena news during 1886, noted that Cruse always walked several steps behind his wife when they went to church. Possibly, this was his way of showing deference to his wife's youth, educational status, and support.
A year into their marriage, Margaret and Thomas had a daughter, Mary. Margaret died one month after giving birth, from "nervous prostration." This left Thomas, then 50 years old, to raise their young daughter alone.
Mary, nicknamed Mamie, led a sheltered life at her father's mansion at 328 Benton Ave. She spent most of her days accompanying her father to work at the Cruse Savings Bank and spent her evenings at the exclusive Montana Club. She was known as a spoiled and stubborn child. When Mamie was 13 years old Cruse traveled with her to New York. The New York Journal described her as the "Girl, dearest of all her father's treasures, and heiress to $10,000,000."
When Mamie was 17, she ran away with her sweetheart against her father's wishes. Cruse caught up with the young couple in Elliston and forced them apart. After the attempted elopement Cruse sent Mamie away to school.
At 20, Mamie married a Wall Street broker but divorced him soon after. Cruse, a lifelong Catholic, did not recognize this divorce. When Mamie remarried in 1911 to Harry Cotter, her father persisted in reminding her that she was "living in sin."
In 1913, Mamie was picked up by police by a roadside house near Butte and returned to Helena. By this time Mamie was publicly known as an alcoholic. People also speculated that she was addicted to drugs and had perhaps contracted a venereal disease. Amidst a haze of rumor and scandal, Mamie was placed into the care of the sisters at the House of the Good Shepherd. This facility's goal was to protect and rehabilitate wayward girls and young women. Mamie died a few days before Thanksgiving in 1913 with the stated cause of death as Bright's disease. She was only 27 years old.
Thomas Cruse died the next year, in 1914. While he was incredibly wealthy, he had lost both his beloved wife and daughter. A few days after his death, the Cathedral of St. Helena was dedicated. Cruse had donated a quarter-million dollars toward the iconic cathedral. Additionally, he purchased 15 bronze bells for the new building. Each is inscribed "In memory of Mary Margaret Cruse, by her father, Thomas." These bells, which still ring out over Helena's downtown on special occasions, were nicknamed "Mamie's Bells."
Thomas, his wife Margaret, and his daughter Mamie are all laid to rest in an ornate mausoleum at the Resurrection Cemetery. While traditionally family crypts bear only the surname, this one is inscribed with "Thomas Cruse." The mausoleum occupies a prominent place in the cemetery, and the graves of other prominent Helenans form a circle around it.
This article was written by drawing on the writing and research by Harriett C. Meloy in the "More From the Quarries of Last Chance Gulch" book series and Ellen Baumler's book "Spirit Tailings." If you want to learn more about Thomas Cruse, or any of Helena's prominent personages, read their works.
Laura Evilsizer works as an archaeologist for the Helena and Lewis and Clark National Forest. She grew up in Helena, received a Bachelor of Arts from Whitman College and a Master of Arts in anthropology and cultural heritage from the University of Montana. Evilsizer is on the Lewis and Clark County Heritage and Tourism Council and wrote this article for the monthly "Nuggets from Helena" column in the Independent Record.