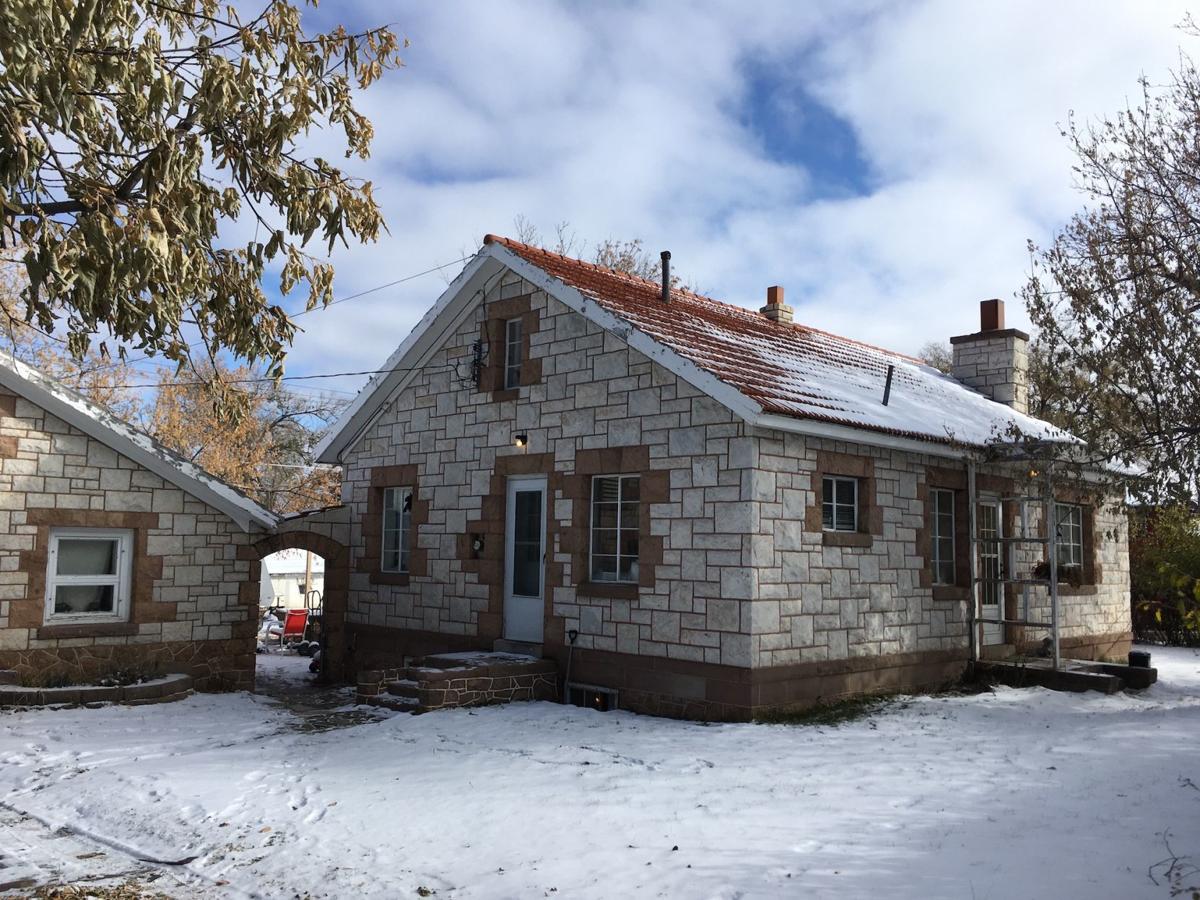 In late 19th- and early 20th-century Helena, local stone was a favored construction material. Approximately one dozen quarries operated within a 15-mile radius of downtown, yielding marble, siltstone, rhyolitic breccia, granite, porphyritic granodiorite and limestone, among others. Some of Helena's most monumental buildings are composed of these local stones: the 1889 Power Block's massive walls of rhyolitic breccia, the immense granite blocks interspersed with Kessler brick that form the 1905 Montana Club's ground floor, and the circa 1893 Tatem-Young House's soaring Gothic-arched first story constructed of porphyritic granodiorite.
Perhaps Helena's most superb stonemasonry, however, is exemplified by a number of small Depression-era homes in the upper and lower Westside neighborhoods constructed and/or ornamented in the distinctive snecked masonry bond by Canadian immigrant Lewis Henry Reid. How did this bond, also known as the "Celtic bond" for its ubiquity in Scotland and Ireland, come to be utilized in a city in the Northern Rockies?
Much of the answer lies in a convergence of Reid's Scottish heritage and Helena's critical need of small homes. Lewis Henry Reid was born in 1889 to stonemason William Henry Reid and Mary Elizabeth Stull Reid in rural Esquising Township, one of several Highland enclaves west of Toronto. The region's remoteness ensured the retention of Scottish folk traditions, customs and Gaelic language. The cultural imprint on Reid must have been strong and long-lived, as one of his Helena apprentices, William Keller, stated that he believed the master stonemason to have been born in Scotland and learned his trade there. In a 1980 oral history interview, Keller also described Reid's practice of throwing a couple of handfuls of oatmeal — a traditional Scottish staple — into a water-filled gallon thermos and drinking it throughout the workday.
By 1911, if not earlier, Lewis was working as a stonemason and living in the family home with his widowed father -- who was still a working stonemason at the renowned Esquising sandstone quarries -- and three younger sisters.
Reid left Canada at some point, but his whereabouts are not clear until 1930, when the U.S. Census lists him as a stockman on a Lincoln, Montana, ranch. Curiously, by this time -- and for the remainder of his life -- all vital records associated with Reid document his birthplace as isolated Hachita, New Mexico. Perhaps this border town was a significant stopover between Canada and Montana but the historical record does not provide a clear reason for this deception.
Sometime between 1935 and 1937, Reid, now married to a woman of Scottish descent, moved from Lincoln to Helena and started work as a stonemason. Among his first contracts was a white marble-veneered projected gable entrance and chimney on a cottage located at 309 Hauser in the summer of 1937. The white marble, sparkling with crystalline flakes, was quarried at Nelson Gulch near Rimini by a father, son and nephew — all named Bob James — who frequently hired Reid to veneer or ornament small homes they built on speculation. Reid's apprentice and later employee Keller recalled that big blocks of the marble were hefted into a pickup at the quarry, driven into town, unloaded at the construction site and placed on a waist-high bench or "banker," to be cut into smaller pieces. Even a skilled stonemason required 15 to 30 minutes to cut a single stone block.
Reid always laid white marble in the snecked or Celtic bond. These courses require a "leveler" stone to form the horizontal line of the bond, measuring at least double the length of the other stones; a square stone or "riser" that extends upward vertically from the horizontal line; and a "sneck" or smaller stone(s) to fill the void between the leveler and riser. The interlocking 6-inch-thick marble stones lend tensile and compressive strengths to the bond, an unusual attribute.
Reid's artistic interpretation of this bond was further enhanced by his choice of a beaded joint, always rendered in a medium brown, which emphasized the rhythmic nature of his work. Aesthetically pleasing and practical, the beaded joint prevented water from entering between the stones.
Reid's arrival in Helena coincided with not only a national deficit of affordable homes for the middle class but also the depletion of the city's housing stock resulting from the disastrous earthquakes of October and November 1935. Over the next few years, with Bob James (the father) and other contractors, Reid veneered ornamentation and components of houses at 425 Gilbert, 730 Hauser, 620 Dearborn, and 19 South Harrison. Fireplaces, like the one found in 30 North Howie's living room, were a specialty, sometimes hiding a small medicine bottle containing Reid's name and the construction date.
In December 1938, Reid -- or "Lew" as he was popularly known -- received a permit to build his own home at 1000 Leslie Ave., resulting in a three-dimensional portfolio of his virtuosity. The property consists of a cottage veneered with white marble cut 6 inches thick and windows framed with rhyolitic breccia quarried from the Helena Brownstone Quarry near Prickly Pear Creek. Two years later, he began work on a garage/workshop linked to the residence by an arch. The outbuilding rests atop a deep uncoursed rose porphyry foundation similar in material and bond to the veneered front elevation of Hermann and Company's "City of Roses" mortuary at 314 North Rodney, likely built by Reid in 1941. He also constructed an all-marble mailbox enclosure and backyard wishing well.
Other notable projects that the master stonemason undertook included houses completely veneered with white or cream marble at 410 Flowerree Street (1939), 888 North Benton (circa 1939) and 520 Power (circa 1939). He and Keller constructed Carroll College's pillared entrance gates of granite with a single radius-cut stone joining the taller and shorter portions; the water fountains atop MacDonald Pass; and the parapets on Going-to-the-Sun Road in Glacier National Park. Like many tradesmen, Reid worked on the West Coast during World War II, constructing brick buildings at the Aluminum Company of America (ALCOA) smelter in Troutdale, Oregon.
But one of the occupational hazards of stonemasonry is silicosis. and William Keller remembered how it afflicted Lew Reid: "When you're cutting stone, you want to have your back turned so the wind will carry the dust away. If you don't, why you're sucking that dust right down your lungs all the time, that's what got Lew ... his lungs were bad from stone dust, I'm sure. Couldn't get his breath a lot of times ... at the end why he just loaded stone in the truck and [would] stand aside the truck to catch his breath..."
Only 18 days after his admittance to the Montana State Tuberculosis Sanitarium in Galen, the master stonemason died on Feb. 15, 1957. Fittingly, he was buried from the "City of Roses" chapel in Helena. Two months later, his widow offered their home for sale, a classified advertisement attesting to the community's regard for her husband and his work: "Late Lew Reid white marble residence at 1000 Leslie Avenue. Furnished $21,000..."
With Reid's death, Helena's nearly century-long stonemasonry building tradition came to an end; the meticulous and time-consuming craft demanded more than what the public was willing to pay.
Patty Dean is a public historian consultant and museum curator who is working on West Side Stories, an architectural history of Helena's West Side neighborhood. She produced this for the Lewis and Clark Heritage and Tourism Council, which provides the monthly "Nuggets from Helena" column in the Independent Record. Dean would like to offer her deep appreciation to Peter Held, Jim Schulz and Jon Axline for documenting the lives and work of Montana's stonemasons.